News
Rising junior gets penalty for rangefinder mishap, hangs on to win prestigious title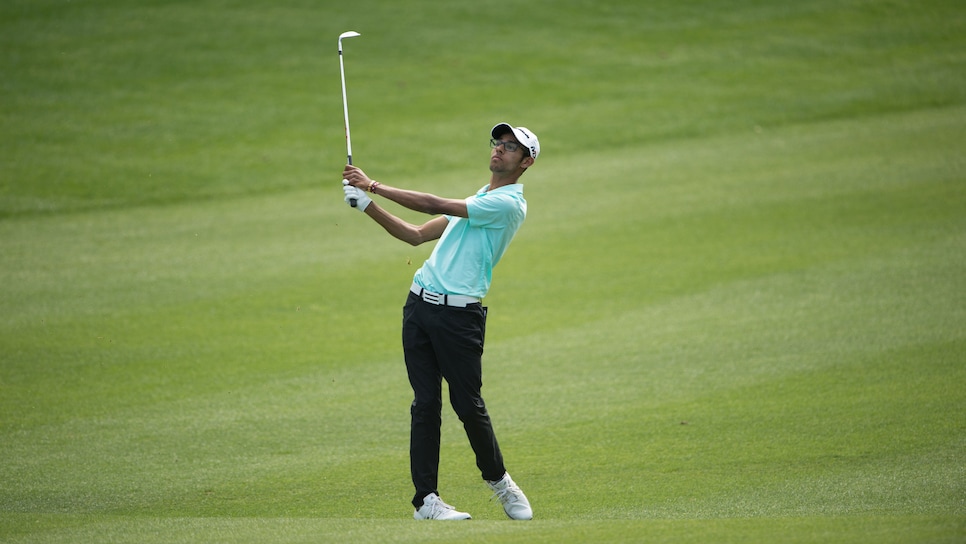 Montana Pritchard/PGA of America
A win is a win, so Akshay Bhatia will gladly add the Junior Invitational at Sage Valley to a résumé that already includes the Junior PGA Championship and first-team AJGA Rolex All-American honors. However, Bhatia might just remember Saturday's victory at Sage Valley Golf Club in Graniteville, S.C., as the one that he nearly let get away.
The 16-year-old left-hander from Wake Forest, N.C., wound up hanging on to win by one stroke over Frankie Capan in what has become one of the premier boys' tournaments in the country. This despite a final-round 76 that included bogeys on his final three holes. Lucky for Bhatia, he had built a four-stroke lead so the late stumbles didn't cost him the title.
"I told myself all day that I'm still in control of this golf tournament no matter how many bogeys I made," said Bhatia, who started the round four strokes ahead of his nearest competitor. "That's how you have to think about this. Any time you're leading like this on this big of a stage, it's hard to keep it going. I'm definitely proud of myself."
He also probably feels a bit relieved after what happened during Thursday's opening round. Bhatia had made birdies on two of his first three holes when he was playing the par-5 fourth. Standing over his third shot, the high school sophomore did what he's often does in junior and amateur tournaments and pulled out his rangefinder to lock in a yardage for his approach (turned out he was 40 yards away). However, this tournament stipulated that distance measuring devices were not permitted.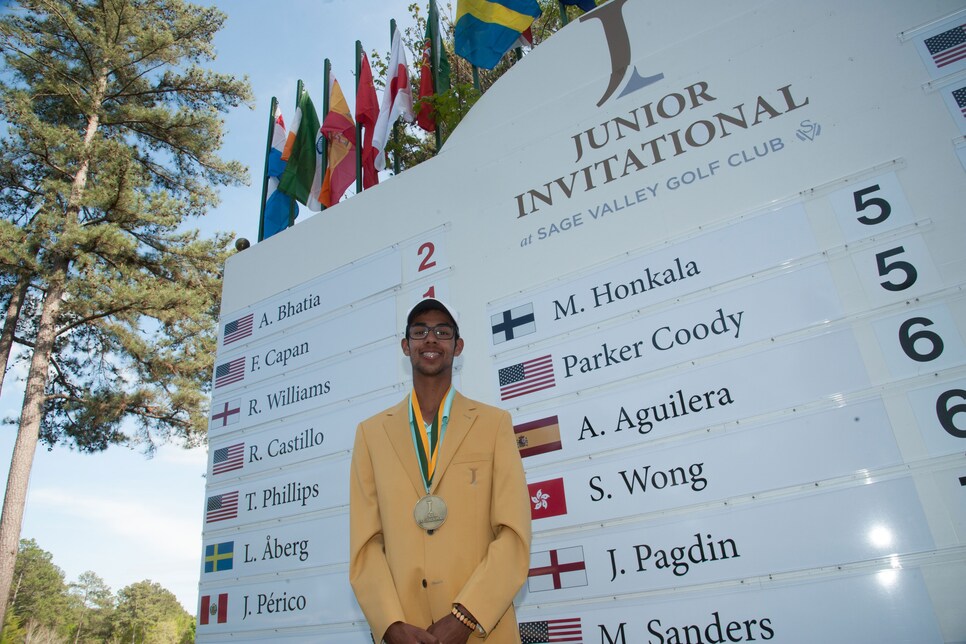 Montana Pritchard/PGA of America
Bhatia realized his rangefinder mishap quickly ("It's my fault. I should have taken it out of my bag [before the round]," he told Golfweek.), but was assessed a penalty for his mental mistake. It turned out his double-bogey 7 on the hole was his only blemish of the day as he posted a four-under 68 (with three birdies on his final four holes) to grab a share of the lead.
Bhatia's future is bright if a bit uncertain. He has yet to commit to the notion of going to college, and has played in a handful of PGA Tour Monday qualifiers. He's playing in a pre-qualifier next week for the Wells Fargo Championship in Charlotte in the hopes of potentially getting into the Monday qualifier.