New definition for a mud ball
Watch this tour pro strip down TWICE for mud shots, and his reaction after will make you a fan forever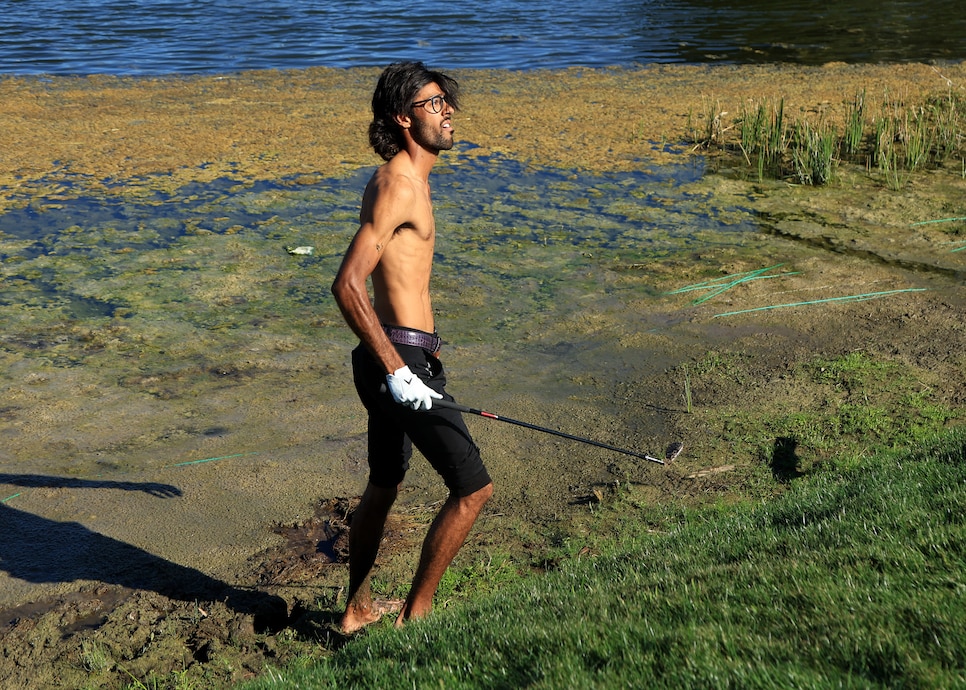 Akshay Bhatia watches his shot from the mud on the 15th hole in the third round of the Honda Classic.
Sam Greenwood
In the end, it's tough to figure out what was more entertaining: watching Akshay Bhatia not once, but twice, strip down to his shirt and nearly get stuck in the mud during the third round of the Honda Classic, or his good-natured reaction afterward. Either way, these are some of our favorite moments of the PGA Tour year so far.
Bhatia, a 21-year-old Los Angeles native who won last year on the Korn Ferry Tour, twice found himself in awkward, muddy spots on Saturday at the PGA National Champions course in Palm Beach Gardens, Fla. No huge surprise there, given how much water the Jack Nicklaus joint has.
First, at the par-4 sixth, Bhatia drove left near the edge of the large lake and opted to take off his shirt to try to limit the mud damage. As evidenced by a photo at the scene, that was an excellent call. Even better, after Bhatia advanced the second shot 100 yards, he striped his 86-yard approach to 10 feet and made the putt for par!
His pants got muddy, too, so Bhatia's girlfriend, Presleigh, came through in the clutch with a new pair (we're still wondering how she pulled that off so fast), and he pressed on.
Honestly, a round that was going OK at one under eventually went off the rails. Bhatia bogeyed 11, double bogeyed 13 and bogeyed 14 before arriving at the par-3 15th—where PGA National really gets hard with the three-hole "Bear Trap." You can't go long at 15, but Bhatia did, and his ball ended up playable (maybe for the worst), but in the mud. How much mud? When Bhatia—tall and thin at 6-foot-1 and 130 pounds—stepped in, the gooey stuff sucked him in like it was quicksand.
"Really, really gross," Akshay would later say.
With his shirt and shoes off and pants rolled up, he bravely attempted one shot, but the ball didn't clear the bank. So, Bhatia had to step up and try again, and this time he reached the green, to well-earned loud cheers from the gallery. Unfortunately, he did make a double-bogey 5, and with a birdie at 18, Bhatia shot four-over 74 to drop into a tie for 58th.
When he was done, Bhatia was happy to chat with reporters about his travails.
"I've done it before, but not twice in a round," Bhatia said of having to take his shirt off. "Yeah, I feel nasty, to say the least.
"I never plan to hit it in the water," he later said, "but it's golf, and this golf course is really hard."
Of his decision to try to play from the mud at 15, Bhatia said, "Yeah, how the ball was sitting, I was like, 'all right, it'll be fine.' My left foot was just sinking straight. Maybe I should have just went back to the drop zone, but it was just such a tough shot because if it comes out hot at all then you're going across into the other side of the water. But I was happy to make 5 there, honestly, after everything that happened."
What we'll ultimately remember as much as the mud is how Bhatia felt after he'd extracted himself at 15 and got the warmest reception he could imagine. Understand, this is only his 21st event on the PGA Tour and he's still never been a full-time member.
"A lot of claps. Makes you feel good, Bhatia said. "I feel like my body looks good, and hopefully on TV it makes it look a little bigger.
"It was amazing. This is a pretty new experience for me. Just having a lot of fans. It's funny, [fellow pro] Dylan [Frittelli] was saying, 'Are you from here? Like, like how much are you paying these guys to say your name?' And it's just really cool because I take a lot of pride, and it brings warmth to my heart when people are shouting my name, cheering me on. It's really just a fun experience, and I hope to have more of it."
The cheering part. Not the stripping part.