PGA Tour
Akshay Bhatia gets a Special Membership on PGA Tour and talks about his heart rate skyrocketing leading up to the moment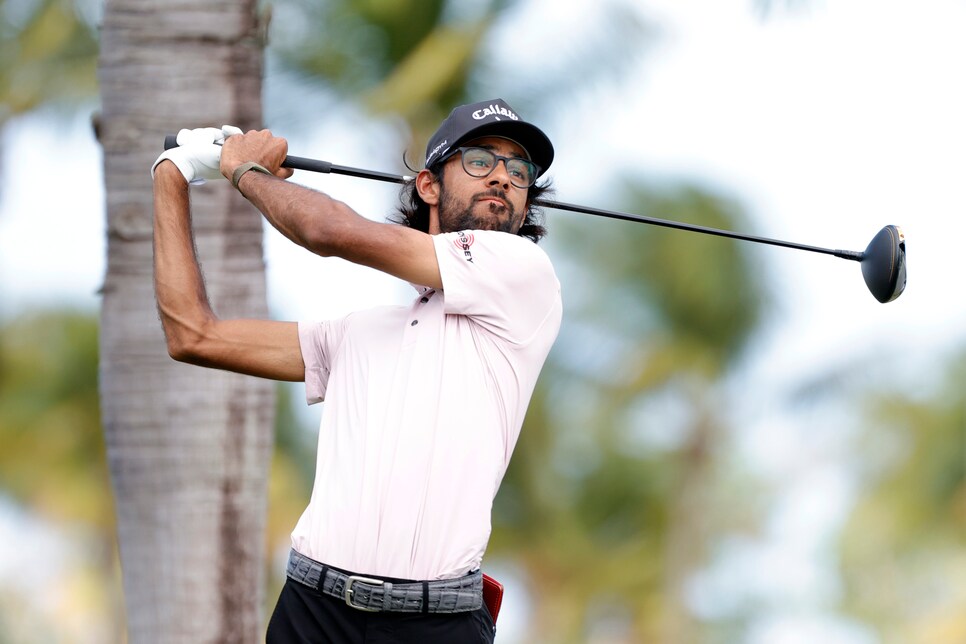 Akshay Bhatia hits a drive during the third round of the Puerto Rico Open.
Carmen Mandato
It was one of those quiet moments near the 18th green that TV viewers and fans mostly miss but are life-changing for players. Akshay Bhatia closed the PGA Tour's Puerto Rico Open last week with a birdie and final-round score of 65 that placed him solo second behind winner Nico Echavarria. He then walked over to his caddie, who wanted to make sure Bhatia was grasping the gravity of what he'd just accomplished, beyond earning the $414,000 paycheck that was the largest of his career.
"He's like, 'Do you realize what just happened?'" Bhatia recalled on Tuesday. "And I said, 'No.' He's, like, 'You got your card.'"
With the runner-up finish in his fourth PGA Tour start this season, Bhatia accumulated enough non-member points to reach Special Temporary Membership—which was made official Tuesday ahead of the Valspar Championship, for which he qualified, thanks for the top-10 result in Puerto Rico. Bhatia can now ask for and receive unlimited sponsor's exemptions for the season.
For Bhatia to earn full status for 2024, he must accumulate as many of more more non-member FedEx Cjup points as the No. 125 player in the final 2023-23 FedEx Cup Playoffs and Eligibility Points List, which will be totaled up at the end of the 2023 fall portion of the season. With a current count of 230 FedEx Cup points, the tour calculated that Bhatia would fall between Nos. 91 and 92 in the standings. In the tour's new format beginning in '24, the top 70 players after the '23 playoffs earn fulltime status.
All the perks of the accomplishment began to sink in for Bhatia off the 18th green in Puerto Rico.
"It was a crazy feeling," Bhatia said. "Just the highs of that—it was definitely top on my list right now, even with winning on the Korn Ferry Tour. … It was pretty surreal, and hugging my girlfriend, Presleigh, on 18 … that's just like an amazing moment for us and everything we've kind of gone through these last couple years."
Bhatia, who gained notoriety at the Honda Classic last month when he had to take his shirt off twice to hit shots out of the mud during a round, talked about what his excitement was like as he made his way up the 18th hole at Grand Reserve Country Club.
"I dealt with high heart rates on the golf course and the crowds started to get slowly and slowly bigger and I would have never imagined that in Puerto Rico for myself, having 80, 90, 100 people people around watching our group. … I checked my Whoop heart rate after the round, and on my third shot on 18, my heart rate got up to 156 beats per minute, which is pretty nuts."
This week will be a "full-circle" time, Bhatia said. A Los Angeles native who is 21, he eschewed college and turned pro at 17. He made his first-ever PGA Tour start in the 2019 Valspar as a 17-year-old amateur, missing the cut, and his return path to the tour has been difficult. Bhatia played his most events, 11, on the PGA Tour in 2020-21 and missed seven cuts. His best finish was a T-9 in the Safeway Open.
On the Korn Ferry Tour last season, Bhatia won his opening start in the Bahamas by closing with a 65. That seemingly set him up for the year, though he wouldn't post another top-10 finish in 23 other starts and missed 13 cuts.
Bhatia is off to a strong start this year on two tours. He has two top-seven finishes in four KFT starts, and he's made the cut in all four of his PGA Tour appearances.
His work on the PGA Tour now will be trying to post top-10s in other events to get more starts while also asking sponsors for exemptions. As a temporary member, he's not limited to how many he can receive.
"I had no idea what adversity meant back in 2019, and I fully understand it now," Bhatia said. "I've dealt with so many ups and downs in this game as a professional—not being able to rent rental cars, not being able to check into hotels. So, dealing with a lot of that outside stuff that I never had to deal with was a big challenge.
"Just self-belief, learn a lot, play a lot of high-level golf, it makes a big difference. This is my 23rd PGA Tour event and I'm saying that at 21 years old. … I'm very fortunate for all the opportunities that I've had. There's nothing much more to say other than just keep learning and keep grinding."