AIG Women's Open
An already good week gets better as Scottish amateur scares the Day 1 lead at Carnoustie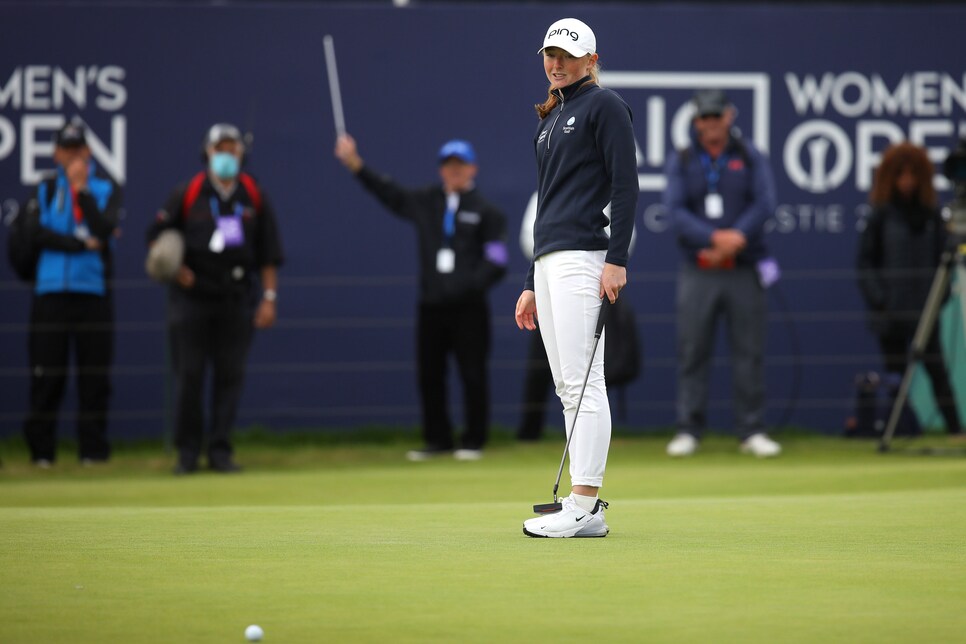 British Am champ Louise Duncan posted an opening-round 68 to finish one off the lead after 18 holes at the AIG Women's Open.
Charlie Crowhurst/R&A
CARNOUSTIE, Scotland — Leaning on the golf bag he had just carried for 18 holes, Dean Robertson was looking quite pleased with himself. And why not? Yes, the former Italian Open champion, now the high-performance golf coach at the University of Stirling, is "just" a caddie this week. But Robertson's "boss," British Ladies Amateur champion Louise Duncan, had just completed a four-under 68 to sit one shot off the lead in the opening round of the AIG Women's Open at Carnoustie. No wonder he was happy with his day out on the Angus links.
"Louise played great," was Robertson's unsurprising verdict on a round containing four birdies, an eagle at the par-5 14th and just two bogeys. "But even before today, she has had a wonderful week."
Indeed, no matter what happens over the coming days, Duncan, who will be part of the Great Britain & Ireland side that will attempt to recapture the Curtis Cup from the visiting Americans next week, has already had a few memorable moments to savor. On Monday, the 21-year-old Scot from West Kilbride on the Ayrshire coast played 18 holes alongside European Solheim Cup captain Catriona Matthew (also a Stirling graduate), former World No. 1 amateur Leona Maguire, and defending Open champion Sophia Popov. Solo practice took over on Tuesday, before another European Solheim Cup player, Jodi Ewart-Shadoff, joined her for a few holes on the eve of the championship.
And it gets better. Duncan's "for real" Thursday effort was made in the company of 2018 champ Georgia Hall, also former winner of the British Amateur title that gave Duncan her place in this elite field. The pair may have matched cards with their 68s, but if match play had been the order of the day, Duncan would have edged Hall, 1-up, courtesy of Hall's three-putt bogey on the 18th.
"Louise was amazing," Hall said. "She's so natural, a natural player. Very, very talented and just a really, really nice girl. I'm really happy that she managed to shoot such a low score today."
So was Duncan, of course. Happy, but surely not surprised. The Sports Studies has been on something of a roll for a while now, starting with the climax to her British Am triumph in June at the Barassie course in her native Ayrshire. A record-breaking 9-and-8 victory in the final made her the first Scot to win the title in 24 years.
"On the first tee I was very nervous, with a wee bit of excitement in there," said Duncan, who actually started with a calming birdie. "And then when it started to go really well the nerves came back and my heart rate went up. But overall, I really enjoyed it. Georgia made me feel dead comfortable, and she was lovely. I really enjoyed playing with her and can't wait to get back out. I'm already looking forward to tomorrow."
An amateur threatening the lead in an Open evokes a bit of deja vu in 2021. In the opening round of the U.S. Women's Open, 17-year-old Megha Ganne held a share of the lead with Mel Reid after shooting an opening-round 67. The high schooler stayed in the hunt all the way to the final round, playing in the last threesome on Sunday at The Olympic Club before shooting a closing 77 that dropped her to T-14.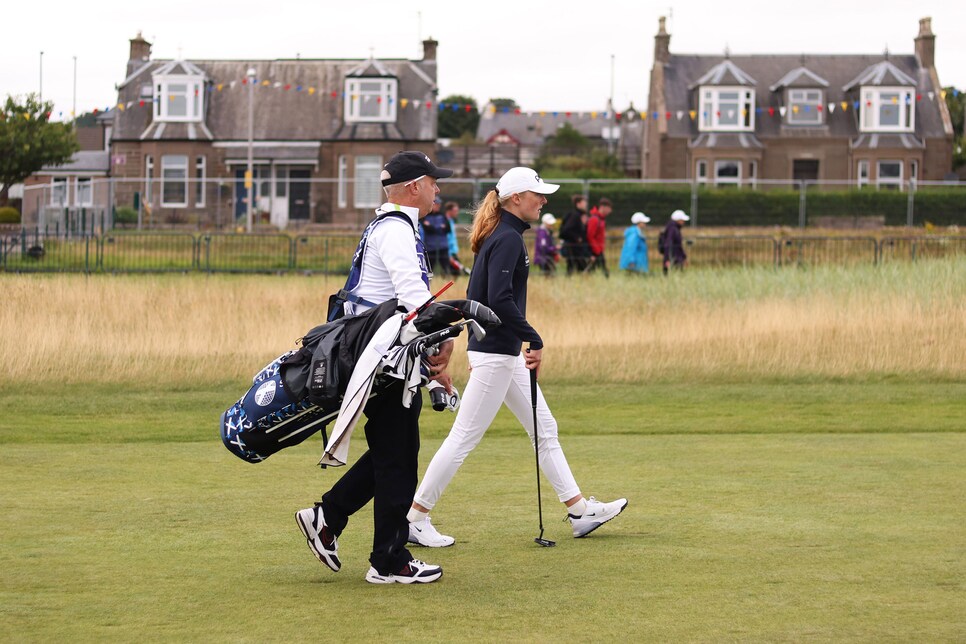 Duncan walks down the 18th fairway at Carnoustie with caddie Dean Robertson, one of her coaches back at the University of Sterling.
Charlie Crowhurst/R&A
After Thursday's play, Duncan had some kind words for the man leaning on the bag.
"Dean kept me level-headed and gave me a bit of support," said Duncan with a smile. "He made sure I made the right decisions. He told me just to trust it, just to trust my swing, trust the shot, see the shot, all those sorts of things. His help has been massive for the development of my game, and I have come on leaps and bounds."
Maybe so. But nothing is ever perfect. Mistakes were apparently made, mostly through inexperience.
"Yes, she played really well," Robertson said, "but we'll be de-briefing before the Curtis Cup."
Still, at least for a night she could enjoy the glow of being one off the lead at the Women's Open.