The Loop
Adam Gase names two starting running backs "just to be an asshole"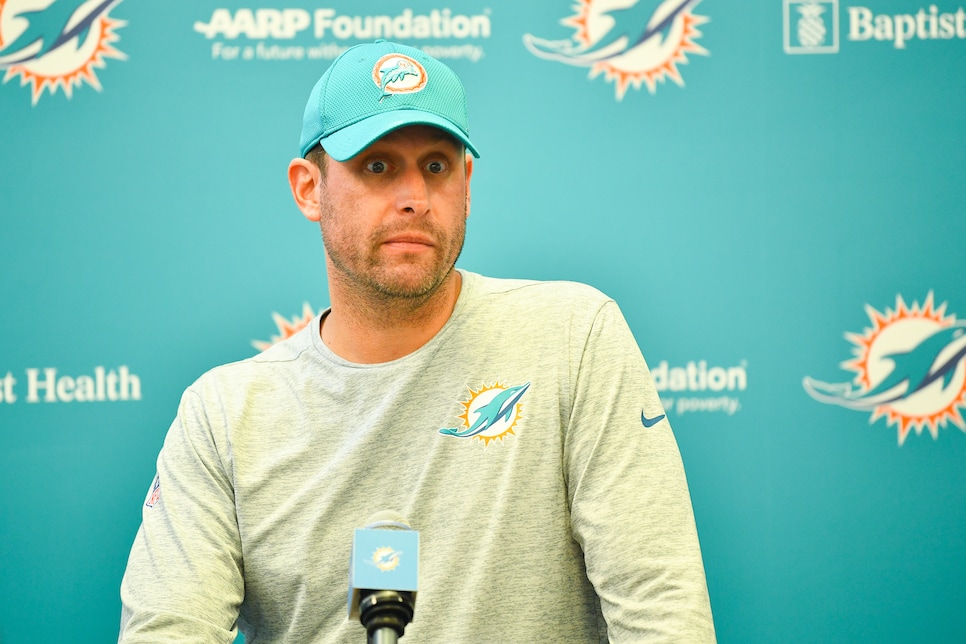 Head ball coaches aren't renowned for their candor. They speak in a tangled web of cliches, mantras, mind games, half-truths, and lies. They emotionally manipulate officials, bully members of the press, and send coded threats to their backup slot receivers in broad daylight. They're the world's most boring secret agents and they'll eat a damn cyanide pill before letting you see the play diagram for a Halfback Iso.
All of which is why it's so refreshing to hear a guy like Adam Gase let it all go and say exactly what he means. When asked why he listed both Kenyan Drake and the ghost of Frank Gore as starters on the Dolphins' depth chart at a press conference on Monday morning, here's how Gase replied:
Gase went on to clarify, of course. "It depends on what personnel grouping I'm in to start the game," he said, employing the time-honored head coach tactic of "clarifying" things that are already clear by first muddying them up a bit. "They'll both be on the field at the same time. I don't know."
In the end, though, don't let Gase's hedging distract you from what is probably the first actual piece of insight gleaned from an NFL training camp this year: NFL coaches are assholes, and sometimes just because. Make the playoffs with half of Kenyan Drake as your starting running back and no one minds. Miss it and enjoy your cushy new OC job at Western Michigan. That is the harsh reality of a football coach circa 2018, but its good to see Gase has accepted it with open arms and two middle fingers pointed toward the sky.