News
A flubbed chip leads to emotional response, missed cut for Lexi Thompson as her trying year continues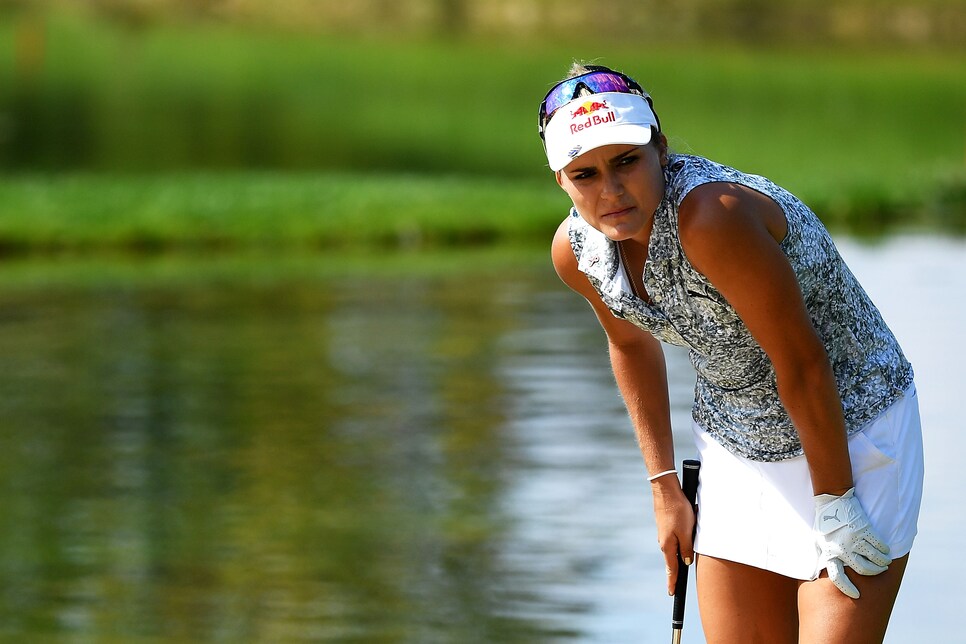 Lexi Thompson announced at the end of July that she was skipping the Ricoh Women's British Open and taking a break from golf, citing mental and physical exhaustion. "I have not truly felt like myself for quite some time," Thompson said. "I am therefore taking this time to recharge my mental batteries, and to focus on myself away from the game of professional golf."
However, she returned three weeks later at the Indy Women in Tech Championship, explaining that she was trying to figure out what makes her happy off the golf course, to find out who she really is.
Judging by what happened on Friday at the Evian Championship, it appears Thompson is still searching for answers.
Three over for the tournament, the 23-year-old needed an up-and-down to save par and advance to the weekend on her final hole at Evian Resort Golf Club in the season's final major. Unfortunately for Thompson, her chip failed to travel more than six inches.
Following the flubbed shot, cameras caught Thompson's emotions getting the best of her, as she was brought to tears on the final green.
"I think there's a build up of a whole lot of things that we are not privy to," Golf Channel analyst Judy Rankin said as Thompson walked off the hole. "It's enough to know that she has said there are lots of things going on, and she is so obviously a talented player and fighting the game this year."
Thompson experienced two high-profile incidents inside the ropes last year, losing the ANA Inspiration in a playoff following a four-stroke penalty for incorrectly marking her ball, and missing a two-foot putt at the season-finale CME Group Tour Championship for a potential victory. Thompson also attended to her mother's fight against cancer.
"The last year and a half, I have honestly been struggling a lot, emotionally, and it's hard because I can't really show it," Thompson said upon her initial return. "It was just so much to deal with, and I had to show that I was still okay and still play golf. And I don't even know how I played that well, honestly. And I think it just kind of all hit me coming into this year."
Thompson, one of the most recognizable names in women's golf, is currently fifth in the Rolex Rankings. This season has been somewhat of a roller coaster compared to her historical output, posting six top-10s and ranking 18th on the money list. Suffice to say, a winless 2018 is a surprise to everyone.