News
Lexi Thompson's 2017 will be remembered for its highs—and lows—and how she came to grips with both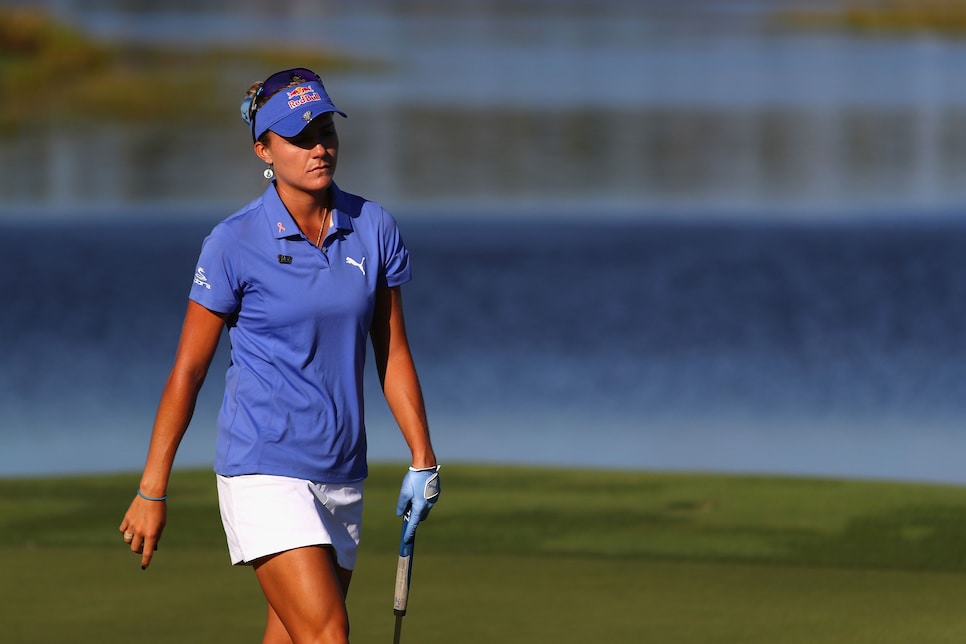 Photo By: Tim Bradbury/Getty Images
NAPLES, Fla. — Lexi Thompson's first putt on the 72nd hole of the CME Group Tour Championship was a good one. Her approach shot had landed long and left of the front right pin. She was about 60 feet from the cup, looking at a downhill, breaking putt for birdie, one a handful of of Thompson's competitors had faced on the sun-drenched day at Tiburon Golf Club. Most of them had hit it long. The green was fast, and fell away a bit after the hole. Getting it to stop within five feet would've been good. Thompson spent a lot of time over it, talking with her caddie, Kevin McAlpine, and choosing her line. The grandstands quieted as she remained crouched behind her ball, motionless. She stood, and stroked the putt. The speed was good. It came to rest about even with the hole, two feet to the left. Everything appeared right in Lexi's world.
And yet for as good as that first putt, that's how bad Lexi's second was, the one that will be remembered in the weeks and months to come as the LPGA closes shop for 2017. Somehow the 22-year-old American sensation pushed it, the ball rolling right of the cup. A two-foot putt that never had a chance of falling into the hole.
How? How could that happen? Thompson lives near Naples, and had several members of her family and friends out behind the 18th green supporting her. Cristie Kerr, her Solheim Cup teammate, was watching besides Thompson's dad, Scott, and mom, Judy, who doctors told recently that she was all clear after summer treatments for cancer.
Thompson was poised for a storybook finish to a roller-coaster season. Not only was she set to win the LPGA season finale, but also take Player of the Year honors. She had already clinched the $1 million season-long Race to the CME Globe prize, and she was guaranteed the Vare Trophy for low scoring average throughout the year even if she three-putted. She'd also likely move into the No. 1 spot on the Rolex Rankings. And the memory of the debacle at the ANA Inspiration would be pushed farther from view.
But because of the missed two-footer, instead of Ariya Jutanugarn needing to birdie the final two holes (something only one player had done all day) to get into a playoff with Thompson at 15 under, she could now win with them. And sure enough, the 2016 LPGA player of the year did the statistically improbable, making an impressive, downhill 15-foot putt on 18. It was Jutanugarn who won at 15 under, Thompson not even having the chance to try and fight back for the title in a playoff.

To her credit, Lexi did all the right things afterward. She accepted the $1 million box of cash—an awful nice consolation—for winning the Race to CME Globe, as well as the Vare Trophy with a scoring average of 69.114. It was the lowest scoring average in LPGA history.
Then came the hard part: After shaking hands and accepting her awards, Thompson met with the media. Of course, it wasn't the first time Thompson she'd done this in the wake of a disappointing finish. Back in April at the ANA, the first major of the year, Thompson incurred a four-shot penalty on Sunday for misplacing her ball on a green the previous day. The incident was brought to the rules committee by a viewer who watched a replay and called the infraction in. The penalty cost Thompson the lead on the back nine Sunday, yet she clawed her way back to tie So Yeon Ryu after 72 holes, only to fall in a playoff.
During that press conference, and the one that she gave a few weeks later when she played in her first LPGA event afterward, Thompson cried. And understandably so. It was an unfair moment, the title should've been hers, but it was taken away. Though no one called in to take the CME Group Tour Championship from her, the missed two-footer had that same odd feeling, like it shouldn't have happened.
How many thousands of two-footers has Thompson made throughout her life? How is it fair that she happens to miss one on the 18th hole of the final event of the season.
It's not fair. And Thompson could've been tearful again, and frustrated.
But she wasn't. Instead, she was accepting.
"It wasn't the way I wanted to end it," said Thompson, who most people will forget shot a five-under 67 in the final round to get into position to win in the first place. "I don't really know what happened there. Yeah, it just happens. I guess it's golf. I guess we all go through situations we don't like sometimes."
When asked if the pressure of the moment got to her, Thompson recoiled. "No. Honestly, I wasn't thinking about it," she said. "I putted great the whole day and did my routine; I read it. I mean, it wasn't obviously a very long putt. I guess maybe just a little bit of adrenaline. I didn't look at a leader board actually the whole day. That's just the way I am. I just try to stay relaxed and just focus on my game because that's all I can control. Yeah, I guess it's just golf. You know, crazy things happen like that. I'll move on."
Thompson was believable in that moment, because she has proven that she has the ability to move on. She did it in May when she won the Kingsmill Championship, the second event she played in after the ANA loss.
"I'm not going to lie and say some things didn't get me really down, and I struggled, but I had to keep on moving on, keep on practicing, keep on training," Thompson said, "because I knew I had the talent and I had to show that."
Where Thompson can take solace is that while there were disappointing on-course moments this season, there were moments of success, too. She won twice, finished runner-up six times, was part of the winning U.S. Solheim Cup team and has the lowest scoring average of any woman ever. She finished the season No. 3 on the Rolex Rankings. She's ranked No.1 on the tour in greens in regulation and sand saves. She averaged 274 yards off the tee this year. By all of those measures, the 2017 season was a successful one. She developed a lot as a player.
More importantly, she grew a lot as a person.
The struggles at the ANA forced Thompson to mature in 2017, as did the situation with her mother and the death this summer of her grandmother. Having to cope with struggles like those off the course gives you perspective. Like it or not, it hardens you.
As Thompson's caddie, McAlpine has seen her maturation in life permeate her on-course demeanor. "She's taken the lows, and she's learned from them," he said. "She's rode the highs, and she's played some great golf this year. At the end of the day, we look back and this is going to be one of those little things in her career."
This, too, is believable. Instead of wallowing in the disappointment of a missed putt, Thompson talked more about how happy she is about her game and how much she's improved in 2017. She was quick to discuss how much work she's going to do in the off season to continue making more progress.
"It didn't stop me," said Thompson of not winning the ANA Inspiration. "And this won't either."
Indeed, Thompson's missed two-footer will be remembered by many for a long time. But just how long Thompson chooses to remember it, however, will determine how quickly she moves past this disappointment and gets better because of it.