News
A complete rundown of the worst shots ever hit in the final round of a major
As Jordan Spieth begins to pursue the final leg of the career Grand Slam this week, we're still thinking about his extraordinary stretch of golf at Royal Birkdale to win the claret jug. And we're also still in awe of his tee shot at the 13th hole. Sure, he recently defended the shot, explaining why it wasn't as bad as we initially thought—and he might have a point—but it was still a very poor tee shot. That got us thinking: What are the worst shots ever hit in the final round of a major?
Making this list should be considered some kind of achievement. Why? The golfers below had to play well enough to be in contention in the final round of a major. That alone is impressive. And though their disappointment may have caused them to "earn" their spots on our list, they had their chance for glory.
We're not here to document the thousands of shanks and fluffed chips hit by those not in contention. These are the most memorable bad shots hit when golfers had a chance to win a tournament. (And in some instances, the pro overcame a poor shot to still win.) In a few cases, see Phil Mickelson at Winged Foot, it's hard to identify one specific shot, rather than a collective collapse that defines the butchered major. We chose the poorest decision of the bunch.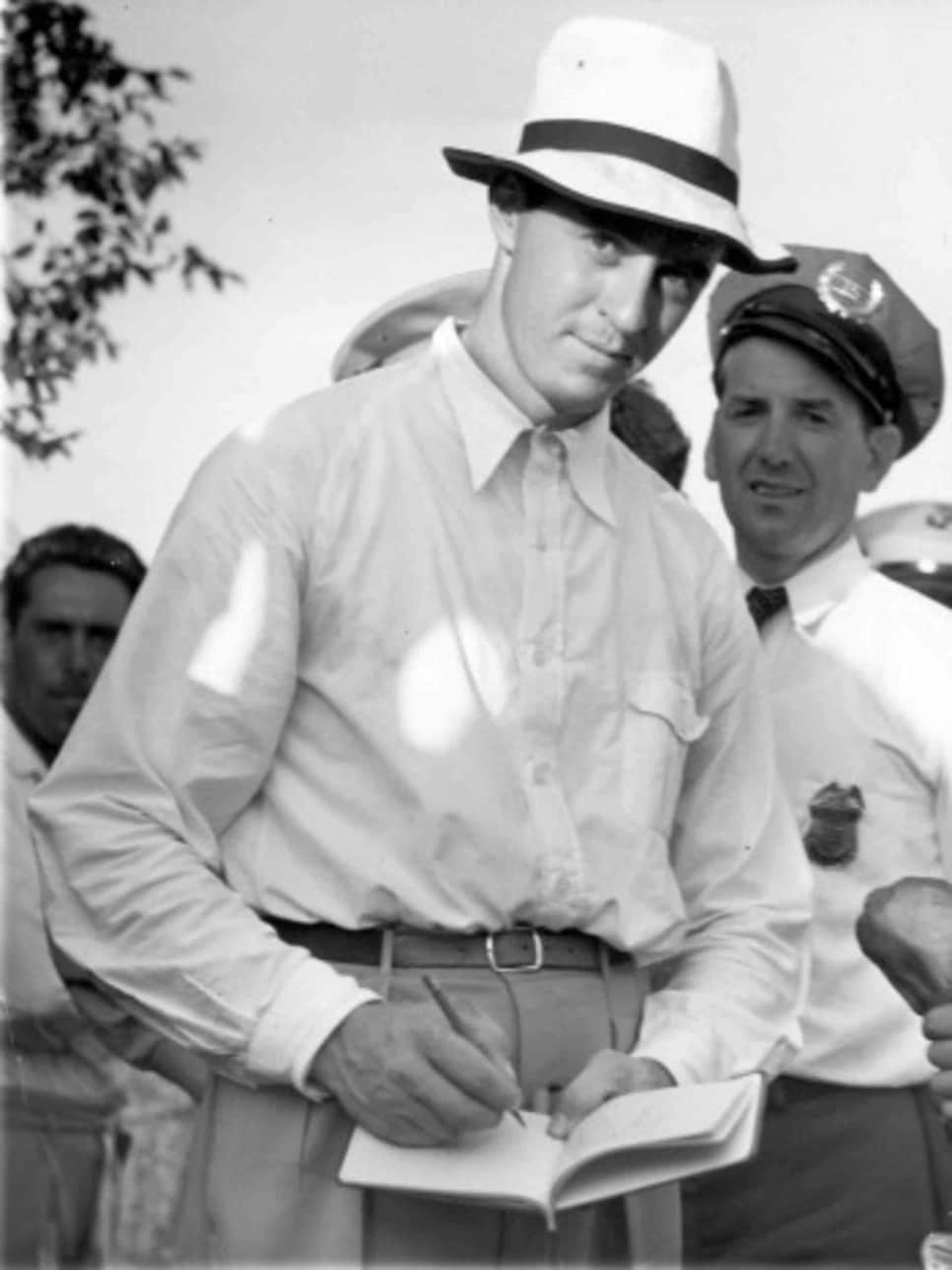 __ Sam Snead, 1939 U.S. Open__
Standing on the tee of the par-5 18th hole at Philadelphia C.C. needing just a par to lock up the title, Sam Snead thought he needed birdie, which led to his heartbreak. His tee shot ended up in the rough, but the real killer was hitting 2-wood from the heavy rough, which only advanced 100 yards and plugged in a fairway bunker. The result? A triple-bogey 8.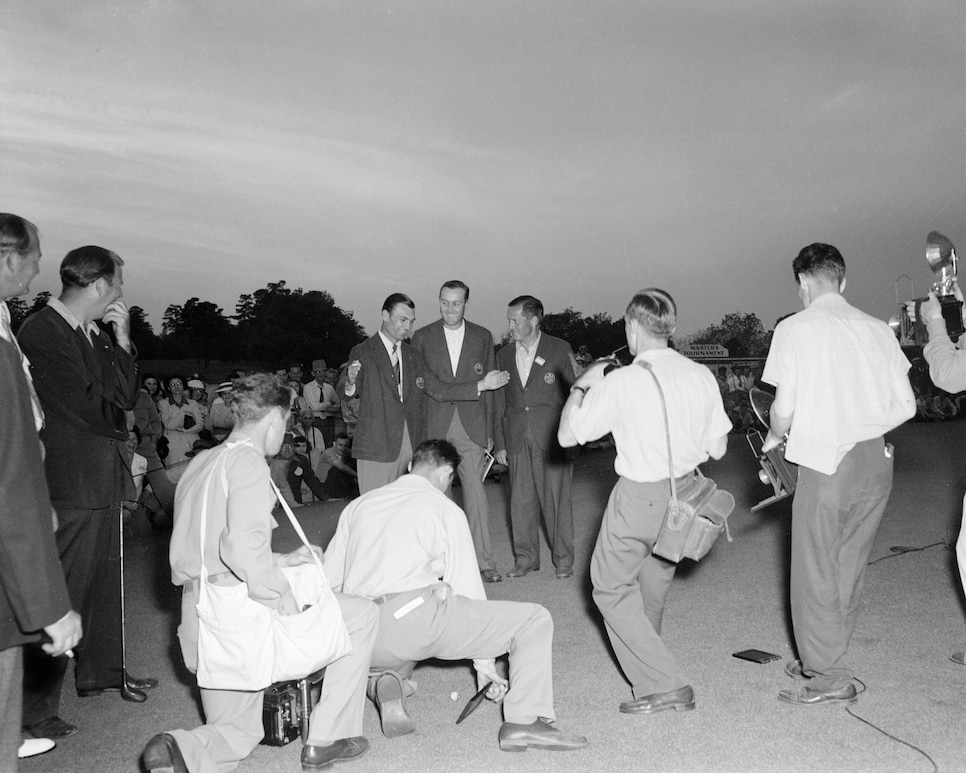 Ben Hogan, 1946 Masters
Hogan three-putted from 12 feet on the 18th hole to hand the 1946 Masters to Herman Keiser, missing the comeback par putt of about three feet to cost Hogan the title, which would've amounted to a 10th major victory.
Sam Snead, 1947 U.S. Open
Not to pile onto the Slammer, but his U.S. Open disappointments are aplenty. Snead faced a 2½-footer to extend a playoff, when his opponent, Lew Worsham, called for officials to measure who was away. Following the delay, Snead would miss the short putt, leading to one of his four runner-up finishes in the U.S. Open. Snead would say later: "That's my only regret ever, not winning the U.S. Open."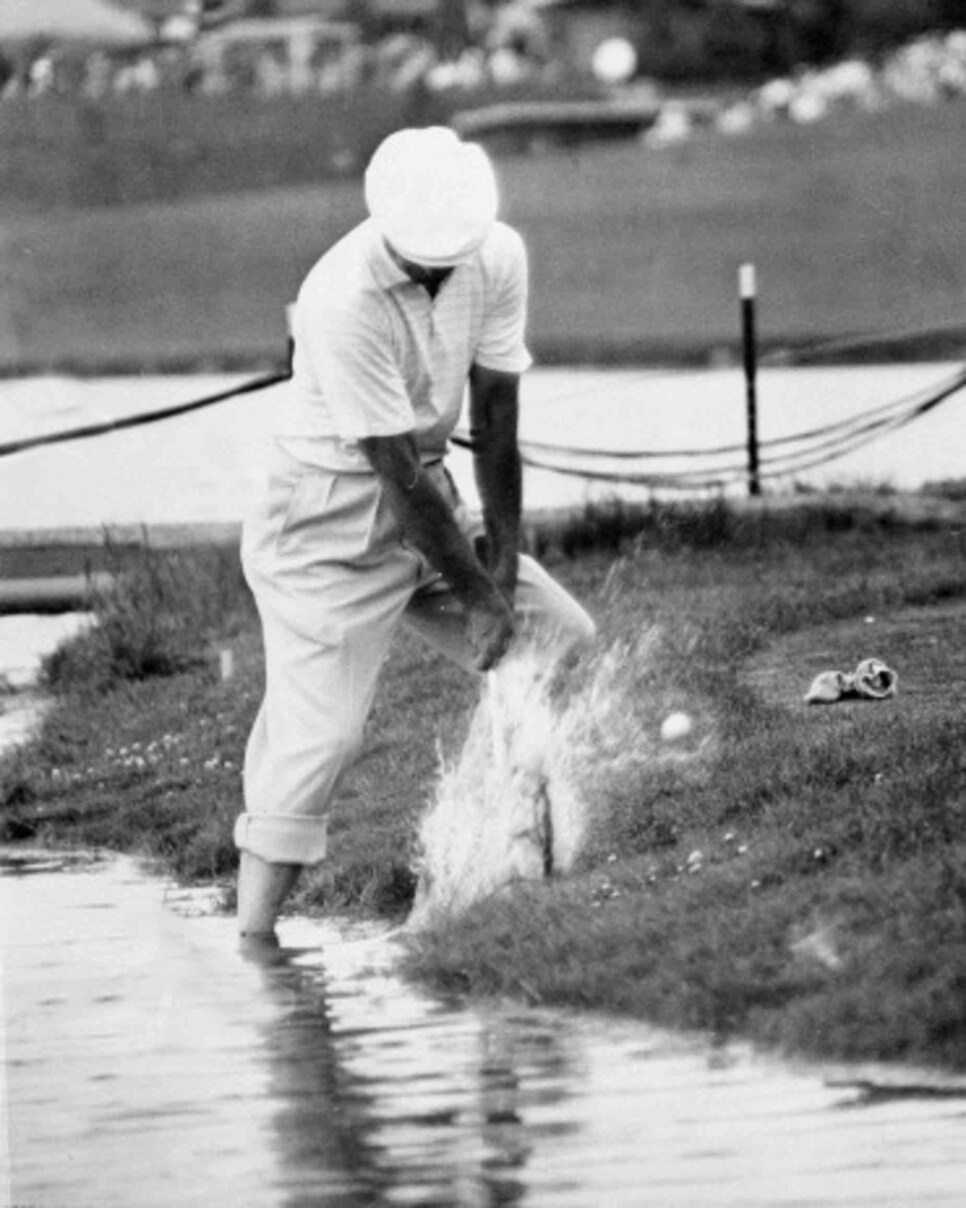 __ Ben Hogan, 1960 U.S. Open__
Tied with Arnold Palmer as he played the 17th hole -- having hit all 70 greens in regulation that week -- Ben Hogan's wedge approach spun back into the water, ending the 48-year-old's chances, and ensuring the crowning victory from Arnold Palmer at Cherry Hills.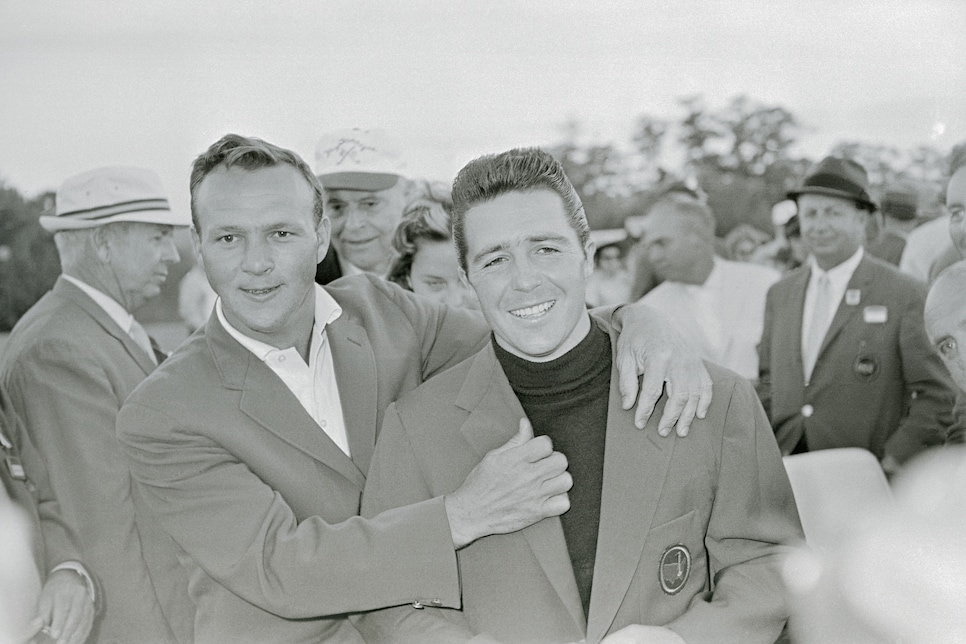 Arnold Palmer, 1961 Masters
Leading by one shot heading into the 72nd hole, Arnie found the back bunker with his approach. His third shot soared over everything, even over a TV tower, which led to a double-bogey 6 and a one-stroke victory by Gary Player, who became the first international player to ever win the Masters.
Doug Sanders, 1970 British Open 
Faced with a three-foot putt to win at St. Andrews, Sanders hit one of the worst pressure putts in history—the ball trailing off on the low side without touching the hole. Asked about it in 2003, he told Golf Digest's Guy Yocom: "I won 20 times on the PGA Tour . . . But it's that putt everybody remembers. What can I say? It's what I remember most, too."
Hale Irwin, 1983 British Open
Making a charge in the final round at Royal Birkdale, Irwin narrowly missed a birdie putt at the 14th hole, and proceeded to absent-mindedly swipe at the shorty to tap it in. Problem is, Irwin missed the ball completely, a costly stroke that would result in a one-stroke loss to Tom Watson.
T.C. Chen, 1985 U.S. Open
With a four-stroke lead in the final round of the U.S. Open, Chen's infamous double-chip on the fifth hole at Oakland Hills led to a quadruple bogey, and a nickname "Two-Chip" that would live on forever. What most people might not realize: Chen had a double-eagle 2 in the first round. The golf gods have some sense of humor. The quadruple bogey sent Chen on a spiral and a resulting 77.
Scott Hoch, 1989 Masters   Faced with a two-footer for par to beat Nick Faldo in a playoff on the 10th hole, Hoch's attempt didn't even hit the hole. He had backed off the putt in lining it up for a first time, his mind full of thoughts about winning his first major. That wouldn't happen as he handed the victory to Faldo.
Costantino Rocca, 1995 British Open
Rocca hit one of the worst shots and one of the best shots on consecutive strokes during the 1995 Open at St. Andrews: a chili dip from the Valley of Sin before holing out on the next to get into a playoff with John Daly in one of the most unlikely sequences in major history.
Tom Lehman, 1997 U.S. Open
Trailing Ernie Els by a shot, Lehman stepped onto the par-4 17th hole at Congressional with a chance to win his second major title. But Lehman rinsed his approach shot, as it rolled back into the water after hitting the edge of the bank.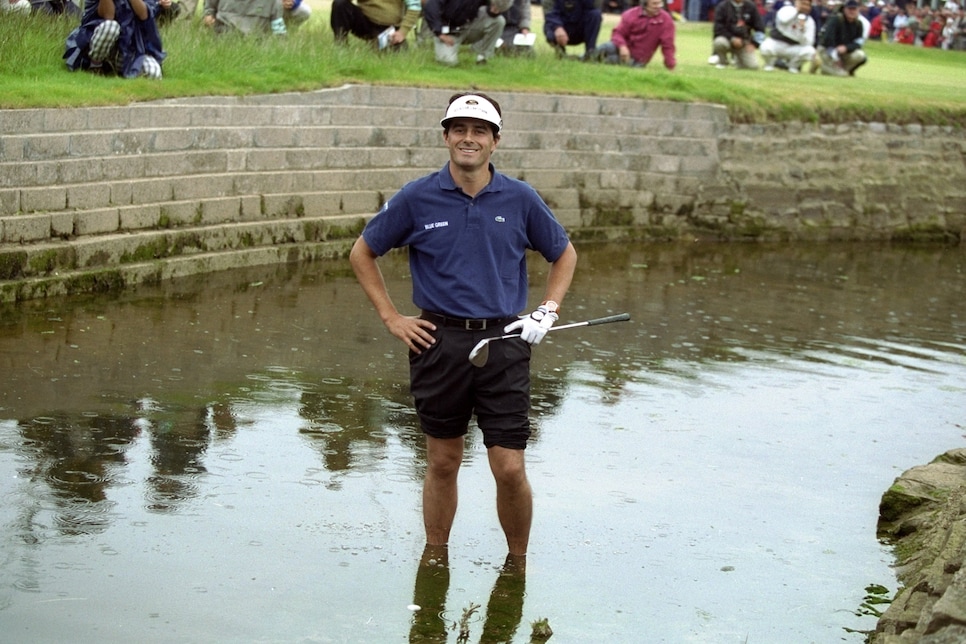 Jean Van De Velde, 1999 British Open
Perhaps golf's most famous blow-up is Van De Velde's 72nd-hole collapse at Carnoustie. Where do you start? First, his drive got lucky to avoid the burn, but it was his second shot that went so far right that it clanked backward off the grandstands and buried into the deep hay that left him a troubling lie before the burn. His chunked third went into the burn, leading to a triple-bogey 7 that would inconceivably leave him in a playoff, which he'd lose to Paul Lawrie.
Retief Goosen and Stewart Cink, 2001 U.S. Open
There was some major carnage on the 18th green on Sunday at Southern Hills. Not knowing a bogey would've been good enough to join a three-man playoff, Cink rushed his 18-inch putt for bogey. That said, there would have been no Goosen-Mark Brooks playoff if Retief didn't three-putt from 12 feet himself on the 72nd hole, one of the more stunning finishes to a major in recent memory: "It's the saddest thing I've ever seen in watching sports," Paul Azinger was quoted as saying. The only thing that didn't make it sadder for Goosen? That he won the playoff the next day.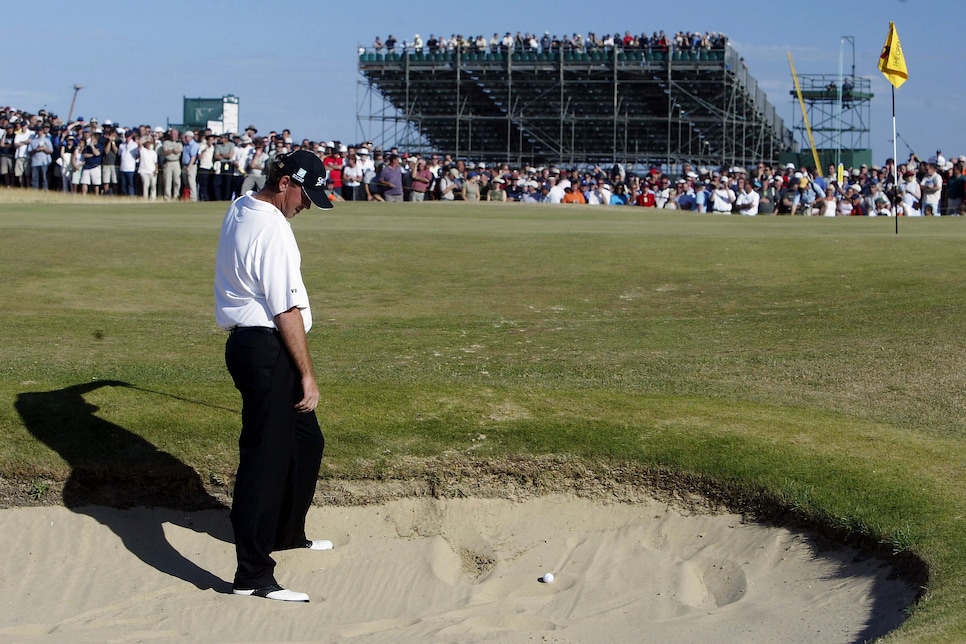 Thomas Bjorn, 2003 British Open
With a three-shot lead and three holes to play at Royal St. George's, Bjorn would lose the championship after struggling in a greenside bunker on the par-3 16th. His tee shot actually hit the green, but it kept rolling right into the sand. That'd be a theme. It took Bjorn three tries to get out—his first two tries also hitting the green before rolling back into the sand.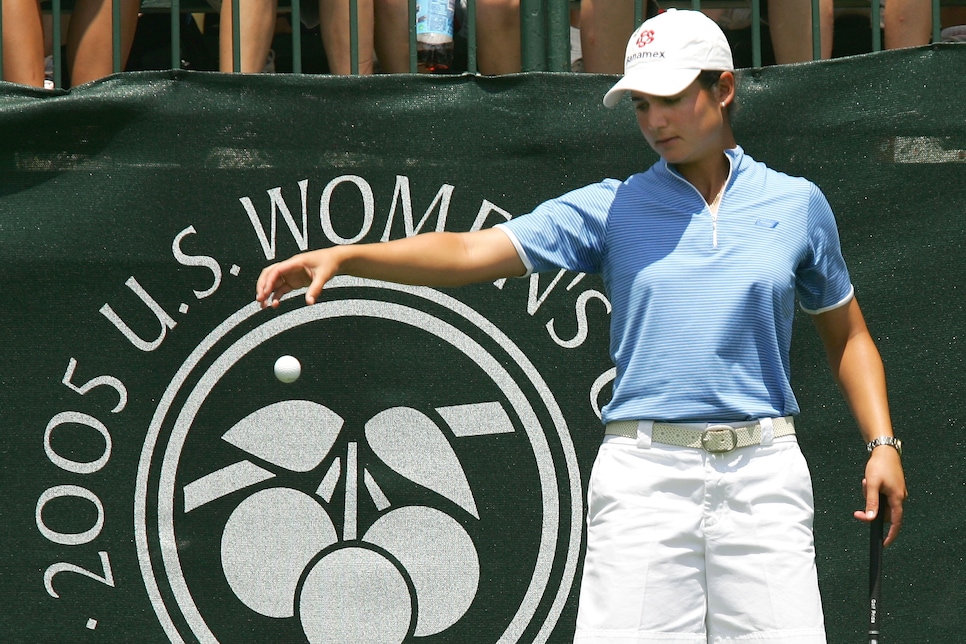 Lorena Ochoa, 2005 U.S. Women's Open
Even one of the best female golfers of her time struggled to execute under pressure. On the 72nd hole and needing a birdie to win, Ochoa drop-kicked the drive, and the ball ended up in the water. Ochoa would make a quadruple-bogey 8 to lose by four shots.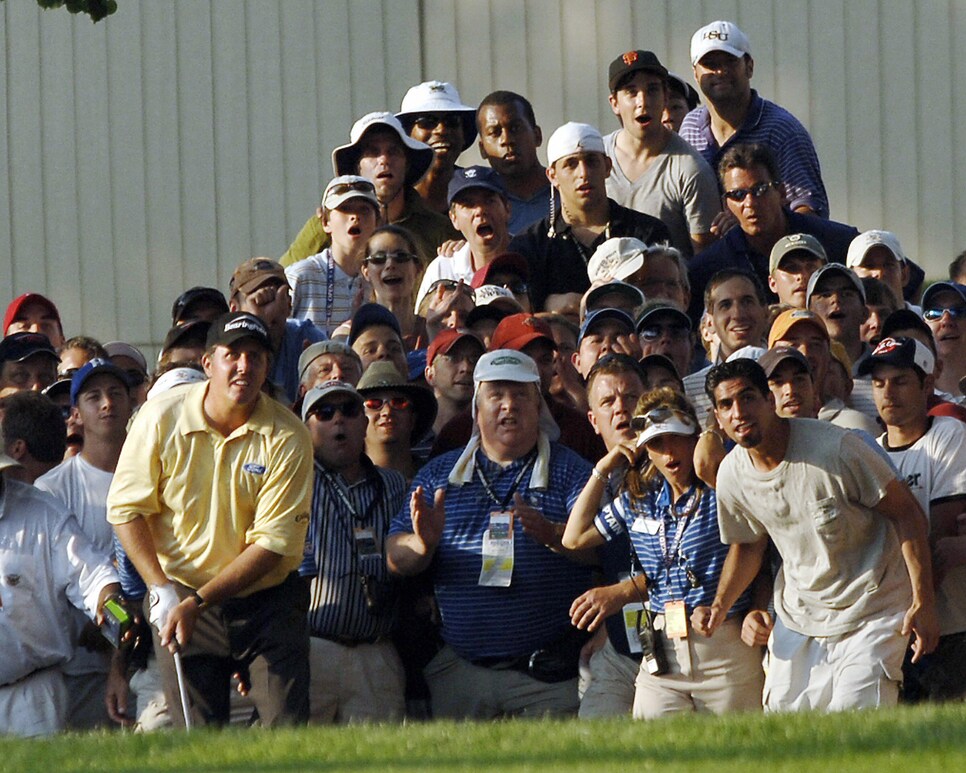 Phil Mickelson, 2006 U.S. Open 
The near-misses for Mickelson at the U.S. Open are aplenty. But he has never come closer than the 2006 U.S. Open, standing on the 72nd tee at Winged Foot's West course needing a bogey for the title. As with Johnson at the 2010 U.S. Open, you could pick any of his next three shots as Mickelson's worst—we've chosen to pick on his second shot: His 3-iron that clanked off the trees and forced him to hit a similar shot. You could choose his (way) wayward tee shot, and we wouldn't argue with you.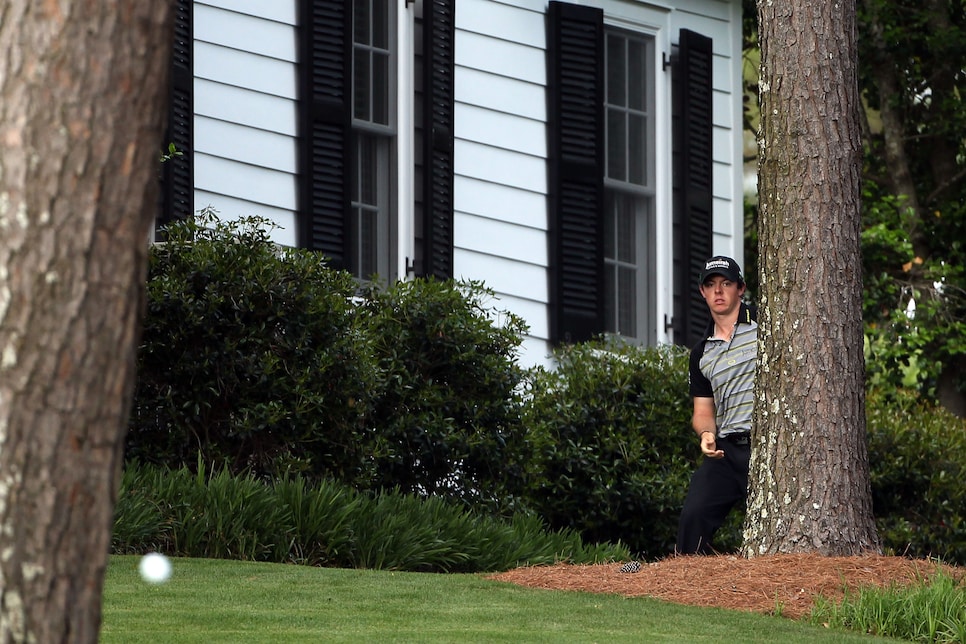 Rory McIlroy, 2011 Masters
McIlroy is still searching for his Masters victory to complete the career Grand Slam. And his best chance was in 2011, when he stepped to the 10th tee with a one-shot lead but cranked a shot so far left it ended up between two of Augusta National's famous cabins. It would lead to a triple-bogey 7 and a two-shot deficit for McIlroy, who would shoot a final-round 80. He still has yet to birdie the par-4 10th.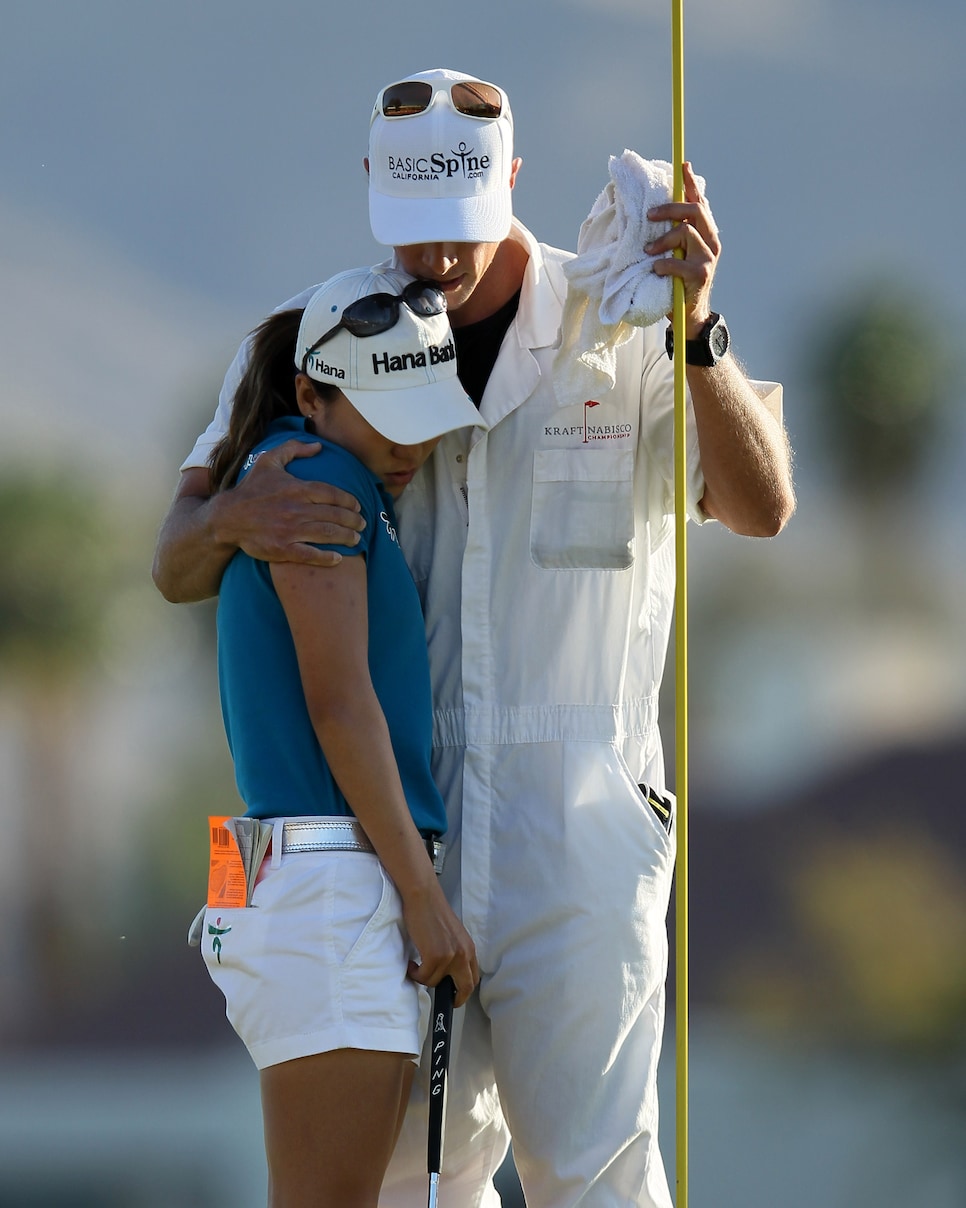 In-Kyung Kim, 2012 Kraft Nabisco
Kim has had a successful career, and gained a large bit of redemption on Sunday when she won the Ricoh Women's British Open. But she'll never forget the shocking one-foot missed putt at Mission Hills. She would've won the year's first major outright, but the miss put her in a playoff, which she'd go on to lose to Sun-Young Yoo.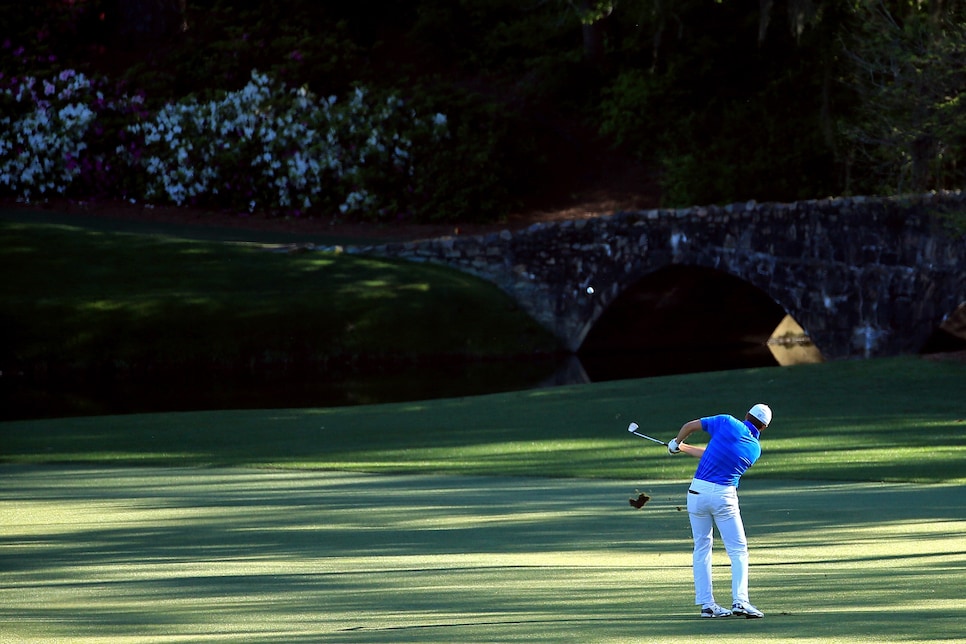 Jordan Spieth, 2016 Masters
The ending this time isn't as happy for Jordan Spieth when talking about his tee shot at Augusta National's par-3 12th. After winning at Birkdale, Spieth acknowledged how much of an effect his collapse at the 2016 Masters has had on him. And it started with the quadruple-bogey 7 at 12.
Jordan Spieth, 2017 British Open 
Creating one of the most dramatic comebacks in final-round history was Spieth's tee shot on the par-4 13th hole at Royal Birkdale. NBC's Roger Maltbie estimated the swiped-right drive went 100 yards off line. Impressive as Spieth's bogey save was, the miss sparked one of the most furious closings of a major in modern era.
Honorable Mentions
Dustin Johnson's tee shot on the third hole, 2010 U.S. Open; Tiger Woods' tee shot on the 18th hole on the playoff of the 2000 PGA; Greg Norman's tee shot at the par-3 16th at the 1996 Masters; Lee Trevino's second shot at the 72nd hole of the 1971 British Open.