News
A Cinderella story at Mid-Am, Pat Perez dominates in Malaysia and (another) Tiger Woods video update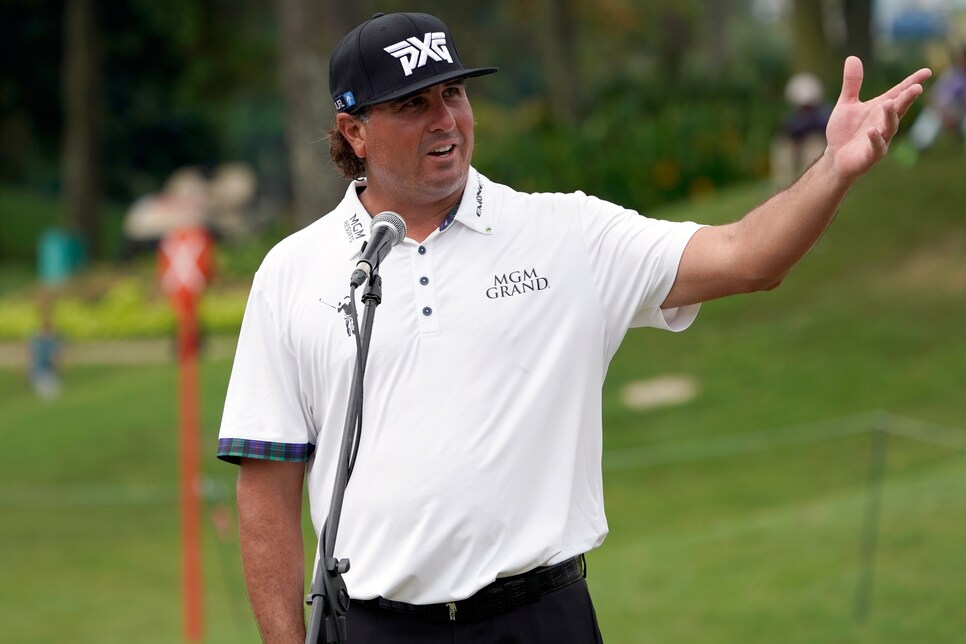 Welcome to the Dew Sweeper, your one-stop shop to catch up on the weekend action from the golf world. From the professional tours, trending news, social media headlines and upcoming events, here's every golf-related thing you need to know for the morning of Oct. 15.
Perez continues career revival
Golf is a game for all ages, except when it comes to the PGA Tour: a record 18 events were won by players 25 or younger in 2017. A reality which makes the triumphs of Pat Perez particularly impressive.
The 41-year-old, who had just one career victory in his first 378 starts, garnered his second W in his past 25 outings by lapping the field at the CIMB Classic. Perez's 264 was good enough for a four-shot win over Keegan Bradley at TPC Kuala Lumpur, with Xander Schauffele and Sung-hoon Kang finishing a distant third at 271.
Though his recent performances (seven top 10s since last November) are laudable, knowing Perez's past gives a better appreciation for the present. This time last fall, Perez was more known for his colorful, bombastic demeanor than his play. He was a career journeyman who had never reached the FedEx Cup finale, and was coming off major surgery. His future so much in doubt that Callaway wasn't going to renew his contract. All Perez's done in return is bank $5.6 million, make his first East Lake visit and reach No. 20 in the world rankings (after starting last year's CIMB outside the top 300).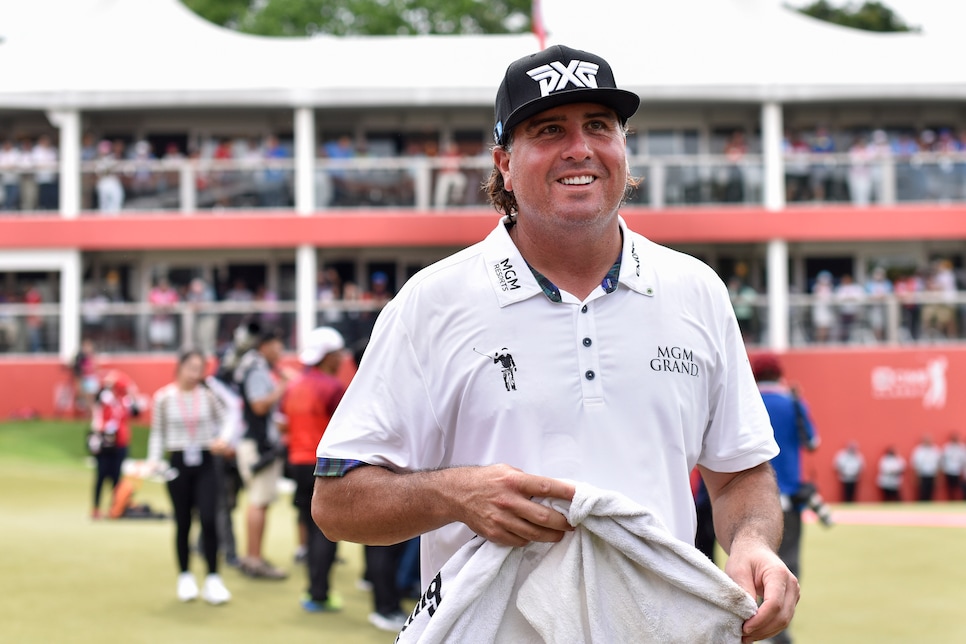 "I really can't believe what's gone on basically a year from this tournament last year because Todd [Rhinehart, executive director] gave me a spot, and I was so excited to come over and play to try and further my career," Perez said on Sunday. "And I played pretty good here, I think I finished like 33rd, and I finished seventh in Vegas and then I won Mexico. But if he hadn't given me the spot, the funny thing is I don't know if I would have started the tour until January.
"So, all those chain of events might not have happened. I really can't explain it; it's been an amazing 12 months. I can't explain it, but I hope it continues."
Speaking of improbable comebacks...
Big Cat flaunts big stick
Though Doubting Thomases still question the pertinence of Tiger Woods in 2017, the 14-time major winner continues to burn down Twitter with every video update regarding his return to the sport. On Sunday, Woods upped the ante by posting a clip of a driver swing:
Sure, these videos have as much merit and depth as an "Access Hollywood" interview, and Woods remains without a timetable for return. But, for a guy who hasn't seen much light the last four years, there seems to be a flicker of hope on the horizon. And hey, at least we got to see Woods break out the Sunday red again. Progress indeed.
Cinderella captures Mid-Am
When it comes to USGA events, the Horatio Alger myth is just that: a fairy tale. U.S. Open qualifying is dominated by professionals, the Amateur mirrors as an NCAA event and the Mid-Am is mostly comprised of trust fund babies who play more rounds than the guys on tour. But once in a blue moon, there's an authentic rags-to-riches tale that restores your faith in these competitions. A narrative that emerged this weekend courtesy of Matt Parziale.
Parziale, a full-time firefighter in Brockton, Mass., defeated Josh Nichols, 8 and 6, in the 36-hole final at Capital City Club's Crabapple Course in Atlanta to capture the 2017 U.S. Mid-Am title. The 30-year-old is a former mini-tour player, but regained his amateur status a few years back after flaming out. Until this year's event, he hadn't done much of note, never winning a match in three previous Mid-Ams. He's been with the Brockton Fire Department for four years.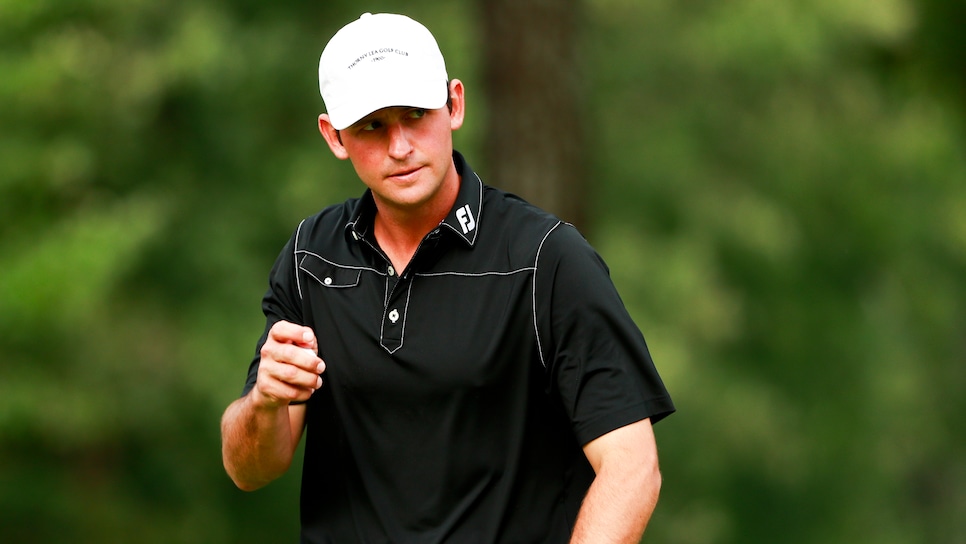 The conquest earned him an invitation to play in the Masters next April and an exemption into the U.S. Open at Shinnecock Hills next June. Assuming, you know, he banks enough vacation time.
"Yeah, it's a lot to think about right now," he said on Friday. "Just really trying to enjoy the moment. Very excited for the upcoming year."
Let's hope his chief is a fellow hacker.
Hatton celebrates like royalty
To say Tyrrell Hatton has busted out of his slump is an understatement. The Englishman, who came out of the gates firing in 2017 only to suffer a brutal drought during the spring and summer (missing all four major cuts), has regained his mojo as of late, with four consecutive top 10s—including back-to-back wins at the Dunhill Links and this weekend's Italian Open. To celebrate his success (and his 26th birthday), Hatton decided to live it up like a king:
Know European food standards are low, but someone at least introduce him to McDonalds.
Many around the sport believe Hatton has the game to eventually be English golf royalty. But, as his Burger King excursion proves, he will always be a man of the people.
While 2017 will ultimately be remembered for the breakout of Justin Thomas, Sergio Garcia makes a compelling case for Man of the Year. Dude hurled the major monkey off his back, won the weekend at Sawgrass, provided highlight reel material in fights with gorse and his putter, got married, and has a baby on the way. Oh, and if that wasn't enough, he delightfully re-enacted an 18-year-old photo with fledging player Austin Connelly.
Somehow, Connelly looks younger as a bearded 21-year-old.
Both Garcia and Connelly finished outside the top 20 in Italy, but no matter. Leader boards come and go. But a photo—and legends like Sergio—are timeless.