Phil being phil
U.S. Open 2021: Phil Mickleson finishes with one of the craziest cart-path bounces of all time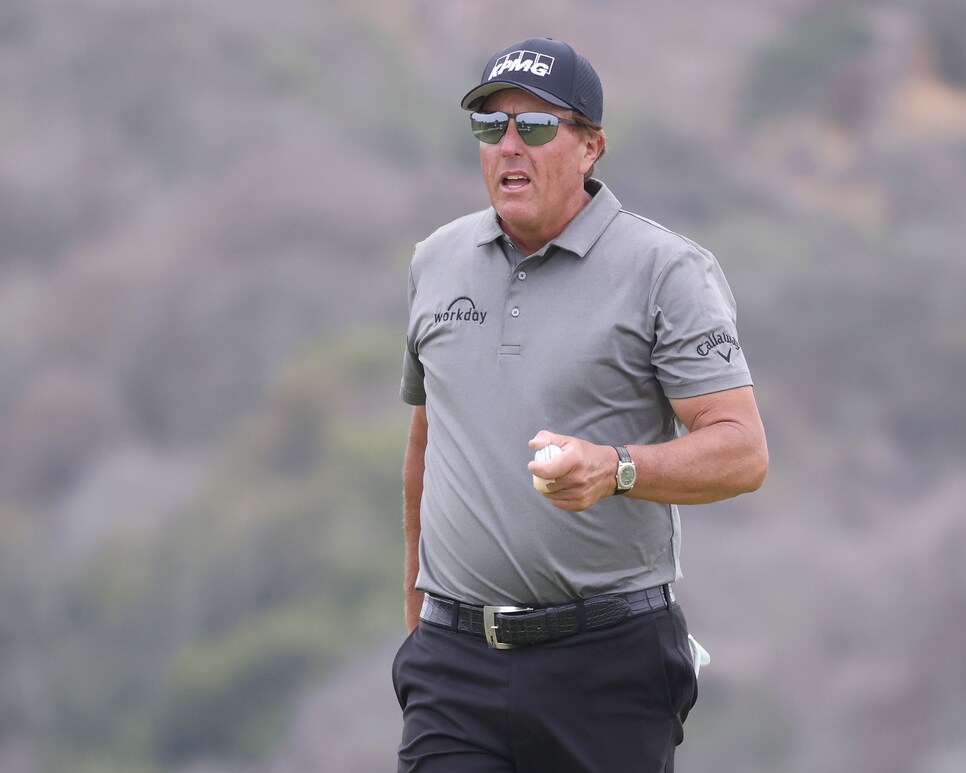 SAN DIEGO — It was the most "Phil being Phil" way of going out of the U.S. Open in his hometown.
Maybe Phil Mickelson visualized lifting the trophy on Sunday afternoon at Torrey Pines on the 18th green. There is absolutely no way he ever imagined what actually happened, combining the memorable with the ridiculous in a scene that included one of golf history's longest and most circuitous cart-path bounces.
In the final round on the South Course, Mickelson was limping in at 18 at one over for the day, having already made four bogeys on the back nine. He no doubt wanted to give San Diegans one more cheer in a tournament not filled with many of them for him. But he sliced his drive above the right fairway bunkers, and with a lie well below his feet, pulled out a fairway wood.
"Oh boy," Justin Leonard said on the NBC broadcast. "What is he doing here?"
Mickelson took a mighty swipe, and NBC's cameras just froze. For viewers, it was as if the ball never came down from the sky.
What it actually did was hit a cart path far right of the green amid a large crowd. Somehow, it began rolling down the concrete, and as if it was being remote controlled, made a slight turn, rolling some more, before settling against a temporary fence behind the first tee. The USGA's version ShotLink had the ball traveling a total of 299 yards, 65 yards past the flagstick. With the grandstands in the way, it looked like miles.
"I was on the phone with my stepdad," recounted Steve Remedi, from Phoenix. "And he was, like, 'Phil's shot is bouncing down the cart path. Are you right there?' And it skipped right by me. I was, like, holy sh-t! And I jogged next to it. And there were some people bending down to go mess with it, and I told him not to touch it."
Volunteer marshal Darin Bowles was minding his position near the fence when he heard a commotion.
"I saw a ball rolling and rolling down, and I thought someone had dropped one of the souvenir balls," Bowles said. "And then there's this USGA marshal at a sprint—'Stay back! Stay back! Keep people away!' The ball is still moving and then it stopped. People are asking, 'What [kind of ball] is it?' It's a Callaway! It's Phil's!"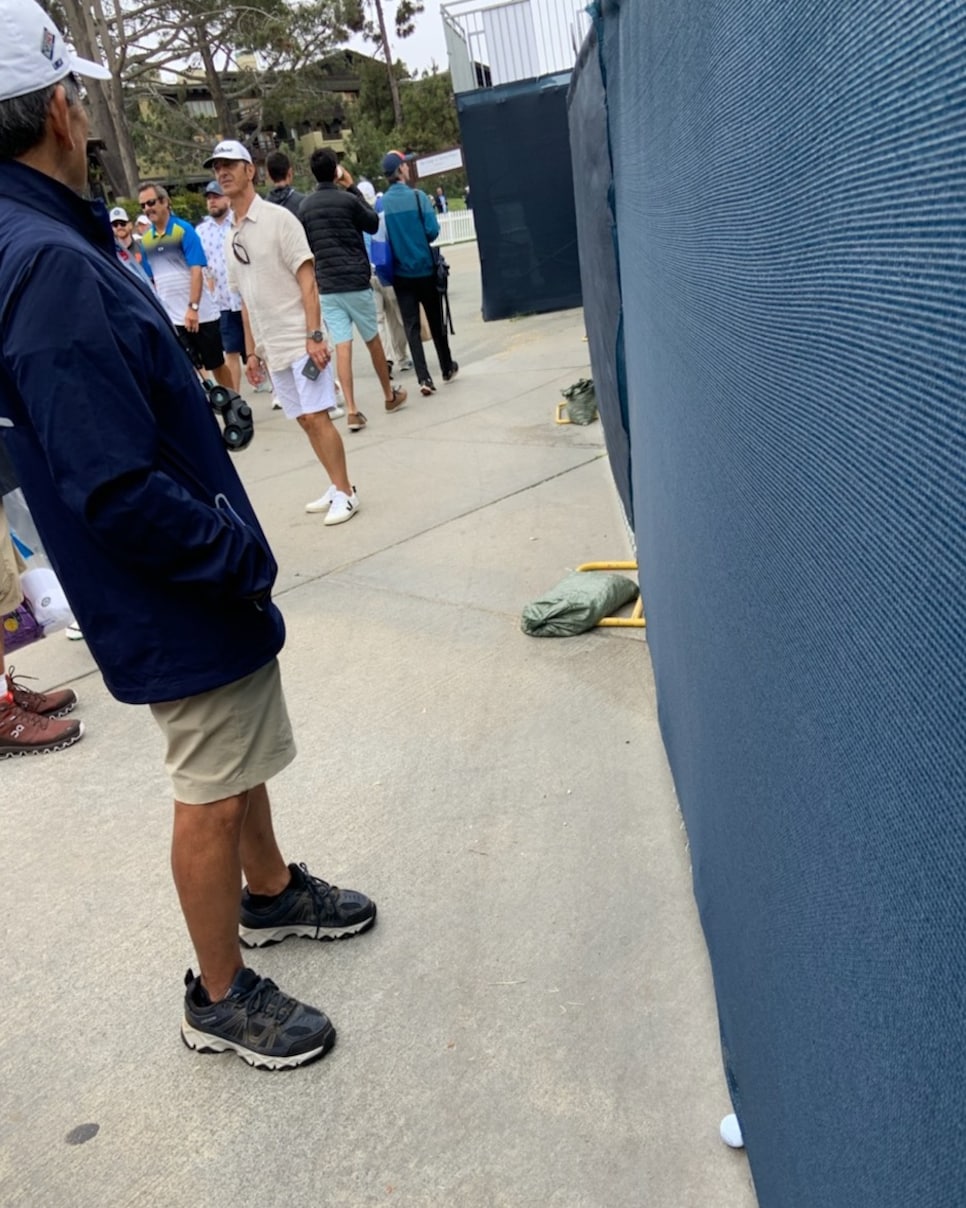 Phil Mickelson's ball rests against a fence after it rolled down a cart path on the 18th hole. (Photo courtesy of Darin Bowles)
Bowles is a member of the Torrey Pines men's club. He's played hundreds of rounds on the course, and he said he's never seen anybody ever hit the ball to where Mickelson did. He loved it, though. He took pictures and will be telling the story for the rest of his life. "It's wild! Just wild!" he said.
Mickelson was less pleased. He had to make the walk of shame to his ball to identify it, and then walked back to take a drop—without penalty because of all of the obstructions. He had 100 yards to the hole with his third shot, and put that in the bunker. When he couldn't get up and down, Mickelson finished with a 6, a 40 on the back nine and a closing effort of four-over 75. His total score of 11 over put him near the bottom of the weekend board and was five shots worse than his total in the 2008 U.S. Open at Torrey Pines.
Asked a question about the 18th hole, Mickelson offered an answer that was shorter than the time it took his ball to roll. "Oh, I just got on the cart path, and it just ran down 100 yards past the hole," he said. "So we had to go 100 yards the other way."
Mickelson entered the week coming off the high of his historic win in the PGA Championship, becoming the oldest man, at 50, to win any major. But Torrey Pines South always figured to be a tough test for him because he's rarely played it well since the redesign in 2001. He did, however, laud the USGA for the way it set up the course this time.
"I'm disappointed I didn't play better," Mickelson said. "I'm very surprised that, in the 30 years that I've played the U.S. Open, this is the best I've seen. I thought they did a remarkable job, and I'm really proud and happy that it's here at Torrey.
"I think this afternoon is going to be awesome. The setup is the best I've ever seen, and it allows on some holes—what they did really well is they made some of the hard holes harder pars, like 11 and 12, and they made some of the easy holes, like 2, easier so you can make birdies."