Nobody used the word "fluke" to describe Phil Mickelson's PGA Championship victory last month, and the reason for that is because Mickelson is one of the greats of the sport, a first-class winner, and a guy who came into Kiawah having won five major titles in his career. Clearly, his triumph was miles different from Michael Campbell winning the U.S. Open, or Shaun Micheel winning the PGA Championship, or any of the other truly out-of-nowhere major wins in recent history.
But—you knew the but was coming—Mickelson's legendary status disguised the fact that when he won at Kiawah to become the oldest major winner in golf history, and the only man to do it past age 50, it was really, really, surpassingly unlikely. Watching him this week at the U.S. Open, where he did enough to make the cut after an opening 75 before falling back again on Saturday with a 76, opened my eyes to the anomaly at the PGA Championship. Why? Well, to put it simply, it's because this is what you'd expect. Being tied for 63rd after three rounds at Torrey Pines feels just about perfect for him, and very much in line with his results from the last two years. But winning at Kiawah? That's outrageous, unexpected and a heck of a lot more shocking than the golf world is making it out to be.
A glance at Mickelson's World Ranking page tells the story of the last 24 months, and the story is one of a formerly excellent player who has become mediocre. There were strong finishes; three of them, exactly, at the 2020 WGC Fed-Ex Invitational (second), the 2020 AT&T Pebble Beach Pro-Am (third), and a European Tour event (T-3). You can also find a T-21 and T-18, both of those coming at the Masters, which has a smaller field, rewards experiences and also rewards lefties. Beyond that, it's a litany of so-so finishes and missed cuts. Look back a little farther, and it's easy to see the Pebble Beach in 2019, which he won, as a sort of last victorious hurrah, after which he officially became "old." From missing just three cuts in 2018, he missed eight in 2019, then seven more in the shortened 2020 season. And 2021 did not start well; beyond the Masters, he had already missed six more cuts on the PGA Tour and managed only a handful of rounds in the 60s before arriving at Kiawah.
You get the point—Mickelson seemed, for a good long time, to be very much on the downswing. To defeat the world's best players on a difficult course at the PGA Championship isn't just mind-blowing. It's mystifying.
And there's a good chance it will become more mystifying as the weeks pass. Mickelson followed up his win with a missed cut at the Charles Schwab Challenge and the current back-of-the-pack showing at the U.S. Open. We can't read the future, we can only try to predict, and if you're looking at 24 months of results, well, you'd probably go with the overwhelming majority of those results in mapping out how the rest of 2021 and beyond will look. Plus, when it comes to men over 50 winning majors, there's Phil and nobody else, and very few 50-somethings have even won PGA Tour events. Mickelson is obviously a cut above your average near-senior, but time is still time, precedent is still precedent, and none of this gets any easier.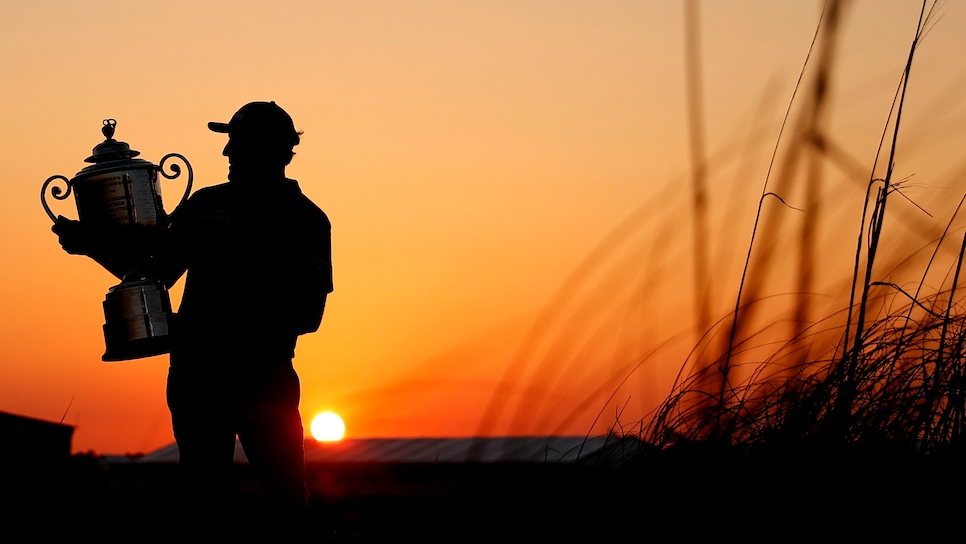 Phil Mickelson basks in the glow of winning the Wannamaker Trophy at Kiawah in May.
Maddie Meyer/PGA of America
None of which should discount his chances of going on a late-career run. "It's very possible that this is the last tournament I ever win," Mickelson said after Kiawah. But most of us who love golf will be rooting for him to beat the odds, and if there's anyone who can pull it off, it's him.
Nor is the point here to slander his victory, because the larger golf world was right to avoid the word "fluke" when it comes to someone this good. The aim of this comparison is to show just how incredible—and anomalous—his performance was, how deeply strange in the midst of what otherwise looked like an end-of-his-career rut. By this measure, we're hoping to highlight just how brilliant it really was.
Just as his name and stature disguise the unlikely nature of his win, they also disguise the sheer degree of difficulty and the excellence that could only be realized within the smallest possible margins. As time goes on, we might scratch at our heads more and more at what happened at Kiawah, and that only cements the magic someone like Mickelson can summon in a special moment.