Georgia-Inspired
Nike releases peach-inspired NRG golf shoes ahead of the Masters
*All products featured on Golf Digest are independently selected by our editors. However, when you buy something through our retail links, we may earn an affiliate commission.*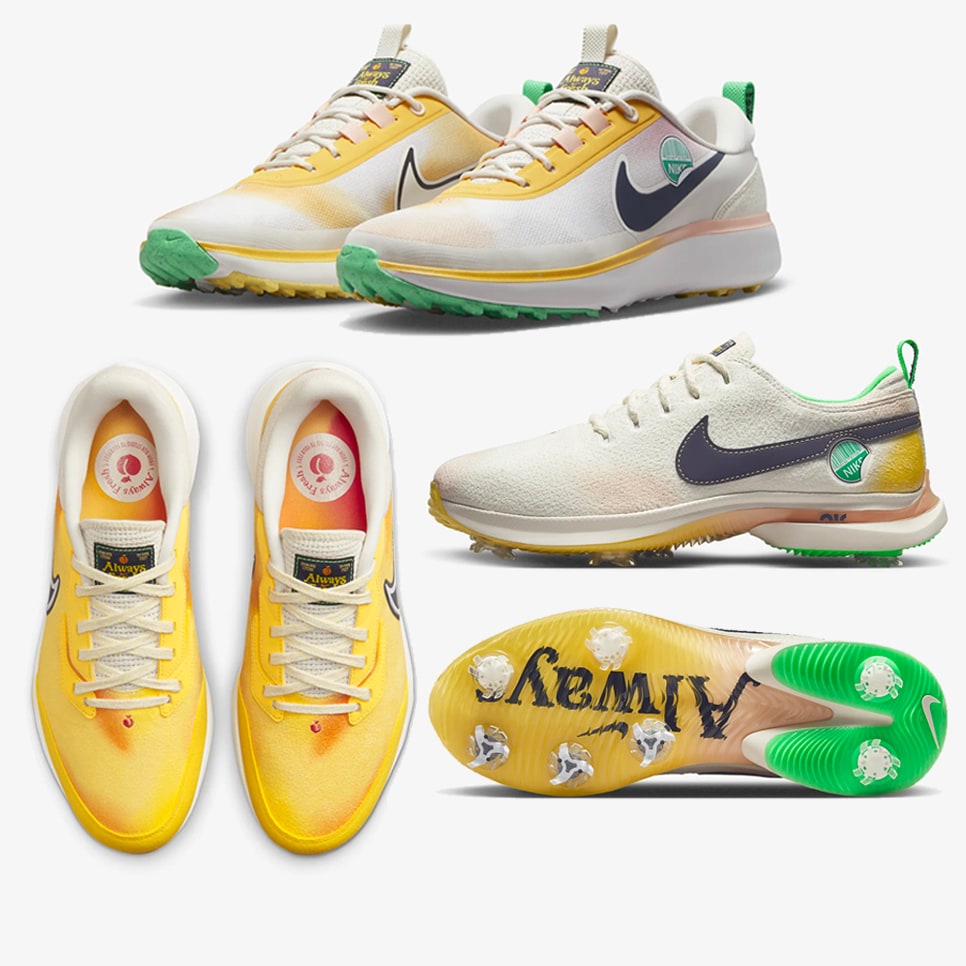 You can always count on Nike to release stylish and unique golf shoes around Masters week and other big golf events. As all eyes are on Augusta, Nike released three NRG golf shoes ahead of the tournament. The NRG label meaning "energy," is reserved for the brand's most coveted limited edition products. Included in this April's release are special edition versions of the Nike Air Zoom Victory Tour Golf Shoe, Infinity Ace Next Nature Golf Shoe and Air Zoom Infinity Tour NEXT% Golf Shoe—all with "peach fuzz" tones and textures that give a major nod to the "Peach State" that hosts the first major of the year.
RELATED: The best men's golf shoes and The best women's golf shoes of 2023
With soft green and yellow-orange details, each shoe features a custom label on the tongue of the shoe and on the insole that reads "From our studio to your feet" and "Always Fresh" with a peach icon. The upper of the Nike Air Zoom Victory Tour 3 NRG was designed with a burlap-sack-like look on the full-grain leather material. Peachy tones almost reminiscent of tie-dye wrap around the heel with the molded 3D collar—that adds stability—adding another touch of color in bright green. The bottom of the shoes read "Always" on the left and "Fresh" on the right, for a surprise message to be revealed at the finish of the golf swing.
With a more sneaker-like look, the Nike Infinity Ace Next Nature NRG is a bit brighter, with yellow surrounding the laces at the eye stay. A digitized "Nike" stamp in green at the pull tab adds another pop of color to the primarily pastel shoe.
The boldest of the three, the Nike Air Zoom Infinity Tour NEXT% NRG comes in a yellow-gold shade with a simple oversized black-and-white Nike swoosh across the side. Balancing the brightness are off-white, burlap-inspired laces, mesh tongue and heel collars. As with the other three shoes, it also features a tiny embroidered peach at the bottom of the laces.
Nike's limited edition shoes are available now on the Nike website and are expected to sell out fast. Typically, Nike's Masters-week golf shoe releases will sell out before play even starts.