News
Masters 2020: Tiger Woods shuns Turkey Day, goes with his SoCal favorites on champions dinner menu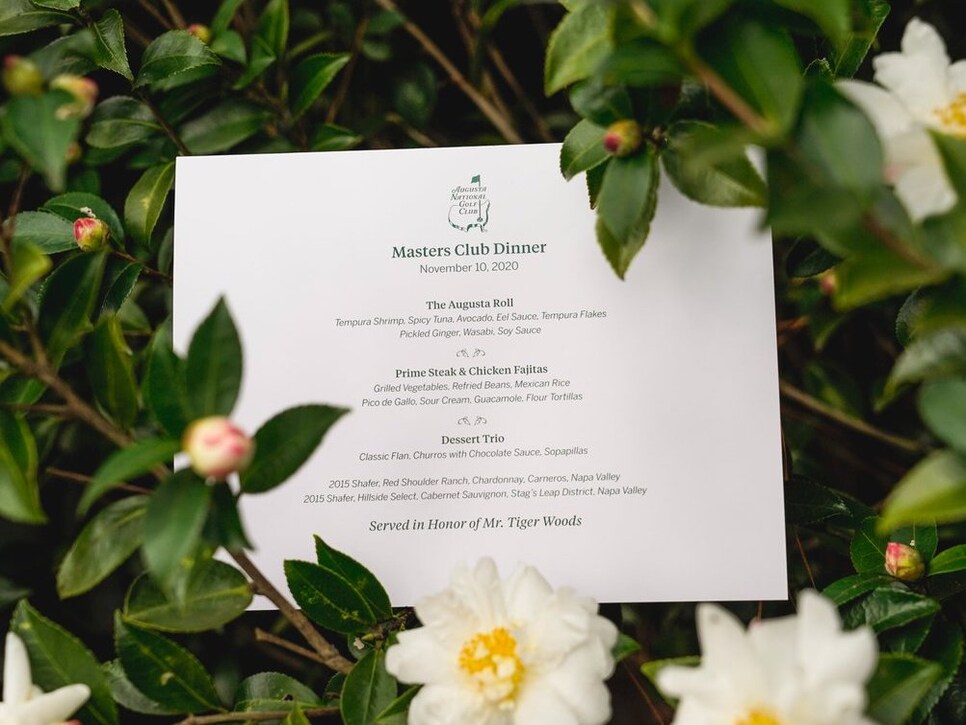 As culinary tendencies go, Tiger Woods isn't exactly a guy who will leaf through the Michelin Guide when he comes to your town. Yelp might be more his speed. We know this because he has now put together a menu five times for the champions dinner at the Masters—known officially as the "Masters Club Dinner"—and if you're not a meat lover—and we mean, caveman-like meat lover—you're pretty much out of luck. Throw Mexican food and sushi in there, too. Oh, and cheeseburgers.
Come to think of it, Tiger's right on for many of us with his choices, since we would have politely nibbled on South African Trevor Immelman's Bobotie (spiced minced meat pie with an egg topping) or Canadian Mike Weir's elk and wild boar.
In April, when the 2020 Masters was supposed to be played, Woods already had released his choices for this year's champions feast on Tuesday night at Augusta National Golf Club, and though disappointed that he couldn't host the dinner in the spring, he posted a fantastic picture of his family having their own "champions dinner."
This year's fare is strikingly similar in its California leanings to his last effort in 2006. There was a thought that given the change to November that Tiger might go with a Thanksgiving theme, and Cajun-spiced deep-fried turkey sounds pretty tasty to us, but he went back to what he knows best.
The menu, as confirmed in a tweet by the Masters:
Tempura shrimp, spicy tuna, avocado, eel sauce, tempura flakes, picked ginger, Wasabi, soy sauce
Main Course: Prime Steak and Chicken Fajitas
Grilled vegetables, refried beans, Mexican rice, pico de gallo, sour cream, guacamole, flour tortillas
Classic flan, churros with chocolate sauce, sopapillas
One thing missing that would be a huge disappointment if left off: milkshakes, which we believe Woods mentioned in the spring. He first served up shakes to go with his cheeseburgers and fries in 1998. Maybe he's leaving that as a surprise.
And just as an aside, if you think Woods' choices are a bit pedestrian, consider Bubba Watson. He's won two Masters and picked the exact menu both times: grilled chicken, mashed potatoes, marcaroni and cheese, and cornbread. We think Applebee's might have catered those.