News & Tours
Pro has an insane scorecard likely never seen: a '10' and 10 birdies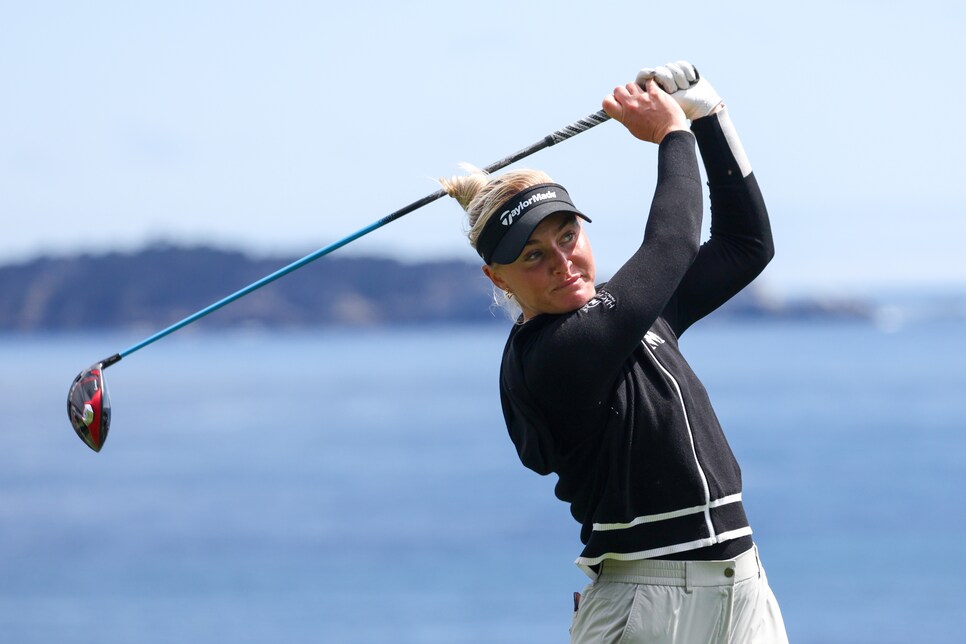 Charley Hull shot 66 in the final round at Pebble Beach to tie for second.
Harry How
If casual golf fans didn't know a lot about England's Charley Hull before last week, they got a taste of her explosive game on Sunday when she charged in the U.S. Women's Open with a final-round 66 at Pebble Beach. She had a memorable 18th hole, lashing a fairway wood and dropping to her knees from under the pine tree in the fairway and then having a putt for birdie and a 65 that would have tied Tiger Woods and Gary Woodland for the record low score in a U.S. Open at Pebble.
That was all very thrilling, but what Hull suffered and then overcame with fireworks on Friday on the Ladies European Tour borders on rollercoaster golf at its finest.
In the Saudi Arabia Public Investment Fund Aramco Series event in London, Hull had a nightmarish sixth hole at Centurion Club, where she made a quintuple-bogey 10 on the 474-yard par 5. Unfortunately, women's golf doesn't have ShotLink, so we can't see how that transpired, but we can say that No. 6 has no water on it, which makes it even more intriguing.
Hull already had made two birdies early, so she stood at three over after the 10. The two-time LPGA winner then showed some bounce-back resilience when she birdied the next hole and added another birdie at the par-5 ninth to make the turn in a respectable 38.
It's then what Hull did on the back nine that will long be recalled. She birdied six of her last seven holes, including four in a row from 12 through 15 to shoot 30 on the back. So, one 10 and 10 birdies led to a five-under-par 68 that had Hull tied for the lead with Nelly Korda after Round 1.
There were no quotes available from Hull, but she did say before the event that she was beginning to feel better after struggling with some mental issues off the course.
"I have been playing well all season, hitting it well and everything, but it was confidence," Hull said. "I have been struggling mentally this year, not on the golf course but off the golf course. I had to fix my head to get better, and I feel better, and it just shows on the golf course that when you're healthy you can play good golf."