Honda Classic
Chris Kirk's resurgence, Shane Lowry's heavy heart, and Ben Taylor's conflicting interests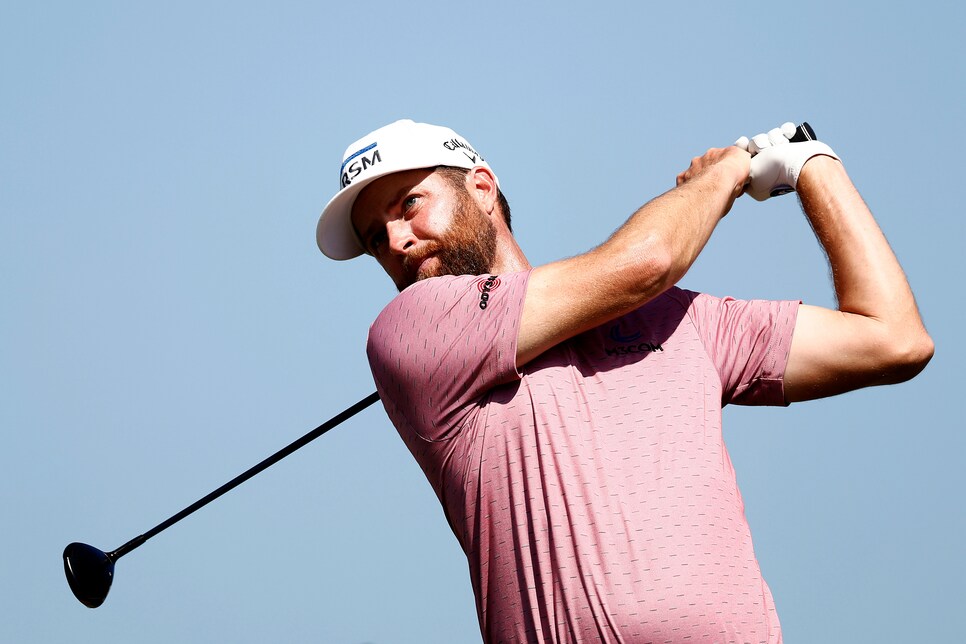 Chris Kirk hits his first shot on the fourth hole during the third round of The Honda Classic at PGA National Resort and Spa.
Douglas P. DeFelice
On paper, heading into Sunday at the Honda Classic, Chris Kirk, who leads Eric Cole by two shots and Justin Suh by three, should be the most comfortable of the top three. The 37-year-old veteran has played in more than 300 PGA Tour events, with four career wins. He has played on a U.S. Presidents Cup team and has more than $23 million in career earnings. Cole and Suh, on the other hand, have just one career top-10 between them, combining for just more than $1 million in career earnings.
Except Kirk doesn't see it that way. After shooting a third-round four-under 66 at PGA National's Champion course to grab his sixth career 54-lead or co-lead, Kirk was asked about his experience relative to that of his closest pursuers.
"Yeah, it's probably not that different of a feeling," Kirk said. "It's been so long since I've won. I'm going to be plenty nervous, just as nervous as those guys are probably."
It's refreshing honesty from a guy who is looking to jumpstart the second half of his career. The Athens, Ga., native is making his 179th start since his last tour win at the 2015 Charles Schwab Challenge. In the eight years since, Kirk has looked to regain the form that gave him so much early career success, highlighted by a Presidents Cup appearance in 2015.
As the winless drought might indicate, there's been some adversity to overcome for Kirk, who in 2019 took a six-month leave from the tour to seek treatment for alcohol abuse and depression. Competing in just 11 events in 2020, Kirk, who was playing on a major medical exemption, came to the 2021 Sony Open needing a top-three finish to maintain full tour status. He shot four rounds of 65 to finish tied for second and keep his card.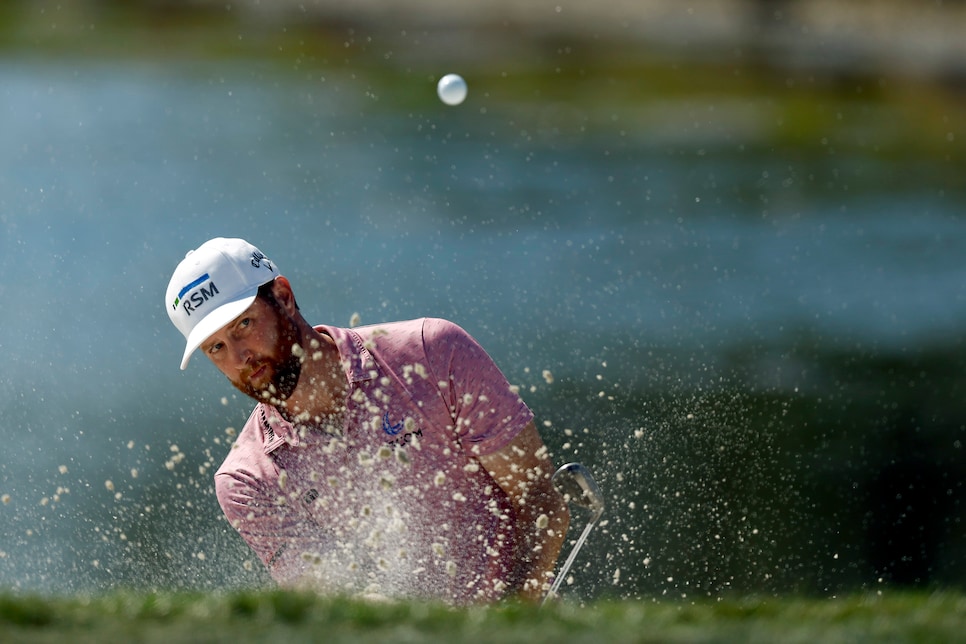 Chris Kirk blasts from a bunker on the sixth hole during the third round of The Honda Classic at PGA National Resort and Spa.
Douglas P. DeFelice
A couple years on, the University of Georgia alum has had a strong start to 2023, recording a pair of top-three finishes at the Sony Open and The American Express. That recent experience being in contention, he says, will serve him well going into Sunday in Palm Beach Gardens, Fla.
"I think more so than my four wins on tour, I'll be able to draw from how well I played at Sony and Amex," Kirk said after closing his third round with birdies on 17 and 18. "I didn't win any of those events, but I felt like I really played great, and got pretty comfortable in that situation in the heat. So I think that if I just continue to go do my job and go execute, then there's no reason why it shouldn't turn out different this time."
He'll be joined in the final group by Cole, who is coming off his best career tour finish at Pebble Beach (T-15). The 34-year-old rookie is the son of tour winner Bobby Cole, who won the 1977 Buick Open. His mother, Laura Baugh, won the 1971 U.S. Women's Amateur and was the 1973 LPGA Rookie of the Year. What's more, his grandfather, Hale Baugh, competed in the pentathlon in the 1948 Olympics.
Talk about athletic genes. Cole made four back-nine birdies to shoot 66 on moving day to get within one of Kirk. Though he doesn't share the same experience of winning at the game's highest level, Cole has won more than 50 times on various mini tours, something he says he'll draw upon on Sunday.
"It's the same, but it is different," Cole said. "It's a bigger stage and stuff, but the golf ball doesn't know the difference, and I'm just going to try and keep kind of executing the way I have the first three days, and I think it should take care of itself."
Sitting in third at 10 under is Suh, the former top-ranked amateur in the world and a member of the Class of 2019, which also includes Viktor Hovland, Collin Morikawa and Matthew Wolff. Though the former All-American at USC has taken longer to adjust at the professional level, earning his tour card as the 2022 Korn Ferry Tour Player of the Year, he is well-positioned to join his classmates as tour winners.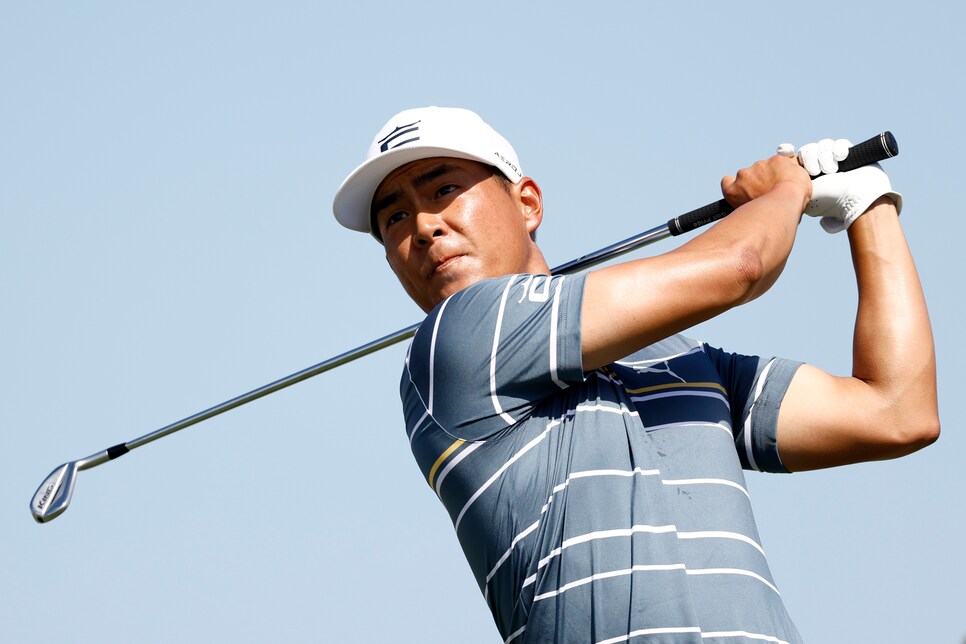 Justin Suh hits his first shot on the fourth hole during the third round of The Honda Classic at PGA National Resort and Spa.
Douglas P. DeFelice
"I thought we hit the ball great today," Suh said after hitting 15 of 18 greens to shoot an even-par 70. "We were putting it in the fairway, hitting greens. The hole looked pretty small today. Couldn't make any putts. I was hitting it with good speed and just kept on reading it wrong."
The stats confirm Suh's assessment. A day after gaining nearly four shots on the field on the greens, Suh lost nearly that many, ranking 78th out of the 80 players who made the cut in strokes gained/putting in the third round. In fact, his lone hole under par came at the par-4 12th, where he holed his 153-yard approach for an eagle.
It was the par-5 18th that best encapsulated Suh's day, as he was on the back fringe in two shots, with an outside chance at a closing eagle. Instead of making birdie to close within one of Kirk, Suh took three putts, including a missed three-footer, to finish with par. Still, it remains his best career 54-hole position as he looks to fulfill the lofty expectations that his amateur career warranted.
Here are two other takeaways from Day 3 of the Honda Classic:
Shane Lowry's emotional week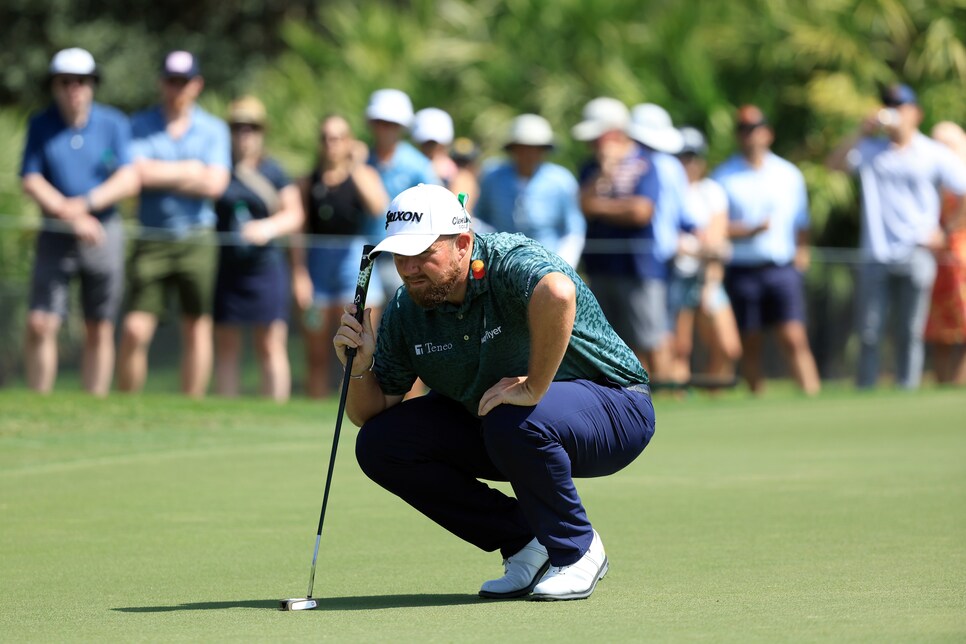 Shane Lowry of Ireland lines up a putt on the second hole during the third round of The Honda Classic at PGA National Resort and Spa.
Sam Greenwood
After shooting a five-under 65, the second-lowest round of the day, to get within four strokes of the lead, Shane Lowry had just one wish. "I just hope it doesn't rain tomorrow," the 2019 Open champion said.
It might seem like a strange comment if not for this context: Last year at this event, playing in the final group with Daniel Berger, Lowry held the lead late on the back nine on Sunday. Standing on the 18th tee, in fact, the Irishman was tied for the lead with Sepp Straka, who was playing in the group ahead.
On what was once a sunny day, the rain began to come down … hard. Straka made birdie and Lowry, who was forced to play the final hole in a downpour, failed to make the birdie needed to force a playoff. After the round, Lowry was understandably shaken up. "Yeah, it's hard to take, to be honest. Feel like I've got the tournament stolen from me today," Lowry said.
As he looks for his third career tour win, Lowry will not only be trying to overcome last year's bad fortune, but more importantly, he'll be looking to win for his late uncle, Jimmy Lowry, who unexpectedly passed away on Thursday.
"It's a very sad week for our family. To be honest, I wanted to go home on Thursday when I heard the news. A lot of people talked me out of it," Lowry said. "I'm here now. I'm trying to play for him and play for his wife and his kids and my cousins and my uncles and my aunts and everyone at home because we're a very close family and very proud of our name and very proud of where we come from."
On Saturday, Lowry was wearing a green and white ribbon on his hat to honor his uncle, a native of Ferbane, Ireland. "Hopefully I can go out and make him proud tomorrow. Everyone keeps telling me how proud he was of me over the last number of years, and hopefully I can do him proud tomorrow," Lowry said.
Ben Taylor's conflicting interests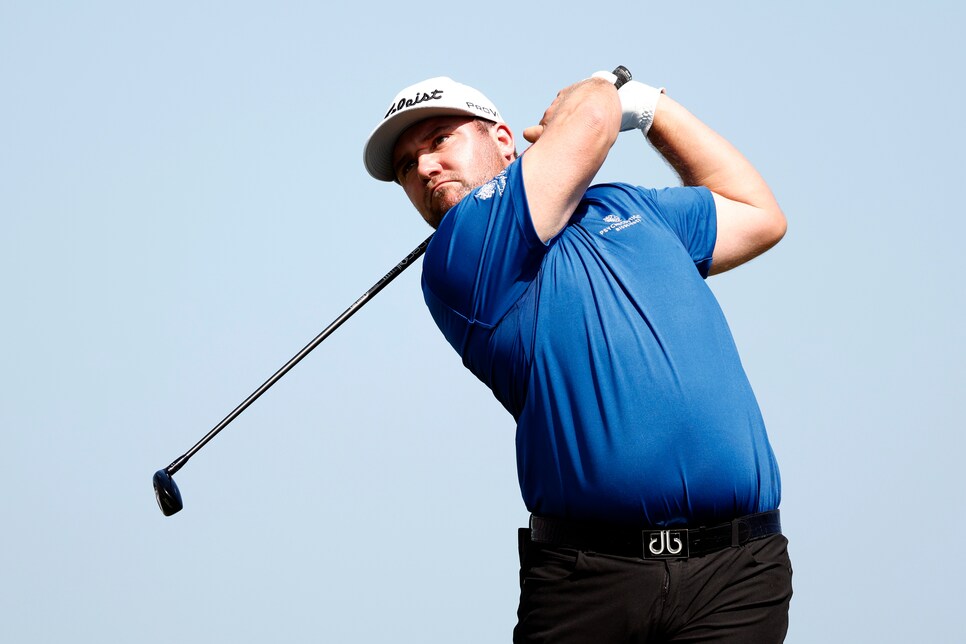 Ben Taylor hits his first shot on the fourth hole during the third round of The Honda Classic at PGA National Resort and Spa.
Douglas P. DeFelice
There's no doubt that Ben Taylor, sitting four back of Kirk, will be looking to overcome the final-round deficit to win his first tour event. The 30-year-old has bounced back and forth between the PGA Tour and Korn Ferry Tour over the last few years, and a victory at PGA National would provide some welcome job security. Though, if he comes up short, he may breathe a sigh of relief.
That's because the Englishman is to marry his fiancé, Taryn, during the week of the Players Championship, and should Taylor win on Sunday, he would earn a spot in that field. NBC's Cara Banks reported on the potential conflict during Saturday's broadcast.
Banks recounted a Friday conversation she had with Taylor: "I said to him yesterday, 'Ben, what happens if you win this week and get into that field?' He said, 'Well, I'd have to miss it probably and prepare for the Masters, but at least that sacrifice would make for a good groom speech.'"
Talk about conflicting interests.