PGA Tour
Two pros desperate to make the Honda cut came back Saturday morning to play one last hole. Did the wait pay off?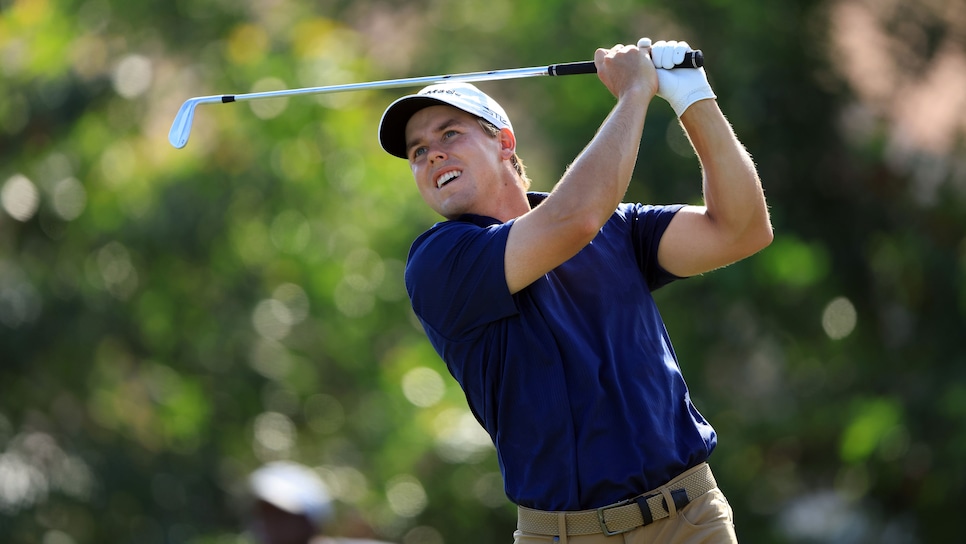 Pierceson Coody was right on the cut line as darkness fell in the second round at PGA National after he opened with a 66 on Thursday.
Sam Greenwood
When you're a golfer with no status on the PGA Tour but find your way into a tournament, there is no more important goal than to make the cut. Getting to the weekend, with the chance to cash a check and pick up some non-member FedEx Cup points, allows you then to potentially play your way into future starts. As the saying goes, one week can change your life.
So it was that non-members Brett Drewitt and Pierceson Coody were more than willing to wait an extra night to try to make sure they made the cut at this week's Honda Classic. Late Friday, the field was chasing the light trying to wrap up the second round at PGA National in Palm Beach Gardens, Fla. Drewitt, a Monday qualifier, was sitting at one over for the tournament, on the cut number, as he hit his drive on the par-5 18th hole and left his second shot some 112 yards from the hole. That's when he decided instead of rushing in the darkness he'd get up early on Saturday to finish out the hole, make his par and secure his weekend privileges.
On the other side of the course, Coody faced similar circumstances. The former college All-American at Texas had struggled on Friday, sitting five over on his round after shooting a four-under 66 the day before to sit one off the lead after Day 1. Instead of teeing off on the par-4 ninth hole, Coody's last, he chose to hold off until Saturday morning, knowing he had to make a par to make the cut.
So it was that Drewitt and Coody, the only two players who chose not to finish play on Friday, came back at 6:50 a.m. Saturday and took care of business.
Drewitt hit his third shot to 27½ feet, then lagged his birdie try to 10 inches to safely secure his par. Coody hit his drive into the right rough, but knocked his approach shot from 175 yards to 15 feet and two-putted for his par as well.
The duo were immediately paired in the first tee time of the third round and adrenaline appears to have helped both get off to solid starts. Drewitt birdied three of his first five hole—and nearly made a hole-in-one on the par-3 fifth (see below)—and Coody two of his first five.