The Loop
9 things we learned after talking golf with NBA legend Jerry West
Jerry West wears many hats.
Basketball fans know him affectionately as The Logo. The silhouette of a man dribbling a ball -- the NBA's logo designed more than 45 years ago -- is known to be West. He led the Lakers to nine NBA Finals, was named an All-Star in all 14 seasons as a player and is enshrined in the Hall of Fame. He's now on the board of the defending NBA champion Golden State Warriors.
But in addition to a life in basketball, golf is beyond a passion. West currently owns a 7.4 Handicap Index as a member of Bel-Air C.C. in Los Angeles and The Greenbrier in West Virginia. He also used to help run the Northern Trust Open at Riviera. Before he appeared as a grand marshal at Chicagoland Speedway on Sunday for the MyAFibRisk.com 400, he stopped at the BMW Championship at Conway Farms and talked golf with some members of the media.
Here's what we learned about West:
1. Jerry West once got fined for making a hole-in-one.
West has four holes-in-one in his life. He tells the story of sneaking out to play L.A.C.C. during the NBA Playoffs, even though the Lakers were instructed to stay home and rest before a crucial game. West proceeded to ace LACC's fifth hole. Knowing the coaching staff told everyone to rest and explicitly told him not to play golf, West told others he was playing with not to publicize it. So much for that. As he told the Los Angeles Times' Jill Painter in 2011: "I was made an example of for being naughty."
2. West once had 10 birdies at Bel-Air C.C. (with a back-nine 28!).
That was part of a back-nine 28 for West, who says, "nobody had done that before." That's West's home course, where he used to boast a +3.0 Handicap Index. The round also included two double bogeys -- but West shot a 65. "That back side is a very difficult round of golf."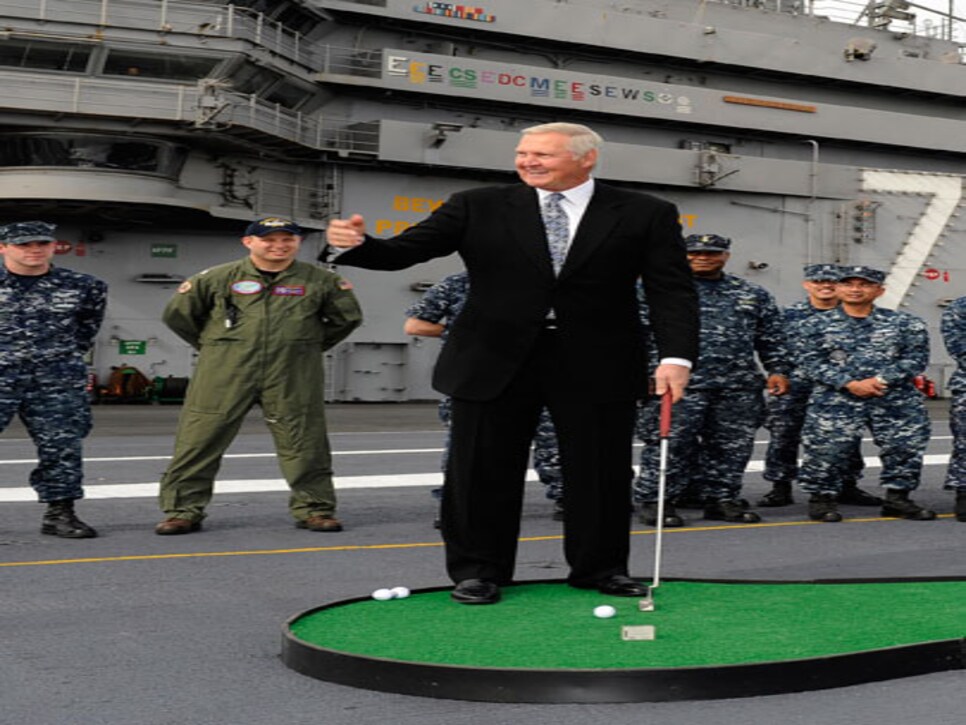 3. Spieth, Day and Rory. Jerry West thinks they'll be real difference-makers for golf.
"You know, they're real. And they're human. Their personalities, I think, are something that attracts golf fans. And because of their age, I think this is a game that people are going to go out and try to be Jordan Spieth and Jason Day, Rory, Rickie, Dustin, Bubba Watson."
4. Jerry West has shot his age so many times he has lost count.
Now 77 years old, West plays all the time. And while he's only hitting it 250 yards "on a good" drive, he's still shooting his age regularly. How many times? "A lot, oh, yeah...I'd say a lot."
5. One of West's favorite things to do? Just hit golf balls.
Like many of us, Jerry West loves practicing on the range as an escape. "One of the most soothing things for me is to go out and just hit golf balls. You immerse yourself from the trials and tribulations of your life. The outside pressures and all. And you watch [the pros] do it, and you realize they're on a completely different level, but they're constantly fighting their emotions and concentration needed to play."
6. West respects golfers as much as any athlete, in any sport.
"It's the ultimate test of an athlete's physical and mental skills. And more importantly, internally, the fights you have to fight with yourself as you're going through a tough stretch is solely on you. That might be your swing, or just missing a few shots you normally wouldn't miss. And so considering that, these players are just remarkable. I admire golfers as much or more than any other athlete that we have in sports."
7. Could Steph Curry be a pro golfer? Jerry West thinks so.
Even though they haven't played together, Jerry West talked about how he got Curry onto Riviera C.C. when West was still executive director of the Northern Trust Open. And so he watched Curry play nine holes. Needless to say, he was impressed.
"I've often thought, if he had started at an early age, here's a guy who has a gorgeous swing and can hit it a long ways. And he's got the demeanor to be a professional golfer. I think, somewhere along the way, certainly people are given gifts. He has a competitive gift and athleticism that not only transcends the basketball court but it translates to the golf course."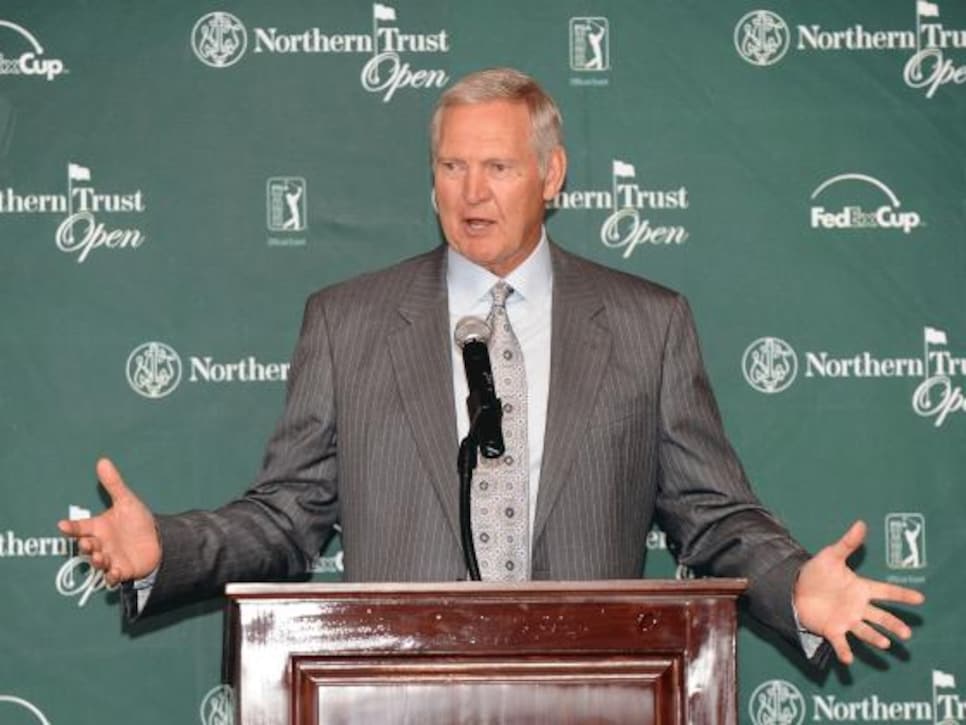 8. Mr. Clutch thinks the FedEx Cup is a huge success.
Here's why: "I know the majors have historical meaning, along with the champions of yesteryear, but now we have an incredible new breed of golfers who will leave their mark on the game before they're done playing at this level. To me, it's really exciting. To me, this idea that the PGA Tour has come up with has really extended their reach into golf fans for a long period of time."
"This is the culmination of a lot of great players having a great opportunity with one of the biggest prizes a player will ever achieve in their lifetime. And there has to be some prestige to that. If you look at the field, and cutting down to 30 players before the Tour Championship, I find myself having almost as much interest as I would with the majors."
9. The competition between Jason Day, Jordan Spieth and Rory McIlroy for World No. 1 has West glued to the TV.
He was on site at Conway Farms last week, so he got to see them first-hand. But West said he's been captivated this season by the stellar play at the top of the game. "You have these three guys at the top of the game -- trying for the No. 1 spot in the world every week. Day's stretch is incredible, Spieth almost had one of the best seasons of anybody. And Rory is a big presence. All three players -- of their caliber at this age -- is even more remarkable to watch."
Jerry West is working with Janssen Pharmaceuticals to raise awareness for AFib (atrial fibrillation) for the month of September. For every golf trip he goes on, West says the first thing he does is make sure he packs his AFib medication bag. His irregular heartbeat puts him at one in three odds of having a stroke in his lifetime. You can find out more here.