The Loop
8 things I learned from an unforgettable golf trip to Scotland with a group of strangers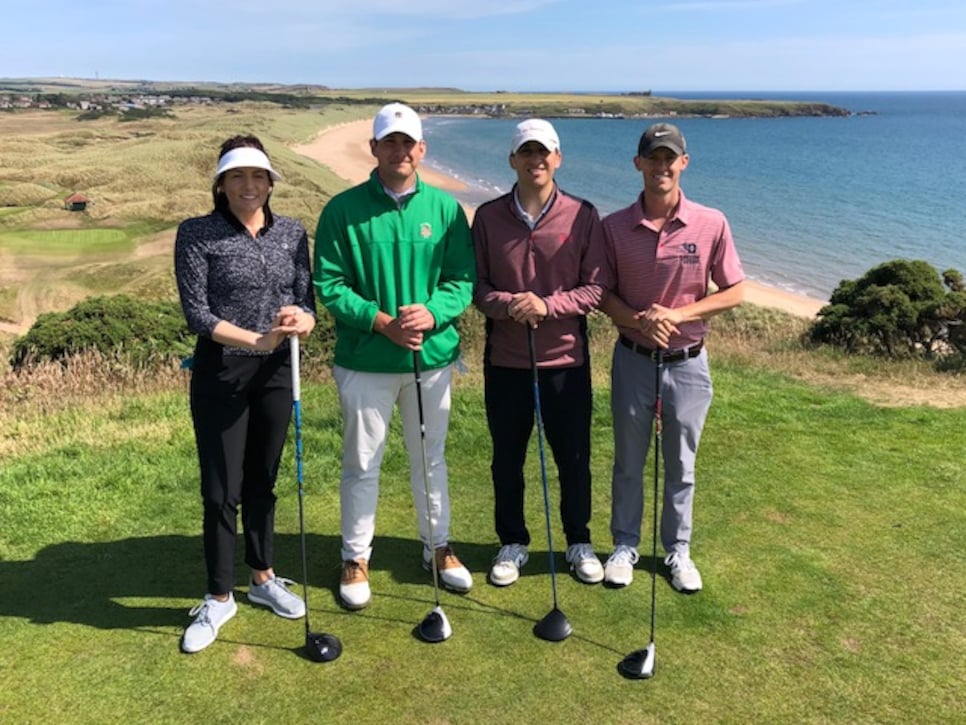 High above Cruden Bay a sensation hits you harder than the waves crashing into the sandy beach below. The ruins of Slains Castle are visible in the distance, linking today with the past, while off in the horizon a deep blue sea meets the sky, an exhilarating reminder of how vast the world is; and how small the golf ball you're chasing around it is.
"If you don't feel great to be alive here," my caddie, Richard, says, "there's something wrong with you."
I concur. As wrapped up as I often get in my own game, this is one of several moments I forget I'm playing at all. Cruden Bay is a magical place, and I'm winding down an unforgettable journey with six people I'd never met before. But let's back up to share how I got there.
As part of a contest run by TaylorMade in conjunction with Visit Scotland, Golf Digest, and Golf Aberdeen, two lucky guys and their plus-ones won an all-expenses paid golf trip to Scotland. And not just any trip. The group (I was fortunate enough to represent Golf Digest along with Hally Leadbetter) got to attend the final round of the Open Championship at Carnoustie, play Carnoustie the following day, and then play Trump International and Cruden Bay before flying home.
TaylorMade's Ryan Lauder and James Smith rounded out our crew of eight, serving as our fun, gracious hosts as well as our chauffeurs — which was a good thing, because we drove a lot and we wouldn't have survived me navigating the right side of Scotland's often narrow streets. Anyway, here are 8 things (not related to the Open) that I learned from our golf trip.
OK, I didn't need to go all the way to Scotland to learn this, but yeah, it's tough. Something that Henrik Stenson and Paul Casey confirmed to me on the eve of my big round. Our group began the day by practicing at nearby Panmure Golf Club. Just like Hogan did in 1953!
Although, our range session was far from Hoganesque. Hitting balls off what's essentially hardpan is a hard adjustment. And hitting those kinds of shots on a course well guarded with pot bunkers, burns and out-of-bounds markers is even more difficult. My group only played the tips on No. 1 (the starter practically begged us to), No. 16 and No. 18. I was five over on those three holes, and shot a decent 85 from the member's tees. It also helped that I just came up short or skirted at least six nasty fairway bunkers. Like this on No. 12.
The ball barely short of the bunker is mine. The ball in the bunker is Hally's. Sorry, Hally. (Although, she probably still beat me on the hole.) I barely missed the burn right on No. 18 and after laying up short of the burn short of the green on my second (No, I am not a long hitter), I thought I hit a perfect gap wedge. Wrong. It rolled and rolled until it went over the green and I three-putted from there for a double-bogey 6. Not that a certain Frenchman wouldn't have taken that 19 years ago. . .
2. Playing a major venue the day after the tournament is a treat
I stroked putts on the spot where Francesco Molinari was informed he'd won the Open the day before. I tried putting from the divot Tiger Woods made when he hit a pitch shot on the double green on 14. And with the Open fresh on my mind, I re-enacted several other key moments from the Open:
Playing the final round pins made the experience even more enjoyable. Although, there were some tricky pins. And playing surrounded by grandstands — even empty ones — was fun.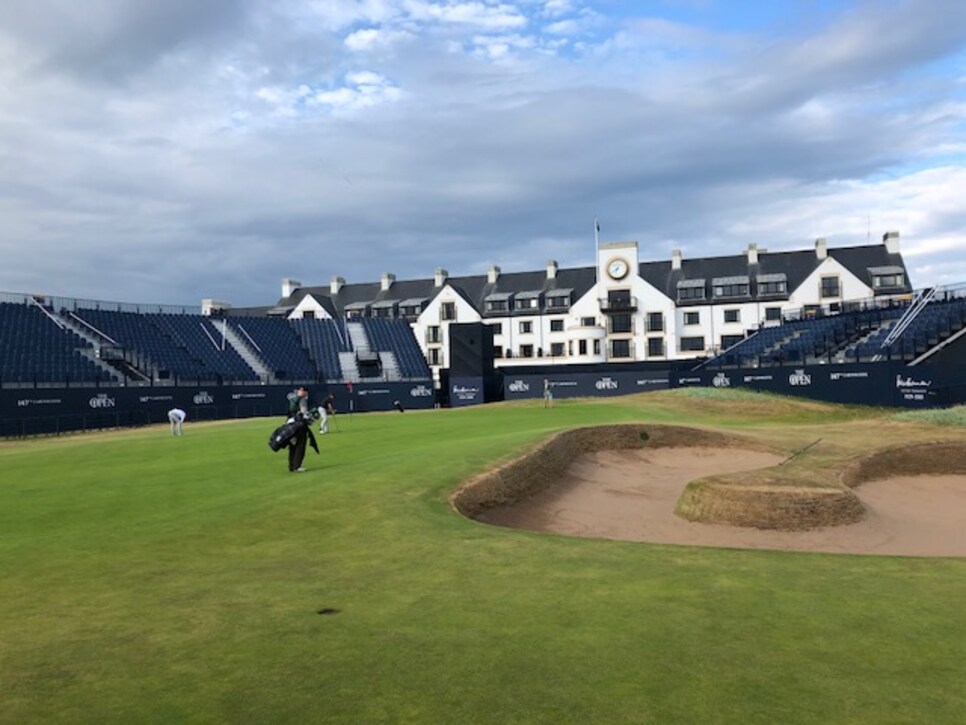 The only negative was when the caddies pleaded with me to not relive Jean van de Velde's climb into the Barry Burn. I took my shoes off, but was warned to stay away from the swans. True story.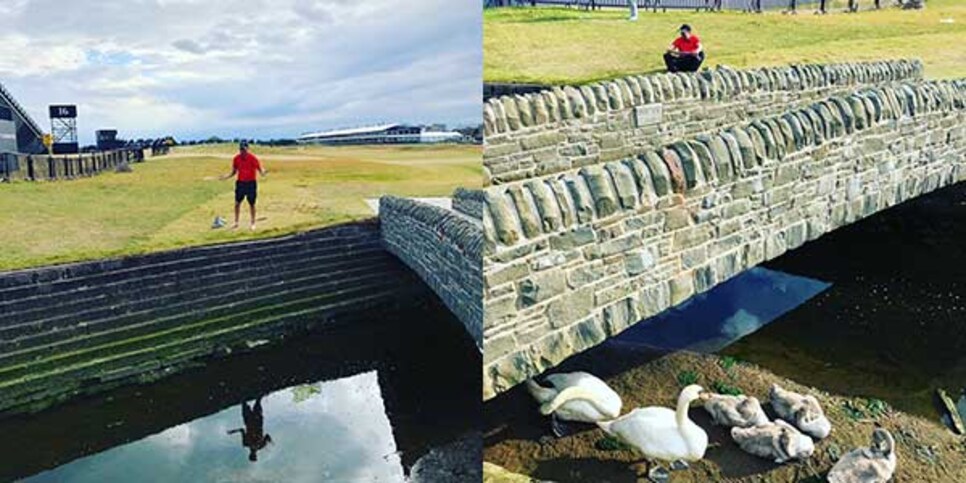 While several people have made fun of me for this, many others have come to my defense with stories of how vicious these things can be. And they were hissing at me, so I think I made the right call.
3. Trump International is stunning
Say what you will about Donald Trump as President — and about the environmental laws that may have been broken to build this place — but wow, is it a stunning track. After a two-hour drive north through Aberdeen upon the conclusion of our round at Carnoustie, we checked into the beautiful Meldrum House (We also played a lovely afternoon round there one day) and arrived at Trump the following morning. With dunes as high as 38 meters tall constantly framing the holes, the course was unlike anything I'd ever seen before. It also might be even tougher than Carnoustie because if you hit it off the fairway into any of these dunes, the your golf ball is basically gone. My pictures don't do it justice, but the par-4 14th: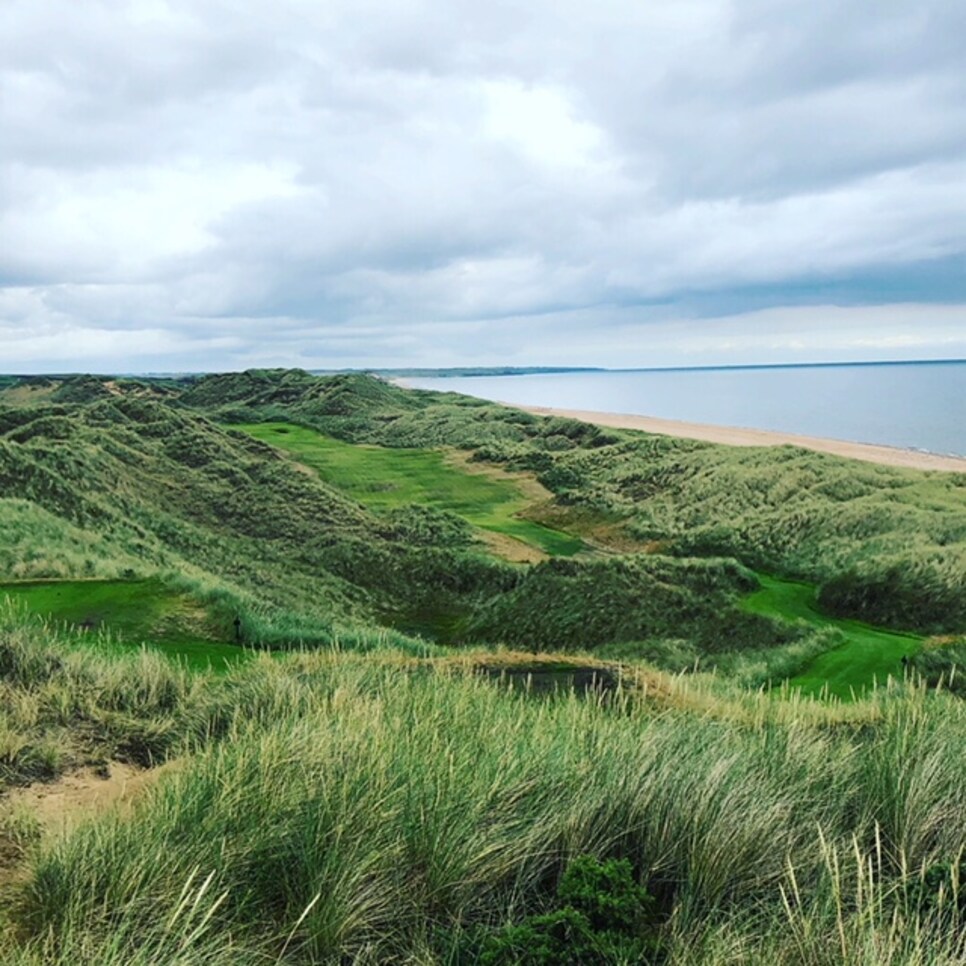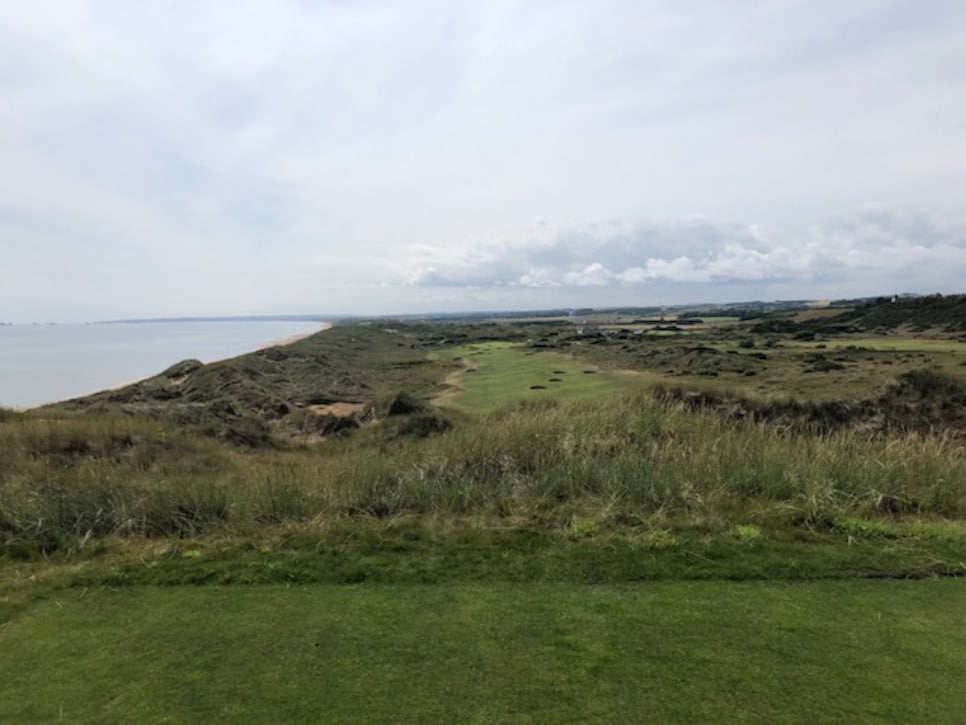 Are as spectacular a pair of holes you'll find in the world.
4. Cruden Bay is also well worth the drive
Like I said at the top, Cruden Bay is a magical place. And that's not just because they hand you a dram of whisky with your scorecard.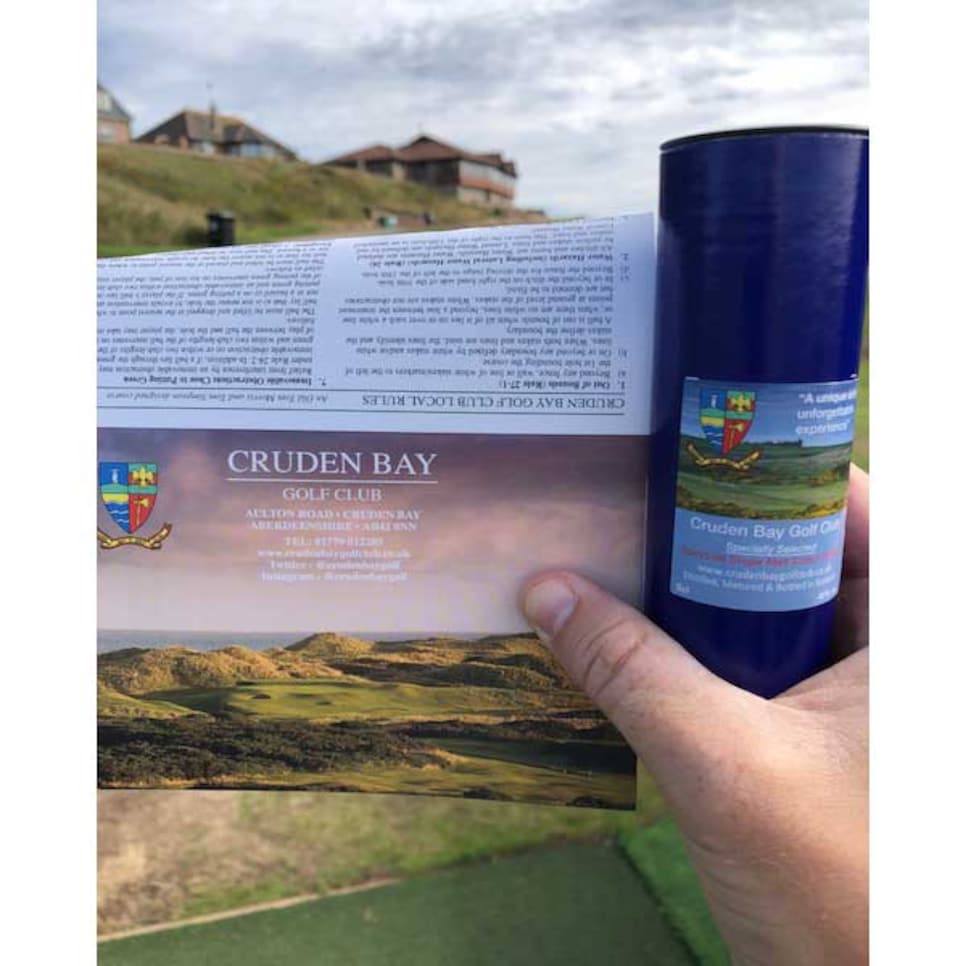 It's also not a surprise that Cruden Bay is a standout spot considering Tom Coyne just wrote a book about playing 107 Scottish links and said this was his No. 1. Like Trump International, Cruden Bay has big dunes, fantastic holes, and incredible seaside views (Unlike Trump, with no windmills, as my caddie, Richard, is happy to point out):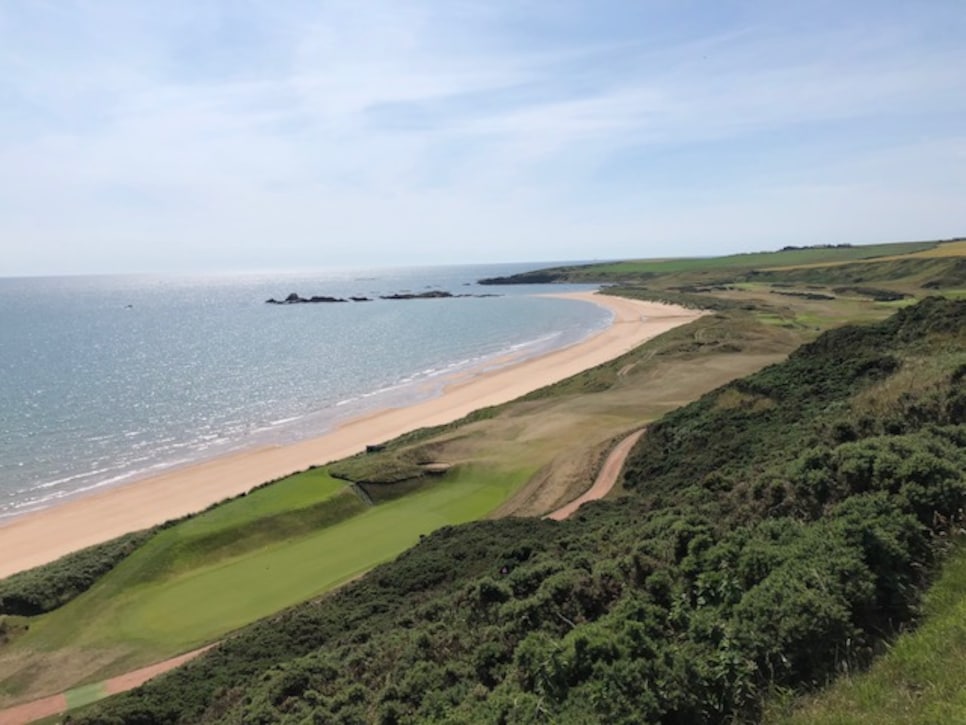 What sets it apart is the variety and playability of these holes that were originally plotted out by Old Tom Morris in 1899. There are two drivable par 4s on the front, including the stunning 8th (which my man Richard, a 50-year member, aced a few years back):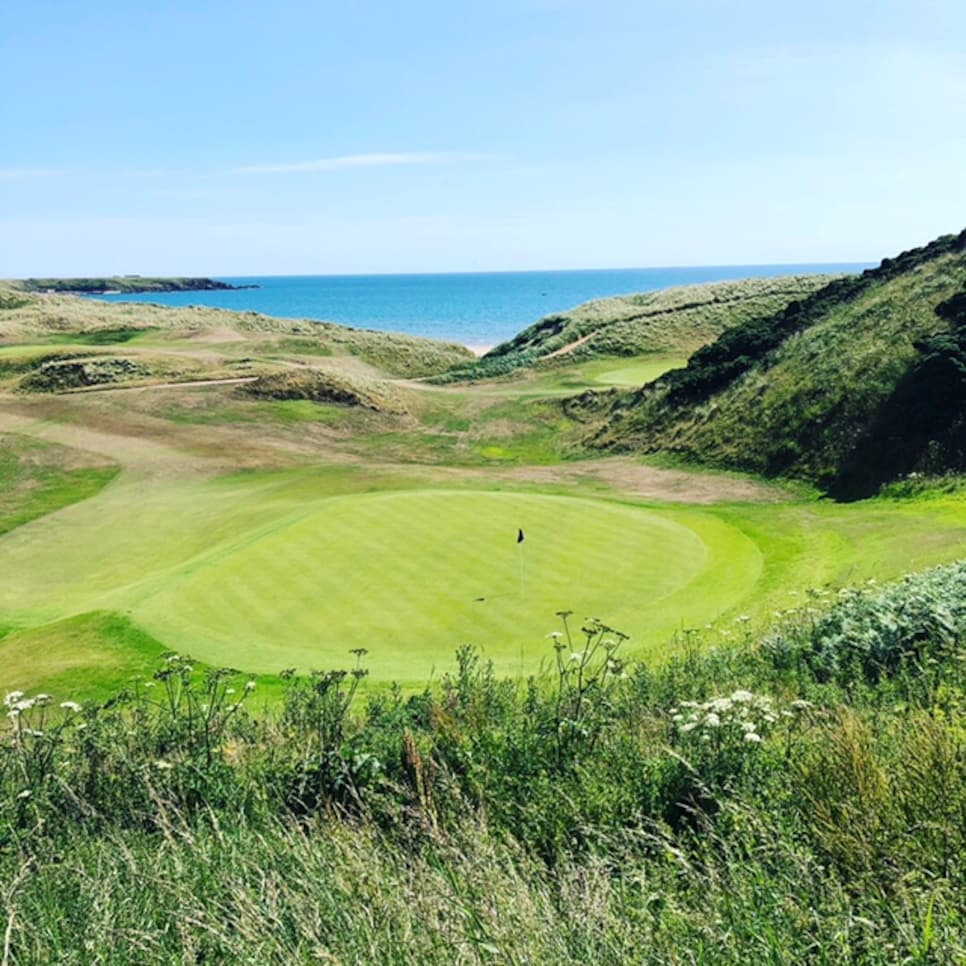 There's a blind par 3. A blind approach into a par 4 that has a "bathtub" green, which collects most shots. And tee boxes right on top of the bay itself. And yes, there's that castle, which is said to have been the inspiration for Bram Stroker's "Dracula," off in the distance the entire time. We drove the five minutes to get a closer look following our round:
5. Scottish caddies are awesome
I've already talked about Richard a few times, but he deserves another mention. Originally born in Toronto, the longtime Cruden Bay member and a former economics professor at the University of Aberdeen was as much of a tour guide as he was a caddie, teaching me about "The slaughter of the Danes," which is where the word Cruden comes from (Not as pleasant as it sounds, huh?) and the NATO fighter pilot tests conducted daily above the course (You could see the streaks in the sky). Richard was a delight, as was the much younger David at Trump International and Michael at Carnoustie, who had a "Scotland" tattoo on his left arm.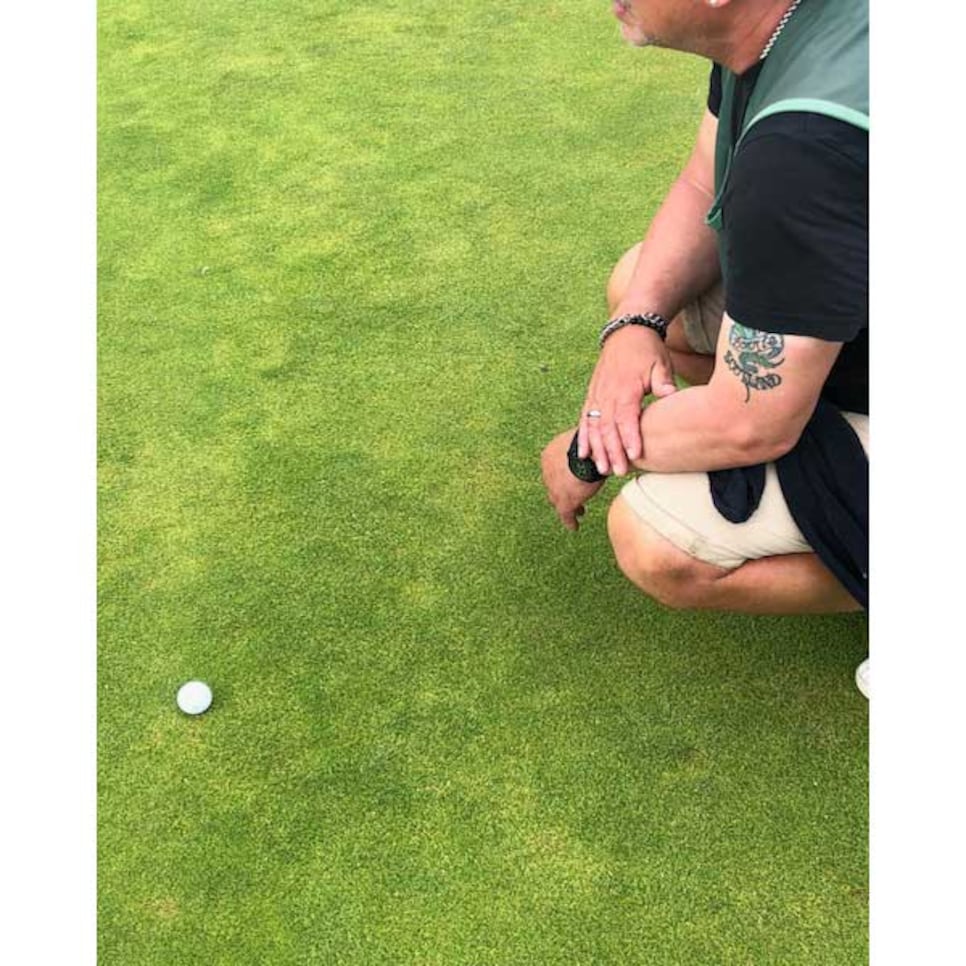 I snuck a photo, because Michael looked like a tough customer, but I thought it was great. Also, my parents recently did one of those Ancestry tests recently and I'm a few percent Scottish, so these are my people. And this is my place. Maybe I need some Scotland ink...
6. Scottish whisky isn't for everyone
Then again, maybe that DNA test wasn't accurate because I can't get into Scottish whisky (Yes, it's whisky with no "e" in Scotland). But I gave it a fair try on this trip — although, not the peaty variety. That stuff is nasty. We went on a whisky testing tour at Glen Garioch (Pronounced "GEARIE") distillery: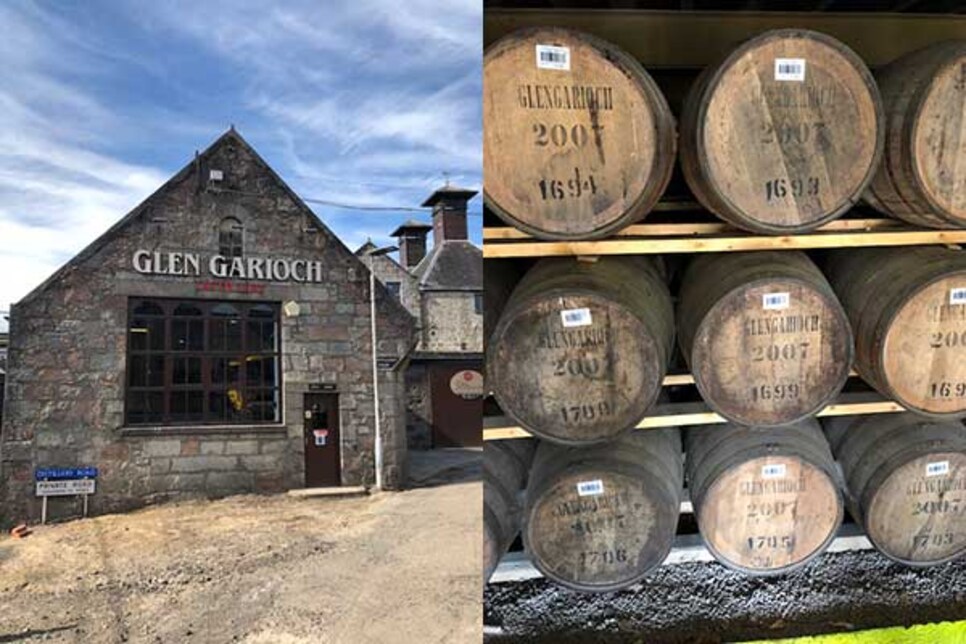 And some more tasting in Edinburgh.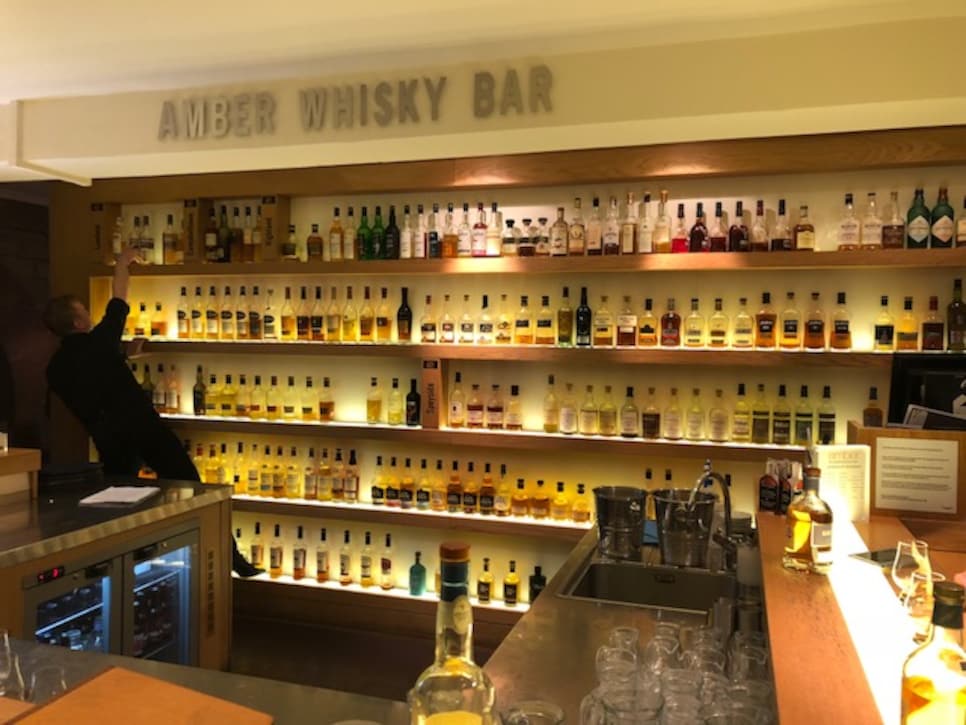 I also got another lesson on the stuff (and just about every other kind of alcohol) from a particularly entertaining bartender named Neil at Meldrum House. By the way, that place has a "cave bar":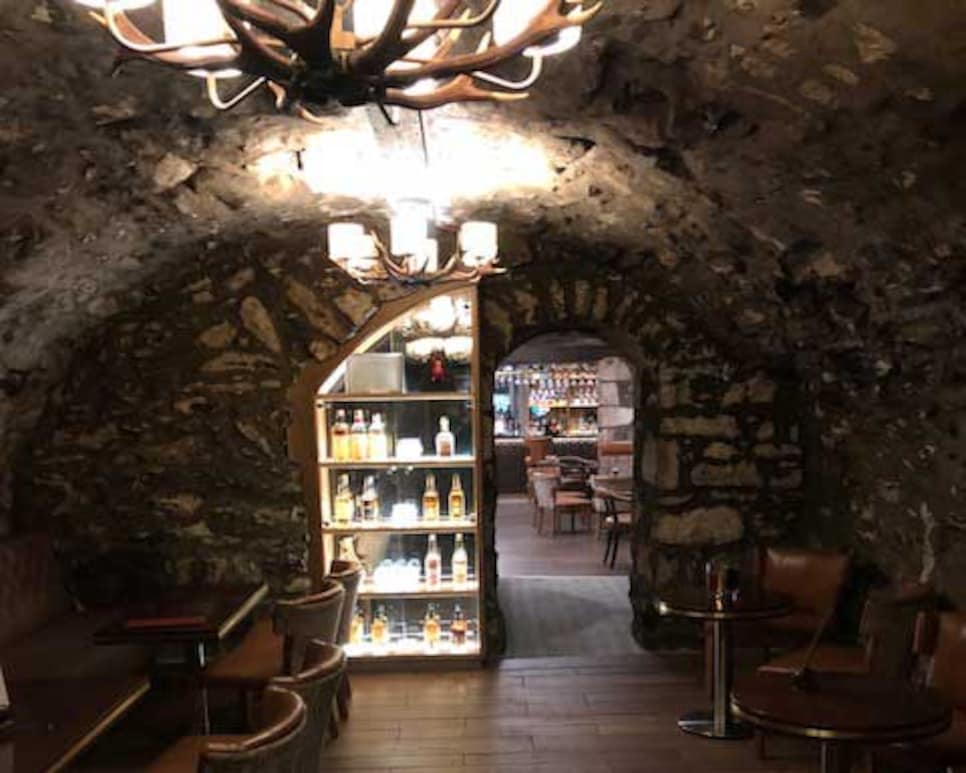 And everything tastes better in a "cave bar."
7. Edinburgh is a great city
We only spent the final night in Scotland's capital (after a three-hour drive from north of Aberdeen), but what an amazing place. Fortunately, I had been there for a day a few years ago to take in much of the Royal Mile sights, including Edinburgh Castle, but going out to dinner and then a couple of local bars was a ton of fun. After some whisky tasting near There was Finnegan's Wake, where a band played American covers and then a place called Stramash!, which a metal band played American covers. And I have to say, both places were bumping for a Wednesday night.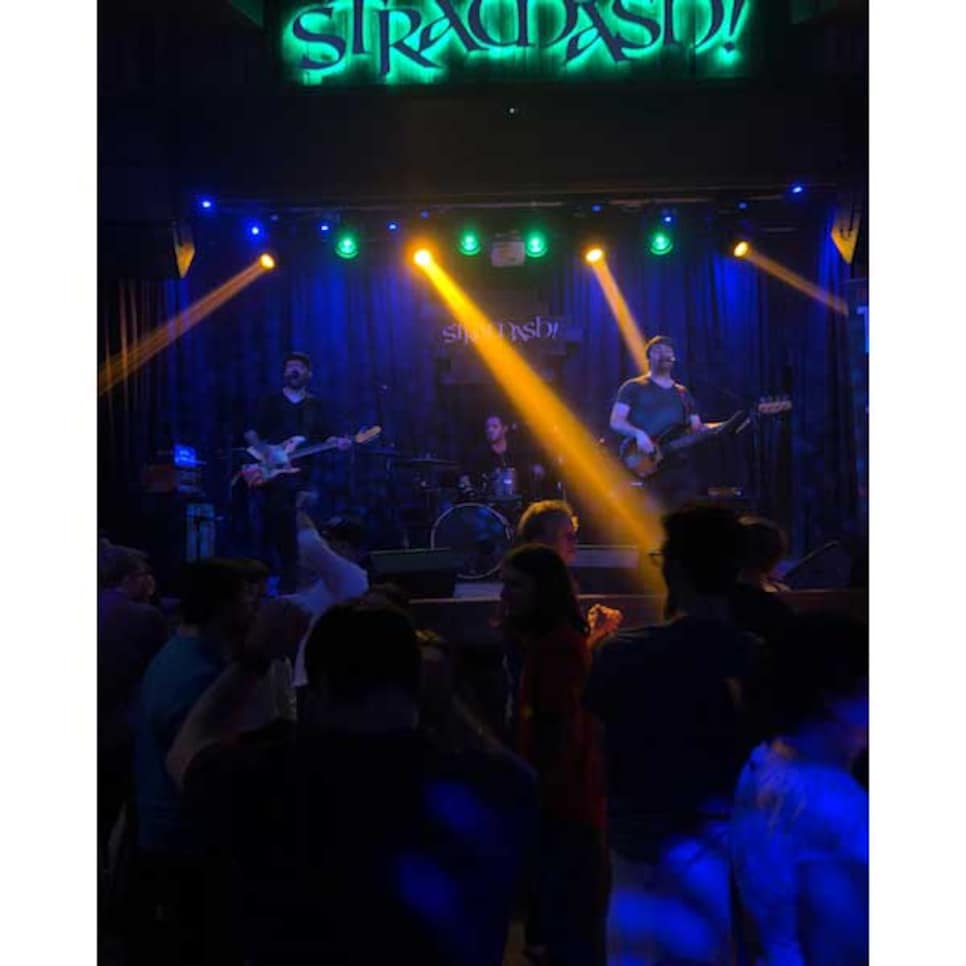 OK, now I sound really old.
8. Golf trips bring people together
Other than Hally, I didn't know anyone on this trip before meeting them in Scotland, but by the end, I can honestly say we had all become friends. Golf is truly an incredible unifier and the best way to get to know people. Of course, it helps that contest winners Andrew, Courtney, Michael and John were all super friendly and not serial killers.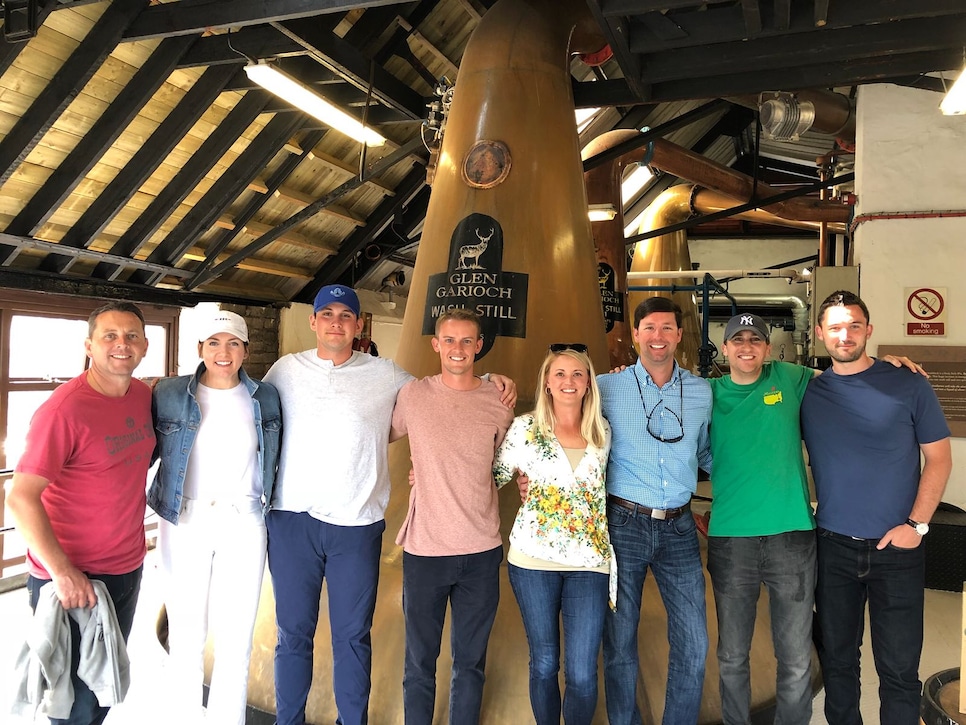 Also, while we were whisky tasting, Andrew got an email from Golf Digest advertising another contest involving a trip to St. Andrews. Immediately, jokes of a group reunion in Scotland commenced. Except, after this special experience, they weren't really jokes. Hmm. I wonder if there's any way I can rig that. . .