The Loop
8 bougiest ballpark experiences in the MLB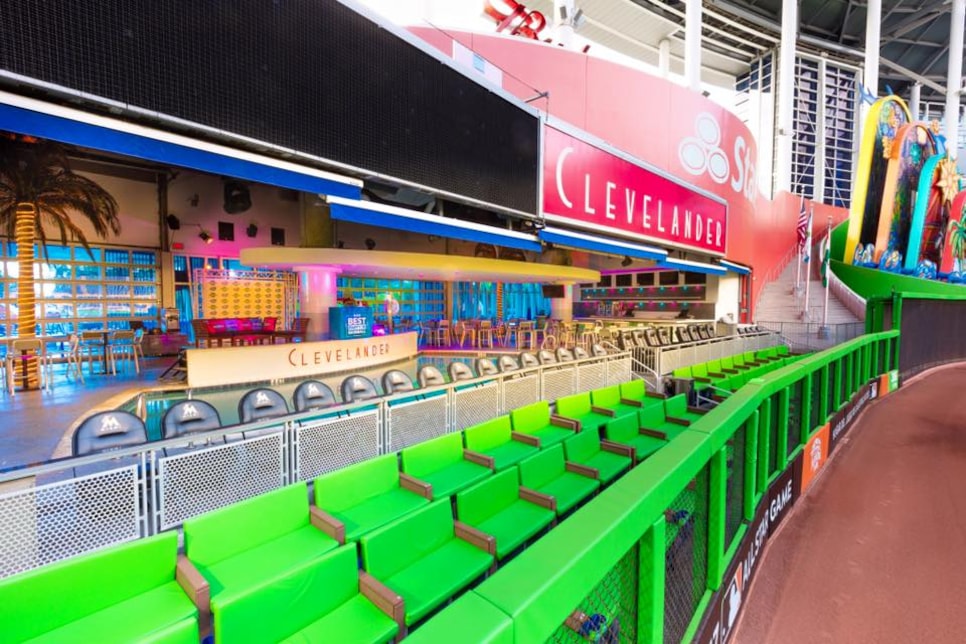 You've heard it all before: Major League Baseball is dying, its chess-like dance of advanced statistics, baby boomer pageantry, and periodic athleticism choked beneath the blood-stained cleat of some 275-pound NFL war machine. Screw Cracker Jacks, the American sports fan wants bigger, badder, and bolder, from the tailgate to the after-party. The MLB knows this. They may be slow, but they aren't stupid. If you can't update the game, update the experience, and so they have, rolling out near-stupefying levels of Premium-branded opulence at every turn in the proverbial concourse.
Sure, the hot dogs and domestic beers remain, but beyond them, on dimly-lit suite levels named after rare gems and medieval swords, lie some of the most lavish entertainment experiences in modern sports. So cash out that 401k, re-finance your home, and follow us as we sneak into eight of the bougie-ist ballpark offerings money can buy. This may look like an escalator, but it's actually a stairway to heaven.
Yankee Stadium — New York State of Mind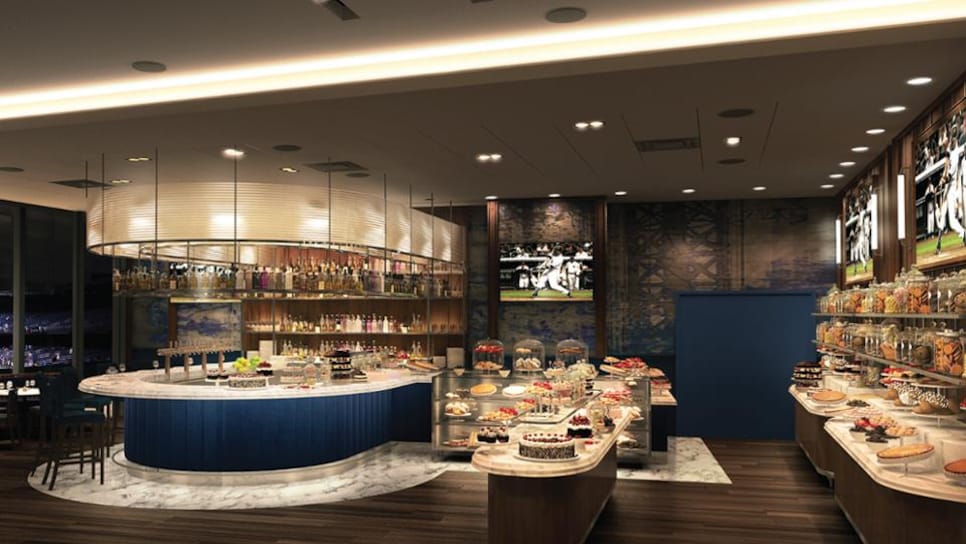 The Yankees have never been shy about flaunting their superiority, both in the ledger and on the field, and the Legends Suite embraces that Steinbrenner-patented bravado with each of its plush backstop seats and white-table-cloth dining options (in the mood for a $78 bone-in ribeye? You're in luck). The real perks of the Legends Suite, however, kick in when you activate the Legends Suite Licensee program, which offers Q&As with Yanks legends like Mariano Rivera, photo ops with current players (Aaron Judge!), and the opportunity to the run the hallowed Bronx base paths like Ruth, Mantle, Gehrig, and Jeter before you. Book It.
Fenway Park – Memory Lane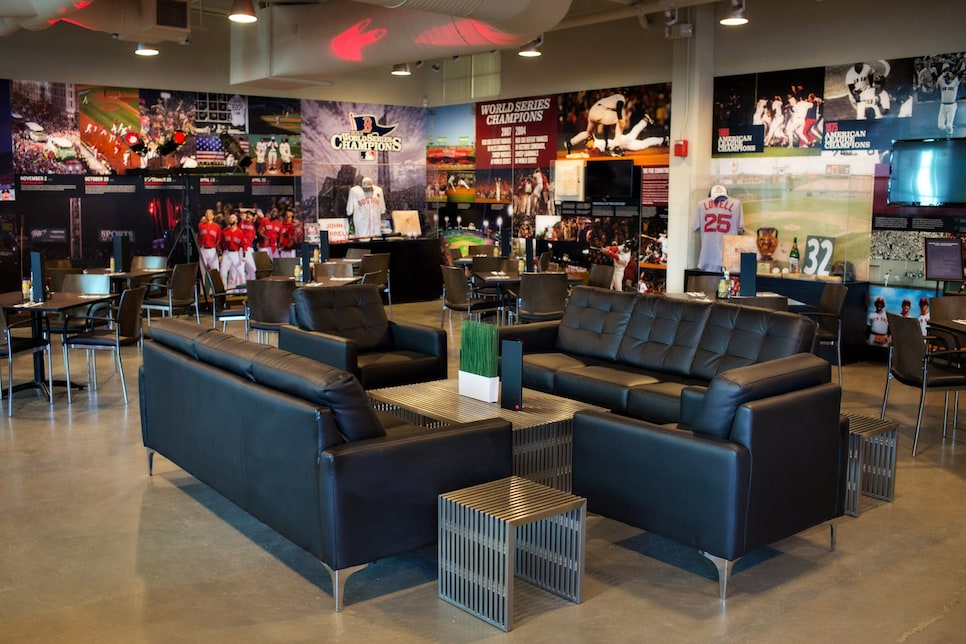 Jill Person and Lauren Killian
OK, Fenway Park is an American icon. We get it. But with obstructed views and limited dining options, it's not the most accommodating park in the majors. As the Royal Rooters Club makes abundantly clear, however, what the grande green dame lacks in modern amenities, it more than makes up for in throwback charm. Home to Red Sox Nation's very own archives, this one-of-a-kind club is lined with the most important collection of MLB artifacts this side of Cooperstown—from Roger Clemens's 20 strike-out ball to Dave Robert's stolen base from the 2004 ALCS. Needless to say, if you're a Sox fan, the Royal Rooters Club is a mandatory pilgrimage (even if you have to stow away in the next Sam Adams keg delivery to experience it). Book It.
AT&T Park – Sluggers and Sommeliers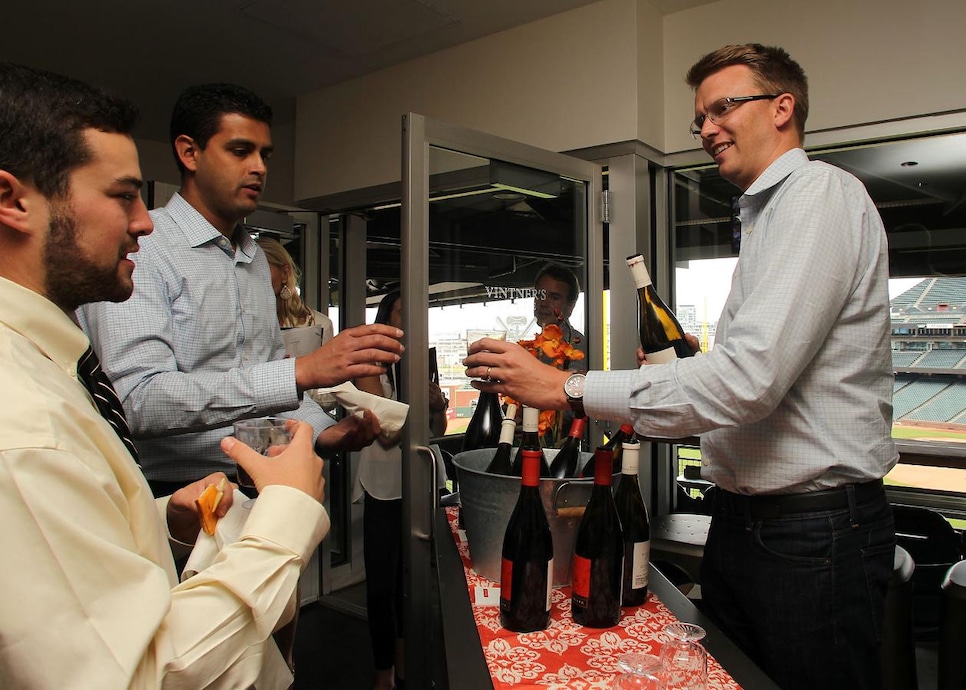 Lest you forget Napa Valley lies just over the rolling hills, AT&T Park—the beautiful bayside home of the San Francisco Giants—presents the Vintner's Suite. Basking in the rustic glory of old oak wine casks and rich leather sofas, this connoisseur's cloister features seating for 25 and a prime third-base vantage, but the marquee draw is definitely the private California wine tasting, which pairs perfectly with a pile of AT&T's signature Gilroy Garlic Fries. Book It.
Citi Field — Where's the Beef?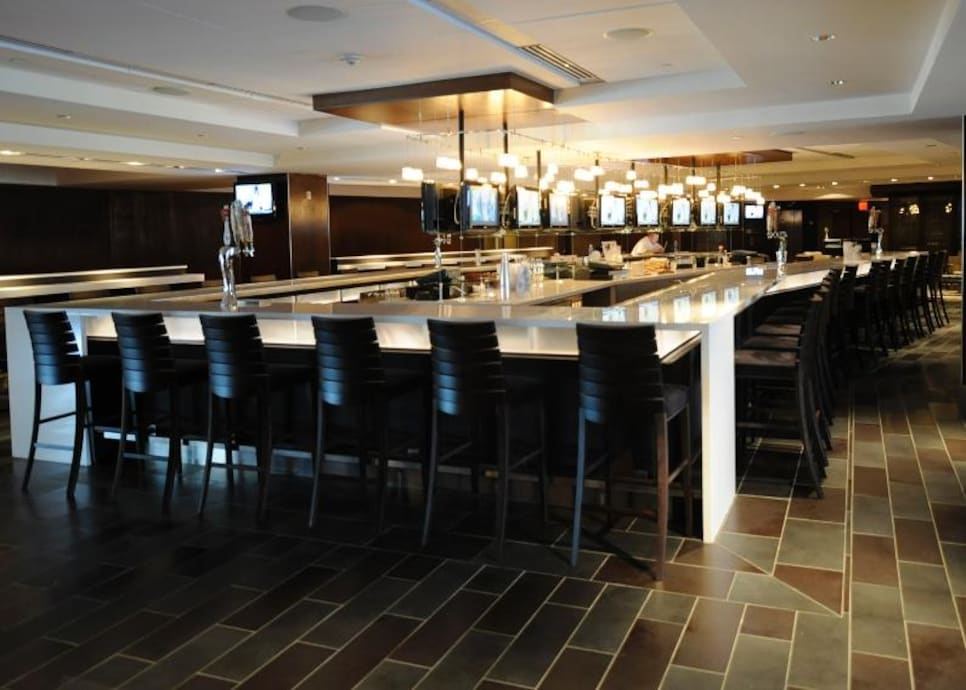 Tucked deep within the mahogany-lined confines of Citi Field's Delta Sky360 Club is one of MLB F&B's best-kept secrets: The Pat LaFrieda Chophouse. A vestige of Classic New York luxury (think: 21 Club, Peter Luger, and Delmonico's), the Chophouse is exactly what it sounds like: An old-school steak haunt shilling regionally revered Pat LaFrieda beef in a variety of belt-busting forms—from a 16 oz dry-aged New York Strip to the decadent, dripping $27 smokehouse burger. Who knows, for dessert a McEnroe or Seinfeld sighting might even be on the menu. Book It.
Nationals Park – Locker Room Luxe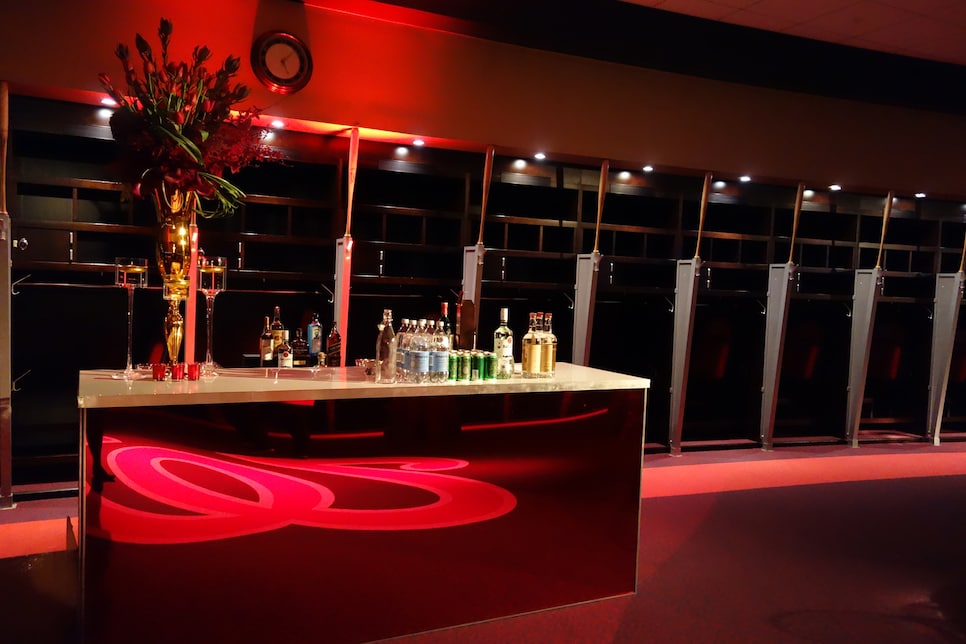 D.C. has no shortage of power players and big swinging, err, bats, so most baseball fans expected Nationals Park to roll out some serious red carpet when it opened back in 2008. Not ones to disappoint (in the regular season, at least), the Nationals responded by unveiling the single most exclusive space in Major League Baseball: The Nationals Clubhouse. Available from the end of the season until March 15th, the Nationals Clubhouse turns the Nats home locker room into a VIP sports nut's wildest dream, hosting happy hours, business presentations, and just about anything else your Black Card can imagine. (Sorry ladies, Bryce Harper's cup not included). Book It.
Marlins Park — Welcome to Miami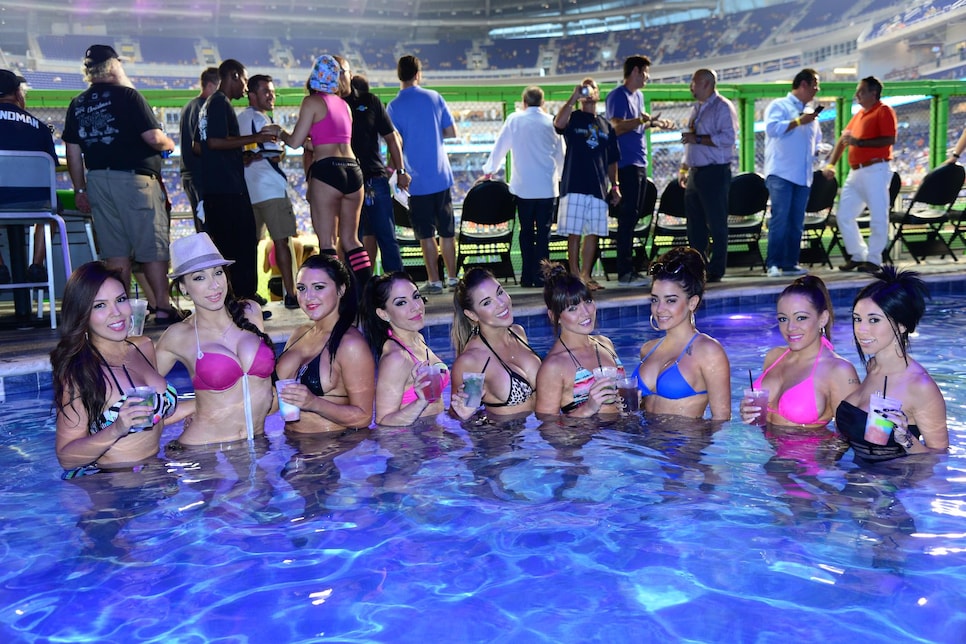 A lot has been made of Marlins owner Jeffrey Loria's questionable stadium funding strategy (ransom Miami-Dade taxpayers to the tune of $350 million > build park > gut roster), but you can't argue with the finished product. A beautiful, beaming encapsulation of Miami culture—right down to their apathy toward local sports—Marlins Park is, if not the finest park in the majors, at least the only one with its own night club. Plucked straight off the South Beach strip, the neon-splashed Clevelander outpost boasts three bars, a DJ booth, and an incredible pool for long evenings of bikini, ahem, bullpen action. The Marlins call this the "best party in baseball", and you'll be too busy dancing your ass off to disagree. Book It.
Wrigley Field — No Goats Allowed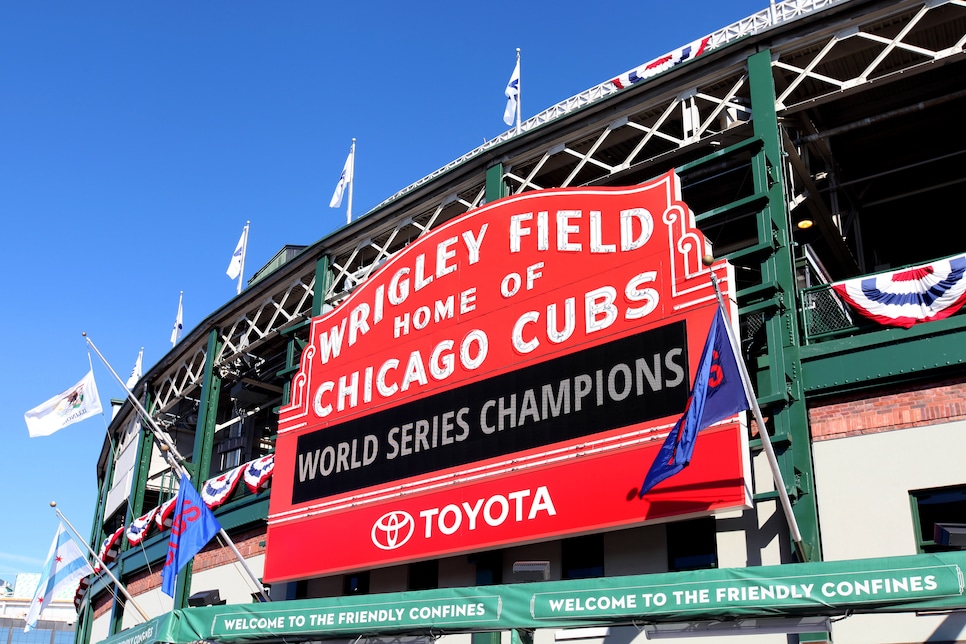 Like Fenway, Wrigley balances its lack of premium pampering with a deep-dish serving of capital-H History. But don't take our word for it, just check out the Legends Suite, which embraces the Cubs' newly curse-free lineage with bottomless booze, a pregame park tour, and the piece de la resistance: A surprise in-game visit from a legendary Cubs player, who will hang out, talk baseball, pose for photos, and fill your Cubbie-loving heart with the realization that life is a glorious privilege that you should grab with your freshly autographed mitt (NO, NOT YOU, BARTMAN!) and never let go. Book It.
Dodgers Stadium — La La Land
©LOS ANGELES DODGERS,LLC 2014
The "best seat in baseball" is quite the claim, but Dodger Stadium's Lexus Dugout Club lives up to that USA Today-anointed title with everything from complimentary food and drink to luxe bathroom access and seat-side waitress service. What truly sets the Lexus Dugout Club apart, however, are the padded dugout seats—nay, thrones—that will make you feel as if Kershaw is hurling that 100-mph heatseeker right at your nachos. Sure, it's no courtside seat at Staples, but the Lexus Dugout Club offers some of the best entertainment in Tinsletown, and that's saying something. Book It.