The Loop
7 fun (and real) NBA prop bets for the 2017-18 season, and where we're putting our money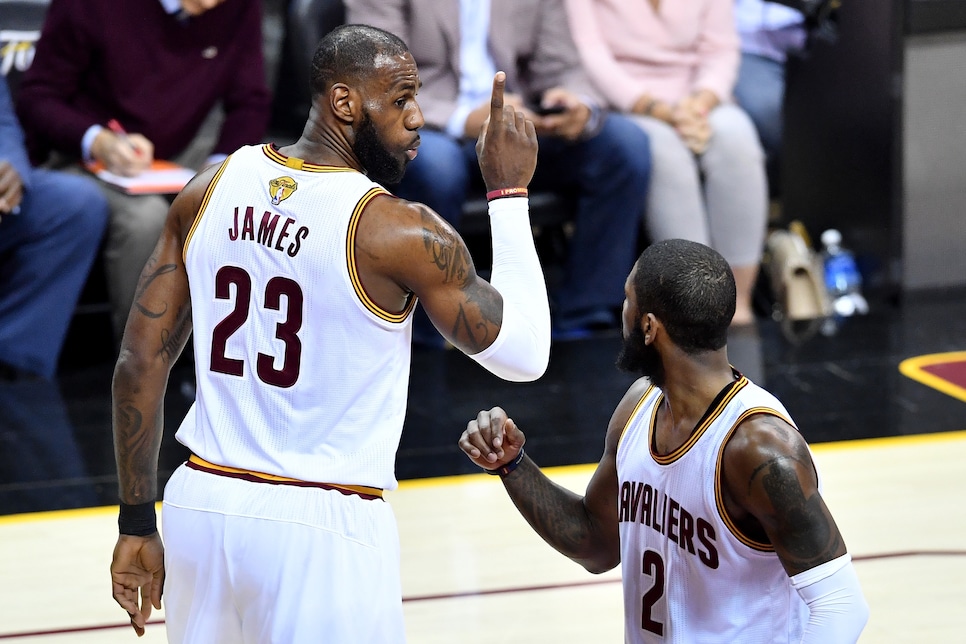 Good news, basketball fans: the NBA officially returns on Tuesday night! And while there's not a lot of drama when it comes to predicting the top two title contenders -- the Golden State Warriors and Cleveland Cavaliers are huge favorites to meet in the Finals for a record fourth consecutive year -- there are plenty of other fun NBA prop bets out there for the 2017-18 season. Here's a look at our seven favorites, courtesy of BookMaker.eu.
Will LeBron James and Kyrie Irving make contact on court before game on October 17, 2017? (must be shown during TNT broadcast)
Forget about Irving getting his wish to be traded (and that video from Harrison Barnes' wedding) this is a lock to happen. Is there bad blood between the two stars? Sure. But they also just went to three consecutive NBA Finals together. They will make up -- at least, for show.
Will the NBA fine any team for resting healthy players during national TV games for 2017-18 regular season?
Call this one the Gregg Popovich special and look for this to happen as NBA Commissioner Adam Silver looks to make an example of coaches resting players for these featured games. Especially since the NBA started the regular season a couple weeks earlier than usual to lessen the number times that teams have to play on consecutive nights.
Will Russell Westbrook average a triple-double for the 2017-18 regular season?
It's a big price to pay (-500 means you risk $500 to win $100), but there's no way Westbrook does that again. Especially now that the Oklahoma City Thunder created the NBA's newest "Big 3." Speaking of. . .
Russell Westbrook, Paul George and Carmelo Anthony combined PPG for 2017-18 regular season
I'm going with the under here. Three guys averaging 25 ppg on one team is a lot to ask. Even if one of them is "Hoodie Melo."
Will Giannis Antetokounmpo finish in the NBA top 15 for total points, rebounds, assists, steals and blocks?
If you bet yes, you get to bet on the Greek Freak and get favorable odds? Yes, please.
DeMarcus Cousins number of technical fouls for 2017-18 regular season
Cousins has gone over this number in each of the past two seasons to earn a suspension. And last year, he broke an NBA record by being the fastest player to get to that number, picking up No. 16 on Feb. 7! There's no reason to think his first full season in New Orleans won't produce the same type of on-court fireworks.
Isaiah Thomas number of games played for 2017-18 regular season
OK, so this one is potentially a lot less fun. The Cavs traded one star point guard in Kyrie Irving for another in Thomas, but apparently, he also has the hip of a senior tour golfer. That being said, the most important thing for the LeBrons is that his new star point guard is healthy by the time the playoffs roll around. And as we all know, the NBA Playoffs take a looooong time to unfold. For that reason, we're going with the under. See you in 2018, IT.