The Loop
DJ dominates (again), hope for DeChambeau and the rise of Rahm: 5 things you need to know from the weekend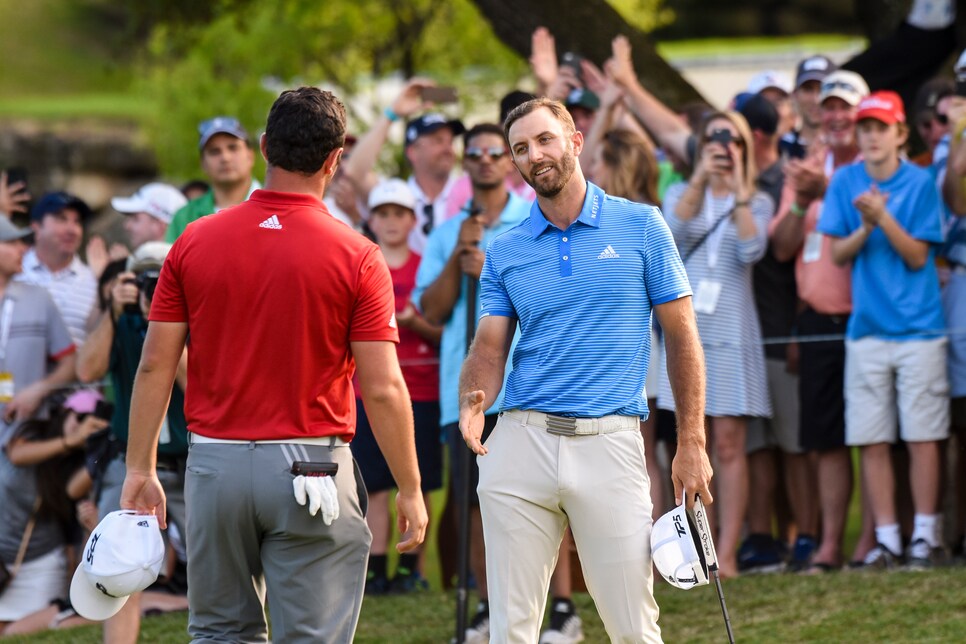 Welcome to the Dew Sweeper, your one-stop shop to catch up on the weekend action from the golf world. From the professional tours, trending news, social media headlines and upcoming events, here's every golf-related thing you need to know for the morning of March 27th.
Dustin Johnson, still really good at golf
For the third time in as many starts, Johnson walked away from a tournament with a trophy, edging out a 1-up victory over Jon Rahm to win the WGC-Match Play. In seven matches during the week, the World No. 1 never trailed over 112 holes, using his distance and precise approaches to overpower his opponents. Even when Johnson doesn't bring his "A" game -- on Sunday, his tee-ball accuracy and putting were far from sharp -- it's a combo that keeps the U.S. Open champ ahead of the pack.
"I definitely didn't play my best today in the first match or the second. So to win both those matches not having my best stuff is definitely a positive," Johnson said after the W. "And I'm definitely proud of the way I hung in there and played tough and just tried to never give away holes, which I felt like I did a pretty good job of that."
The Texas triumph was Johnson's sixth victory in the past 10 months, and he's won three of the past four WGC events. Las Vegas now has Johnson listed as the overwhelming Masters favorite at 5-to-1 odds. There are a host of contenders for the green jacket: Jordan Spieth has a 2-1-2 track record at Augusta and five top-12 finishes in six events (including a win) this season, Justin Thomas has three wins, and Hideki Matsuyama and Rory McIlroy seem specifically built for Masters success. But for all the "Big 4" and youth revolution talk, when Dustin is on, it's a one-man game. If his putter shows any semblance of formidability -- something it lacked in last year's T-4 finish -- expect Johnson to capture his second major title in Georgia.
In a related note, a co-worker talked us out of selecting Johnson in our fantasy league, vouching for McIlroy instead. At this point, Rors might need to win the Grand Slam and cure Lupus to justify the pick.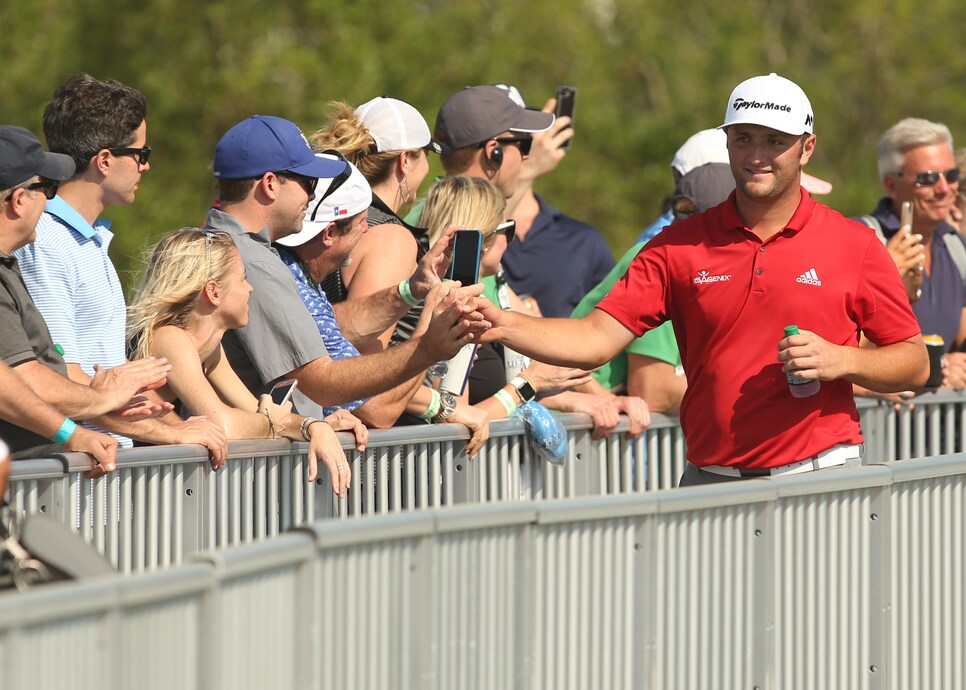 While he fell short of victory, Rahm's stirring afternoon display left little doubt that the 22-year-old is already among the game's elite. Down five after eight holes, it initially appeared the fledgling superstar was not ready for such an environment. However, after clawing his way back to just 1 down with two holes left, golf fans were running out of superlatives to describe his fortitude, conviction and moxie.
Rahm has four top 5s in his last five appearances, and despite making his Masters debut in 2017, enters Augusta at a 20-to-1 mark. He hits the ball just as far as Johnson, and his tee-to-green game is absurdly efficient (ranking third in strokes gained in the category). Augusta National is historically unkind to rookies, and Rahm's game is hardly infallible (he was down five through eight, remember). But Rahm's length and approach dexterity are two tenets Augusta National awards. Don't be surprised if you see the Spaniard's name on the Masters' weekend leaderboard.
Although, you better believe American fans are devising plans to get Rahm dual citizenship and sway him to the U.S. side for future Ryder Cups. After all, cat likes rocking football jerseys and listens to Eminem. Sounds like a Yankee to me.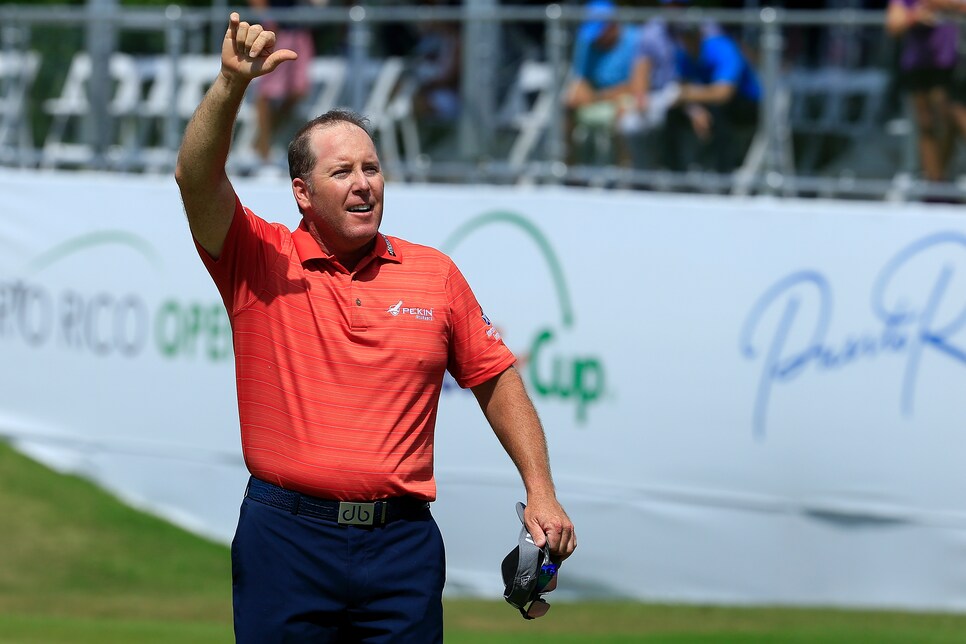 Points prevails in PR, hope for DeChambeau
Though most of the golf world's attention was on Austin, there was an alternate event in Puerto Rico at Coco Beach. Journeyman D.A. Points, who had to go to the Web.com Tour Finals to earn his 2017 tour card, emerged victorious at Coco Beach thanks to a final-round 66.
"I can't even begin to explain what this means," said Points, who entered the week ranked 634th in the world. "Couple really awful years, I pretty much hit rock bottom. Put my family through a lot. To be able to find the strength and courage to stay calm and win is something I didn't know I had in me."
It appeared it would be smooth sailing for Points, carding five consecutive birdies to start his Sunday round. However, he followed with three bogeys in the next five holes, allowing the field back into contention. But Points closed the door thanks to playing the final six in four under, grabbing his third career win in 285 PGA Tour starts.
Also of note is the play of Bryson DeChambeau. While 2017 has been a rocky campaign for the former U.S. Amateur champ, DeChambeau followed up a T-27 at the Valspar Championship with four solid rounds in Puerto Rico, finishing two strokes behind Points in a tie for second. It was DeChambeau's first top 10 in almost a year and his best career finish on tour. And while ostensibly a runner-up finish at an alternate event doesn't mean much, the PGA Tour's Sean Martin shows DeChambeau joins some distinguished company:
DeChambeau has a ways to go before his performances matches the publicity. In that same breath, a turnaround needed to start somewhere, and the Puerto Rico Open could prove to be his launch pad.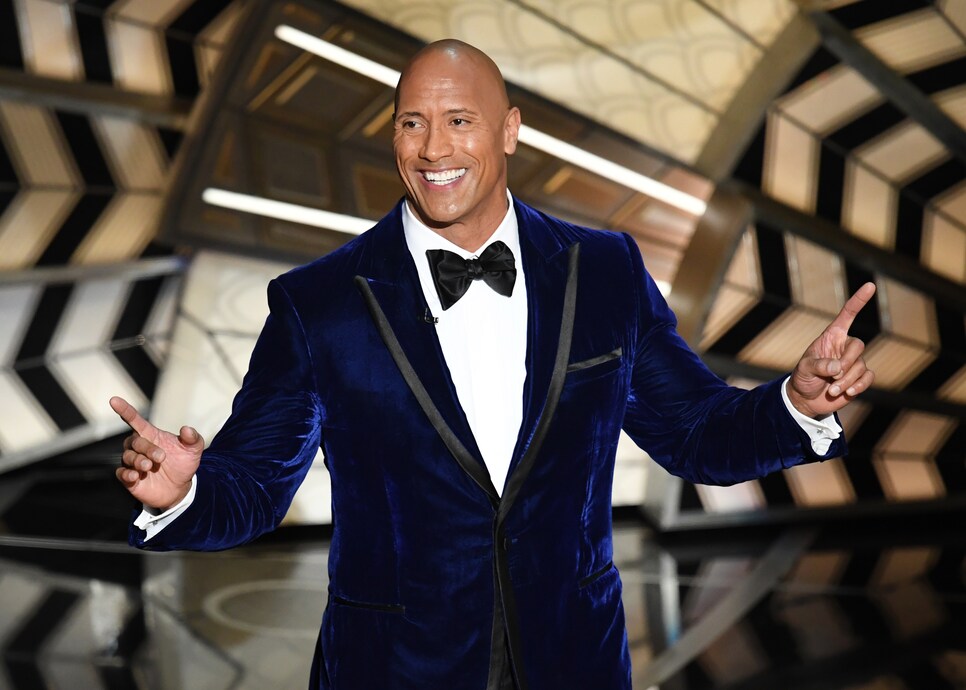 Daly calls the Rock's claim into question
You likely saw Dwayne "The Rock" Johnson's boast of a 490-yard blast last week. Though we had our doubts on the assertion (respectfully of course, Mr. Johnson), we are but mere mortals. Luckily, a voice of higher authority weighed in on the matter in the form of John Daly, who also called shenanigans.
"I'm saying it's highly unlikely, because I've seen the biggest and the baddest drivers in the world that can hit it almost 400 yards," said the two-time major winner. "If he can hit it 490 straight, he needs to get on the PGA Tour."
Amen. The Rock himself seems to be backing off his original contention, saying it "looked" like 490 yards to him, so we can put this issue to rest. In a related note, here's colleague Alex Myers throwing me under the bus:
Speak well of me at the funeral, my friends.
Surgery successful for Jason Day's mom
Day, who dropped out of the WGC-Match Play on Wednesday after just six holes due to the emotional weight of his mother's surgery, released a statement that his mom is okay after a Friday operation. "Mum and our entire family would like to thank all of our friends and supporters who have reached out in an incredible outpouring of love during such a difficult period," Day said. "We are praying for her recovery." There is no report if Day plans on competing in the Masters, which begins in 10 days.