Takeaways
Gary Woodland's wild drive, the tour's nastiest par 5, and Rickie Fowler's painful tease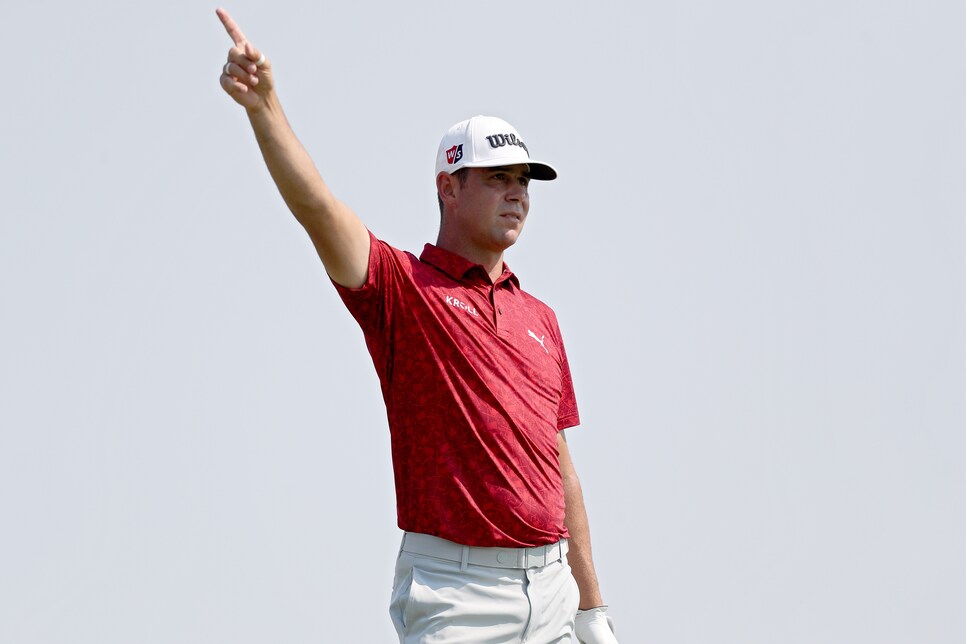 Gary Woodland signals for his wayward tee shot during the third round of the 3M Open.
David Berding
It was like an L.A. freeway police chase: The helicopter overhead follows the suspect's every move as he makes his way through alleys and buildings. On Saturday, the man on the run was Gary Woodland. His crime? One of the worst tee shots you'll ever see a professional strike.
At the TPC Twin Cities' ornerous 18th hole, Woodland sliced his drive so badly that it nearly short-circuited TopTracer. The red tracing line had to give up when the ball disappeared behind the trees. Incredibly, Woodland was begging "go right!" because there was a sliver of land on the other side of the large lake. And sure enough, that's where he ended up, a good 80 yards from the center of the fairway.
The comic relief came when Woodland hit his next shot—a wood that sailed over the green—and then had to walk down a road and through hospitality tents just to find his way back to the green.
"I was hoping it wouldn't come up," Woodland said sheepishly in his post-round interview with CBS. "I was just trying to hit a baby cut, and I just got stuck. That comes from hips that I've battled for the last year and half. I'm pretty much away from it, but it creeps in every once in a while. I got lucky that it got right of the water, and I gave myself a good look at birdie."
Woodland missed his putt for what would have been an all-world 4, but with a par he still was pleased with a 67 that has him only one shot behind sole leader Cameron Tringale heading into the final round. Though a win would not be life-changing for the 37-year-old, it would signal a full comeback from some injuries and stretches of mediocre play that have frustrated him since winning the 2019 U.S. Open at Pebble Beach.
In more pressing matters, Woodland came into the week outside the FedEx Cup Playoffs bubble at No. 127. If he finished in this exact same position on Sunday, he climbs all the way up to 82nd.
Woodland said the big change has come in his putting after spending time with coach Phil Kenyon at last week's Open Championship at Royal St. George's. It had been about 10 months since they'd worked together.
"The putter's felt as good as it has in a long time," Woodland said. "Seeing putts go in has been huge, but I'm also starting to hit the golf ball well; I'm starting to control my irons and drive the golf ball semi in play the last couple of days. … I've got a long way to go, but I trust what I'm doing."
Three more takeaways from Saturday: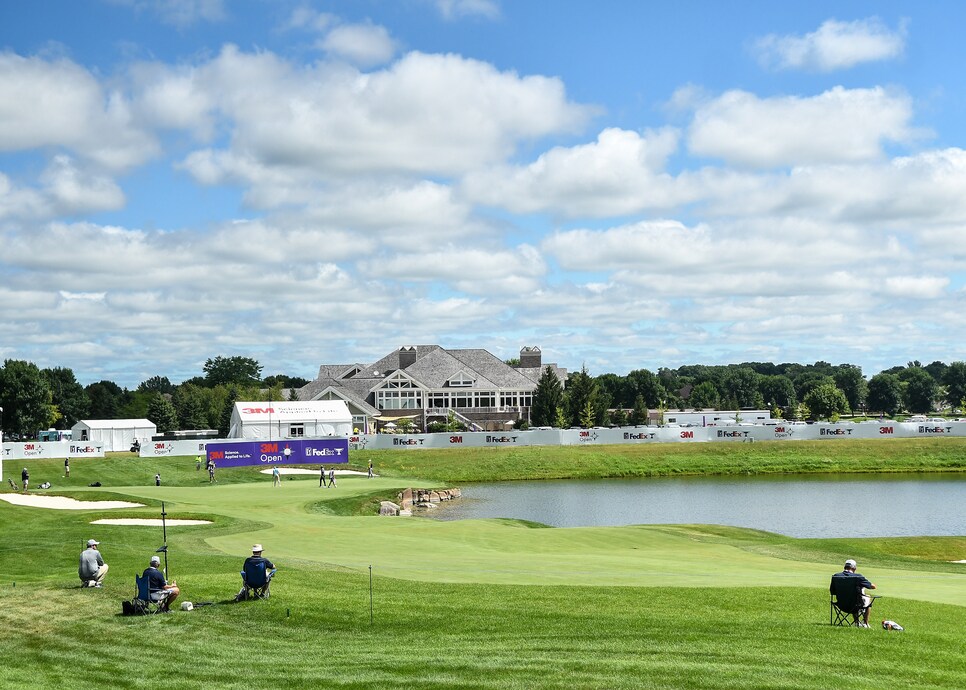 The 18th hole at TPC Twin Cities, shown during last year's tournament.
Icon Sportswire
If the 18th hole this week doesn't prove it, nothing will: Modern tour players simply do not believe that any par 5 is really a par 5. They will go for a green in two in virtually any condition short of gale force winds that send birds looking for shelter. Now, understand, we're not complaining. The last couple of hours of the 3M on Saturday were as entertaining as watching toddlers ice skate. Everybody seemed to have a different way of crashing to their backside.
But it's still stunning to see so many players—some with their tour cards on the line—refuse to make a prudent play when all indications are that's exactly what they should do. The 18th at TPC Twin Cities isn't short at 585 yards. There is a massive lake on the right that runs all the way to the green. And unlike the first round, when the wind conditions were favorable, the breeze was in the players' faces in the third round.
And yet, there they were pulling fairway wood after fairway wood to go for the green from 240 yards or longer, and more often and not—at least among the contenders—watched their balls drown. CBS's Colt Knost had a nice line about the fish needing helmets.
The numbers are equally laughable and atrocious. With a 5.5 scoring average, the 18th played as the hardest par 5 in a single round on tour this season (inflated a bit by Sung Kang's septuple-bogey 12). Heading into Sunday, according to CBS, 110 balls have splashed down at the 18th. More than 30, including four from Kang, were rinsed in the third round.
At this rate, only 15 balls need to find the wet stuff on Sunday to take the title for most water balls on a single hole in a tournament since 2003. (The distinction belongs to No. 15 in the 2012 Phoenix Open—ahem, another conceivably reachable par 5.) This tournament is sure to surpass the 118 balls in the water here in the 3M Open last year.
"It's a tough hole," said Tringale, who managed a par while being forced to lay up at 18 after a wayward drive. "I think if you're out of position off the tee, the layup can be a little tricky with as much wind as there is, and then the third shot with the pin right in the front … it's sort of a diagonal green … so it's just tough to be 100 percent sure on the yardage. The putt from past the hole's not really that easy because you've got to go up and over, so I think guys are taking their chances if they hit a good drive. If you're in the fairway on your third, you've got to try to hit one in there. If you miss any of those three shots, I think you're in trouble."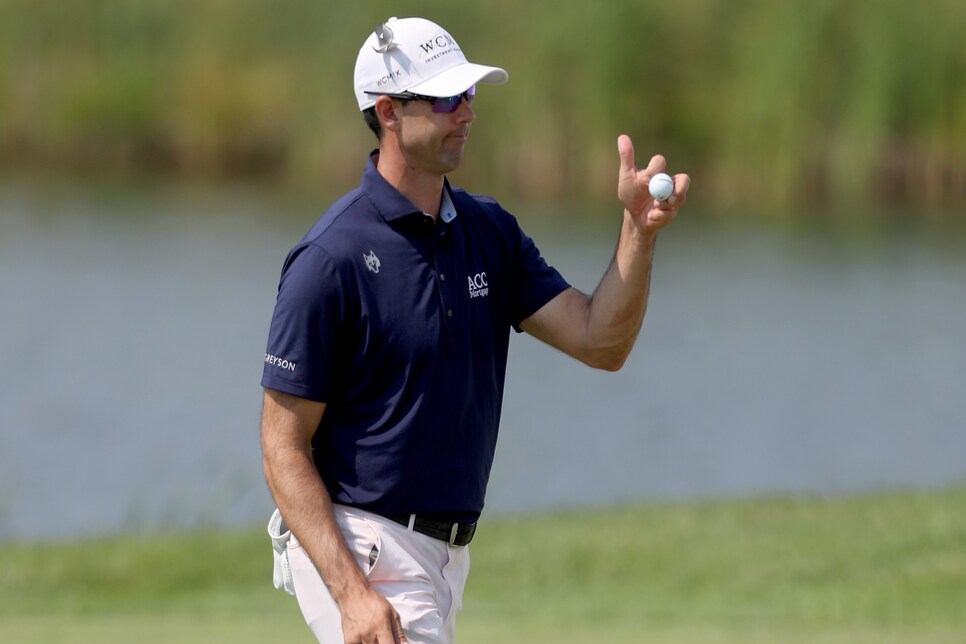 Cameron Tringale waves during the third round of the 3M Open.
David Berding
All this makes for amazing theater, of course, and promises a can't-miss finish. So go for it, boys. You didn't come to the Land of 10,000 Lakes to lay up.
There are 20 players four shots or closer to the lead heading into the final round, and that does not bode well for Tringale, who still is trying to nab his first career victory in his 307th start. Strong, step-on-your-neck closers have all but vanished with the absence of Mr. Woods, and there's been one chase down after another this season. In the last 12 tournaments, only one player who had a 54-hole lead polished it off, and that was Phil Mickelson in the PGA Championship. Add to it that three tournaments in the last four weeks have gone to a playoff, and we're all but guaranteed OT.
Tringale, 33, moved to the top of the board at 12 under with a bogey-free 66. The only contender to better that score on Saturday was Beau Hossler with a 65. Tringale made a steady 14 pars in the third round, but also rifled his approach at the 12th to 3½ feet for eagle.
"I'm happy with kind of everything, honestly," Tringale said. "What I want to do better tomorrow is hit my spots on the greens a little better, my approaches. … I don't know where I'm at statistically, but I've liked just about every putt I've hit. Hopefully, I'll continue to do that tomorrow. Just try not to overthink it; that's the key, isn't it?"
There are plenty around who'd like to find that peace. Among them:
Maverick McNealy: At 11 under, the 25-year-old from Stanford is going for his first tour win after a solo second this year at Pebble Beach.
Pat Perez: The veteran, who shot a bogey-free 66 on Saturday and is tied with a whopping seven others at 10 under, entered the week at 115th on the FedEx Cup points list and could seize his fourth tour win. Perez's wife also is due soon with their second baby, and he'd be happy to take the next couple of weeks off instead of grinding for a playoff spot.
Cameron Champ: Two shots back, the 26-year-old can notch his third career victory amid a frustrating year in which he has only one top-10 to go with 11 missed cuts.
Also at 10 under are two former major winners in Charl Schwartzel and Jimmy Walker. Beyond his 2011 Masters win, Schwartzel's only other victory on American soil (to go with 13 international victories) came in the 2016 Valspar Championship. Walker, the 2016 PGA Champ, has battled the effects of Lyme disease and hasn't won since Baltusrol. And it's been a rough year. Walker, with one top-10, came into the week at 175th in the FedEx Cup standings.
The Rick was on fire. Over the first 10 holes in the third round, Rickie Fowler made six birdies and had the Orange Army and all those people who pay him a bunch of money for commercials feeling giddy. This was looking like THE breakthrough to a possible first win in more than two years and the evidence that Rickie's swing changes are finally grooved.
Uh, no. On the back nine, every aspect of Rickie's game fell apart. At 13, Fowler's tee shot was short and right, leading to an eventual bogey on the par 3. At 14, he missed the green from the middle of the fairway and then missed a 5-foot par putt. There were wayward tee shots and approaches the rest of the way, and then disaster struck at 18. After a bad drive, Fowler had to punch into the fairway and, with only 146 yards to the hole for his third, he found the water. The fifth shot missed the green and the sixth was a mediocre chip. Two putts later he wrote down and 8 and a promising start became a bitter disappointment.
Fowler went from first to a tie for 29th in just a couple of hours. At six shots back, he's got virtually no chance to win, but here's where it gets interesting: Fowler, who already missed the Masters and U.S. Open this year, entered the week at No. 124 in the FedEx Cup standings. As he stands now, he'd drop one more spot to 125th—the last position that earns a berth in the playoffs, with only a couple of tournaments left to improve that.
Any further tumble and Fowler is outside the bubble, and this slow, painful slump only gets more disturbing.