News
Tony Finau in the hunt yet again and four other takeaways from Day 2 of 3M Open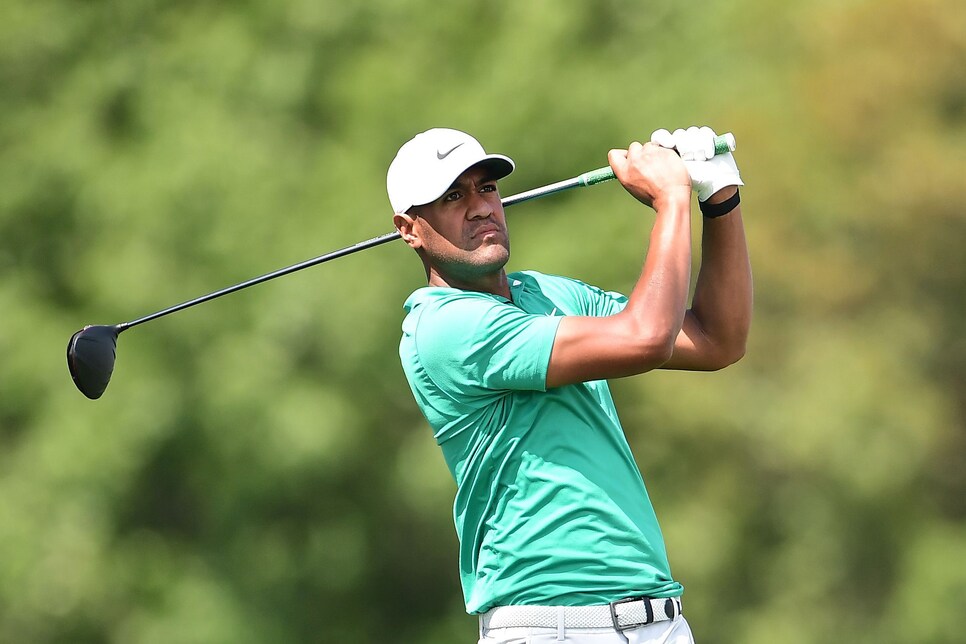 Tony Finau hits his drive on the 11th hole in the second round of the 2020 3M Open.
Stacy Revere
Last week had a certain Groundhog Day feel to it with the PGA Tour encamped at Muirfield Village for a second straight week. This week does, too, but this time it has nothing to do with the venue and everything to do with the leader board.
To wit, Tony Finau was in contention heading into the weekend at the Memorial. Tony Finau is in contention heading into the weekend at the 3M Open at TPC Twin Cities.
If it sounds like a familiar refrain, it should. For all the high slots on leaderboards that Finau's name has occupied in his career, he still has just one victory to show for it, in 2016 in Puerto Rico. Maybe this will be the week that changes. Last week, he shared the 36-hole lead. This week, he's one back of co-leaders Michael Thompson and Richy Werenski after a five-under 66 on Friday. Finau's continued stellar play leads off our five observations from the day's action.
Finau in familiar position
One difference between last week and this week for Finau, as noted on Thursday, is the guy carrying his bag. Finau's coach, Boyd Summerhays, is filling in after Finau parted ways with his longtime looper Greg Bodine. It has helped, too, that Finau's iron play has been dart-like—through two rounds he has hit 32 of 36 greens in regulation, with 15 of them coming on Friday.
And it wasn't just his approach shots. More than once, Finau left the driver in the bag and opted for an iron off the tee. On the par-5 12th, for example, he took the water out of play by laying back with a 4-iron off the tee, then followed with a 3-iron into the green to set up an easy two-putt birdie.
It also helped to dunk a shot from the fairway, which Finau did for the aforementioned eagle earlier in the round, on the par-5 sixth, where he holed out from 80 yards. Three more birdies on the back nine, including two in his last three holes after approaches that landed within six feet of the flag, and voila.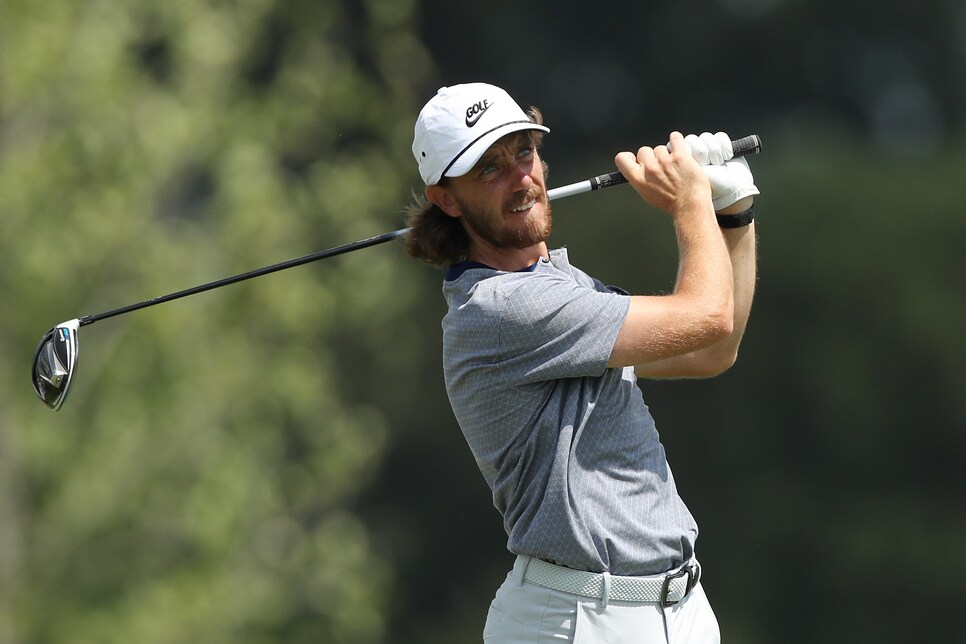 Tommy Fleetwood plays his shot from the seventh tee during the second round of the 3M Open.
Matthew Stockman
Koepka, Fleetwood miss cut
So much for flaking off the rust by playing Shinnecock, National and Friar's Head, as Tommy Fleetwood did during his mandated two-week "quarantine" before teeing it up this week. That he missed the cut at TPC Twin Cities wasn't exactly stunning—because of the ongoing COVID-19 pandemic, the 3M was Fleetwood's first start since the opening round of the Players Championship.
Still, he had a chance to make it to the weekend late in the round. After a birdie on the par-5 12th got him back to even par for the week, the Englishman had birdie opportunities from six feet on the 14th and 10 feet on the 15th but burned the edge on both. One hole later, a 20-footer for birdie also slid by. Needing to eagle the par-5 18th to make the cut, Fleetwood's drive missed the fairway left, landing in deep rough and forcing him to lay up before he went on to make par, capping a round of one-over 72 to finish at even par to miss the cut by two.
A more concerning weekend off: Brooks Koepka, who shot 71 to end his week at one under. It's his second missed cut in the last three starts [with an uninspiring T-62 sandwiched in between].
Aside from his inconsistent play on Friday—specifically less-than-stellar putting—on multiple occasions late in the round Koepka was hunched over and clearly bothered by something. He didn't stop to talk about it afterward, though. Neither is a great sign, of course, with the WGC-FedEx St. Jude Invitational and the PGA Championship—both of which he is defending at—looming.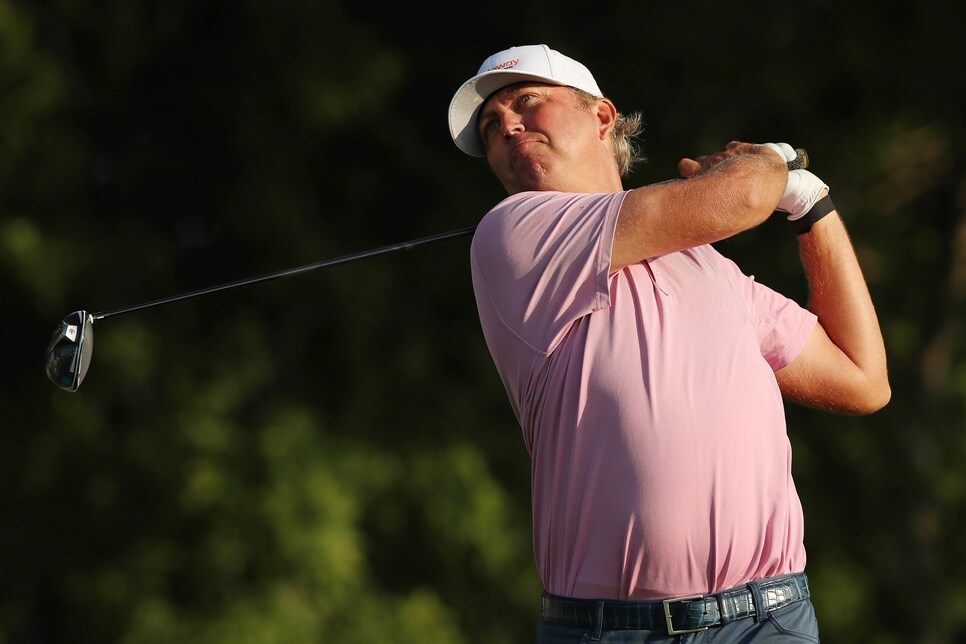 Bo Van Pelt hits his drive on the 11th tee during the second round of the 3M Open.
Matthew Stockman
One player didn't mind a break because of the pandemic
You'd be hard-pressed to find any players who were glad to see the tour go on a three-month hiatus because of the pandemic. Bo Van Pelt, on the other hand, didn't mind the break. Or at least he needed one.
"For me having that time off was huge because I really needed to practice," he said. "It gave me kind of three months to kind of work on my game."
After missing more than three years because of a torn labrum and multiple surgeries, Van Pelt returned to the tour last fall. Then he promptly missed nine of his next 10 cuts.
Things didn't get much better once the season resumed—Van Pelt missed two cuts, finished T-68 and then withdrew from the Workday Charity Open two weeks ago—but he said he started to feel better about his game and where it was headed.
"Even though my results haven't been great this first month, the way I've been playing's been a lot better," the veteran said after a five-birdie, two-bogey effort. "It was just hard. I didn't play 18 holes for over three years. Basically, I was trying to re-learn every kind of feel that I had less than a year ago. It's just been kind of a process. Finally feeling like I'm getting back to where I can compete again."
Charl Schwartzel plays a shot from a bunker on the sixth hole during the second round of the 3M Open.
Matthew Stockman
Beware the [previously] injured golfer?
Van Pelt wasn't the only recently sidelined player in the field to find his form through the first two rounds. After having his 2018-'19 season cut short because of a wrist injury, Charl Schwartzel returned to action in December, at the Alfred Dunhill Championship. Though he tied for third in the event, it's been a likewise bumpy road since for the South African, who has missed the cut eight times in his 11 starts since. That included each of his last four coming into this week.
But like Van Pelt, he shot 66-68 and is in contention for what would be his first victory since 2016.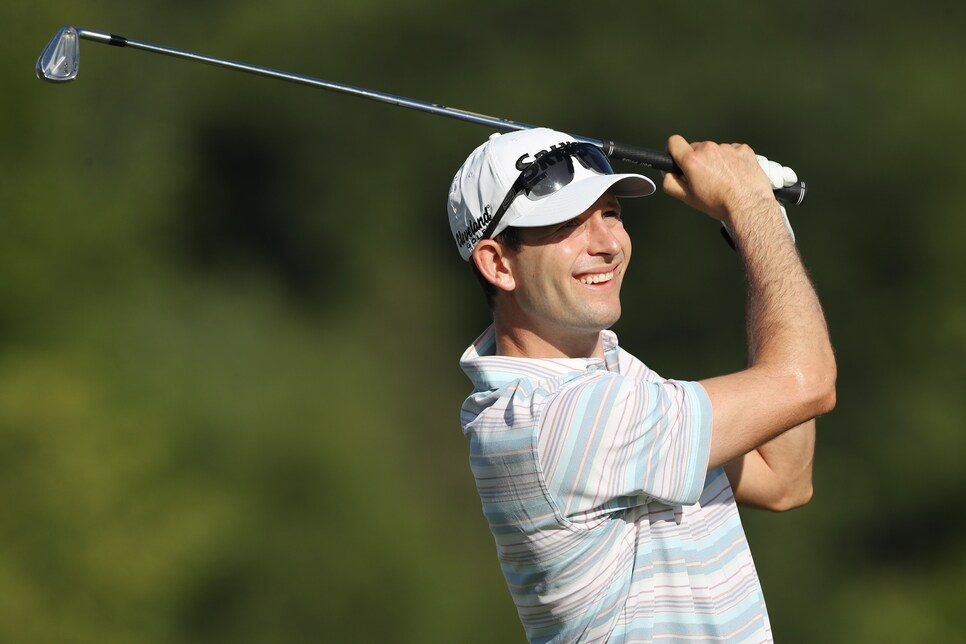 Martin Trainer plays his shot from the fourth tee during the first round of the 3M Open.
Matthew Stockman
One of the more fun stories going into the week was that of Aaron Crawford, normally the caddie for Martin Trainer, but in the field as a player after shooting 63 to Monday qualify.
The dream of hoisting the trophy in his first career start on tour died on Friday, though, with the 25-year-old Canadian struggling to a 74 (after a tidy 69 in the opening round) to miss the cut by three.
It was a nice run for Crawford, though, whom Trainer calls "the best putter I've ever seen." Besides, he still played better than his struggling boss, besting Trainer by seven shots. This is probably not the last time we'll see Crawford on tour hitting shots rather than calling out yardages for them.