3M Open
Pro and his caddie who Monday qualified soaked up their dream week playing together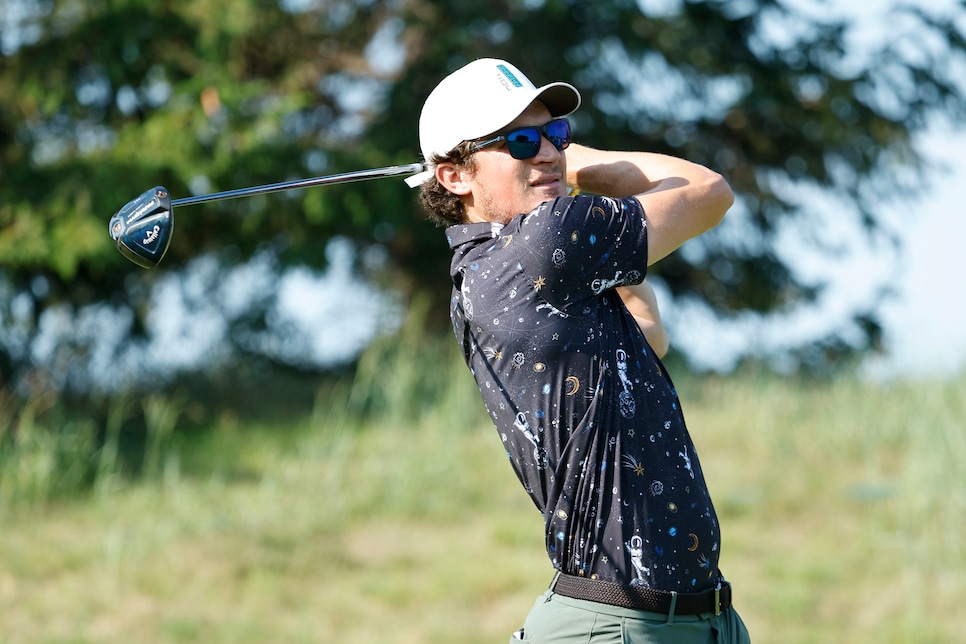 Alex Gaugert plays his shot from the 12th tee during the second round of the 3M Open.
David Berding
It was their fantasy since playing college golf together at the University of Minnesota. Erik van Rooyen and Alex Gaugert dreamed of the days they'd room together, practice together and competing against each other on the PGA Tour. When it finally happened over a whirlwind five days at the 3M Open, only 16 miles from where they bonded as Golden Gophers, the reality was far more meaningful than they ever imagined.
Even amid both missing the cut on Friday at TPC Twin Cities, they stood together afterward—van Rooyen the tour player and Gaugert his regular caddie who Monday qualified—and spoke with emotion about what may be a once-in-a-lifetime opportunity.
"It was a dream," said Gaugert as he held his young daughter, Annika, in the crook of his arm. "It happened fast. Monday qualifiers, never done one and to get through was pretty cool. Then the tour allowed us to play together—that was really memorable and something we'll never forget.
"I know after I qualified there was definitely a few tears shed and it was really, really cool. And all the support, especially from … the caddie yard and all the caddies and even the players, it was nice to get that feeling where everyone's lifting you up and telling you 'good job.' It was cool to kind of have the light shine on you for a week."
Van Rooyen got teary speaking of those college dreams and said, "We get to share that a little bit with him on the bag, but with him playing a tournament, it was really, really cool."
They may laugh later that they're probably better as a team. Neither is playing on the weekend, with van Rooyen shooting 68-71 to miss the cut by a shot, while Gaugert bounced back from an opening 77 to shoot even-par 71 in the second round to miss by 10 shots.
Gaugert said he long ago understood how skilled the players were on the PGA Tour.
"Before you kind of see it, you have this kind of false sense of hope," he said. "Once you see it firsthand, week in and week out, with all these great players, puts in perspective what it takes to be out here.
"A lot of friends who maybe are amateurs will tell me, 'dude, you need to go play.' I would love to, but I know how good I have to be and if I can't do that on a daily basis at home, what makes me think that I'm going to be able to do it in a tournament."
With their group finishing on the ninth hole Friday, van Rooyen and Gaugert walked up the fairway side-by-side, sharing wide smiles.
"Just taking in the moment," Gaugert said. "You don't get these special moments every single week. This game's hard, and it was."
Added van Rooyen, "Playing the PGA Tour is such a huge privilege, man. It's the best of the best that play here. And I know how good he is and to see the look on his face, it just reinforces for me how grateful I need to be playing here."