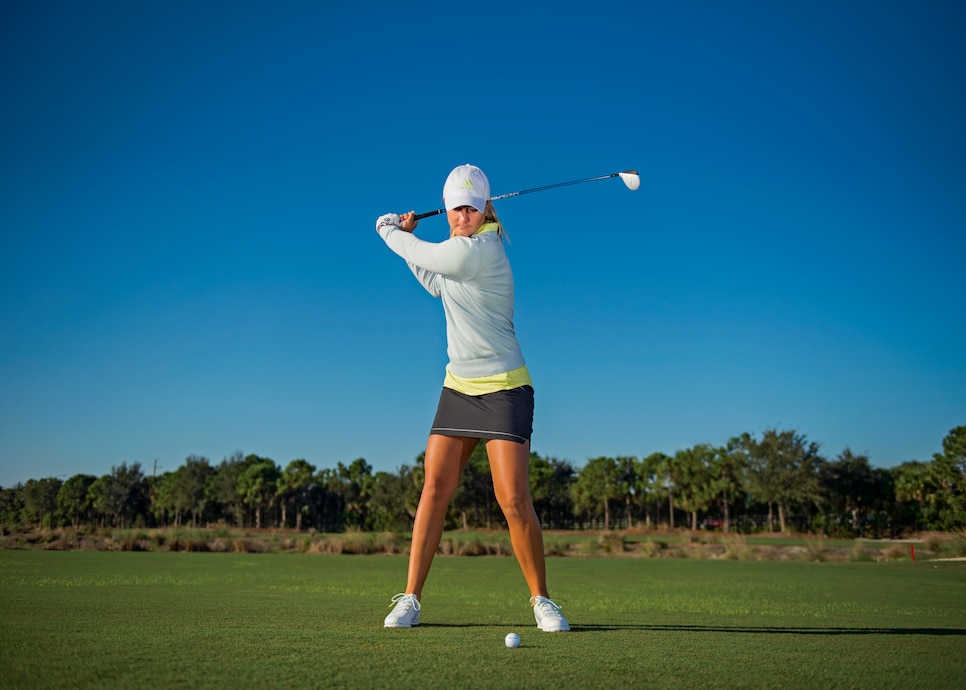 Some players, when faced with the fairway wood vs. hybrid choice, look at these clubs as fall-back options for when they want to play safely off the tee or hit the ball somewhere near the green on a par 5. Not me. I see them as offensive weapons. On the last hole of the LPGA Championship in 2009, I was contending for my first major and facing a back-left pin from 195 yards. I hit my 21-degree hybrid to three feet and made birdie to win.
As for my 15-degree fairway wood (the equivalent of a 3-wood), the best I ever hit it was on the par-5 18th hole in the final round of the ANA Inspiration last April. Looking down a 200-yard shot to an island green, I knocked it on and made a two-putt birdie that almost put me in a playoff.
Choosing one of these clubs over the other is not just about distance. My maximum carry with the hybrid is 195 yards, and my 3-wood carry distance starts at 210, but the circumstances are important. Let's take a closer look.

Fairway Wood vs Hybrid: The Fairway Wood
THE 3-WOOD SWING
Keep Your Center And Push Off
Because I'm 6-foot-1 and long-limbed, my goal is a core-oriented swing without my arms and legs running away from me. It starts at address. I set my feet a little more than shoulder-width apart, with the ball a couple of inches inside my front heel to promote a sweeping strike (1). I align my feet a little left to program a swing path that will be slightly out to in for a fade. From there, I start back by turning my shoulders, keeping my upper arms close to my body.
I make sure I feel centered as I load pressure into the instep of my right foot. I'm usually short of parallel at the top because I'm trying to keep my arms from drifting away (2).
If you're balanced and connected, you can go at it on the downswing. The fairway-wood swing is not a "careful" action—I'm often looking for maximum distance—but I stay conscious of the fact that center-face contact is just as important as speed. I feel like I'm swinging from the ground up. Growing up in Sweden, I've seen how speed skaters plant their rear foot and then push off. I try to do the same thing, letting my upper body hang back just a bit while I establish momentum from my rear foot and leg.
The rest of the swing just happens. At impact, I want to swing level with the turf, taking little or no divot (3). And I finish in balance. That's the sign of a powerful but controlled move.
WHEN TO PICK THIS CLUB:
▶ Your lie is good.
▶ There's not much trouble around the green.
▶ You're playing into the wind.
▶ You're feeling loose, limber and aggressive.
▶ You have room to let it roll.
Fairway Wood vs Hybrid: The Hybrid
THE 3-HYBRID SWING
Swing Shorter And Hit Down
For average players, the hybrid is still new enough to raise a basic question: Do you hit it like an iron or a wood? I'd put it more in the iron category because you should hit down on the ball rather than sweep it. But because the hybrid I carry is a 3-hybrid and on the outer range of length, the swing is less down than it would be with a shorter hybrid.
My stance is about the same width as with the 3-wood shot, but my ball position is slightly farther back to promote that downward hit (1). I also stand a bit closer to the ball, which makes the swing a little steeper. But I still want the same stable base with my feet and legs, especially when I'm in a bunker, as you see here. And I still want to direct the swing more with my shoulders and core than with my arms.
Because the hybrid swing is steeper, it's also a little shorter at the top (2). The most important thing here is to avoid trying to overpower the shot. I never swing at more than 80 percent. Swinging the hybrid harder doesn't seem to produce longer shots for me. So I make my normal swing, remembering to stand tall at address and maintain my posture all the way through.
Finally, I accelerate smoothly through the strike, taking just a small divot—or in this case, a little puff of sand (3). One final reminder: Always hit the ball first. The divot comes after.
WHEN TO PICK THIS CLUB:
▶ You're playing from rough, sand or an uneven lie.
▶ You have to carry a hazard.
▶ You're playing downwind.
▶ You need to land it softly.
▶ You're having an off day. Hybrids are more forgiving.
Anna Nordqvist has won five times on the LPGA Tour and has played on four European Solheim Cup teams. She is ranked third on tour in greens in regulation.