Solheim Cup
Stacy Lewis named Team USA captain for 2024 Solheim Cup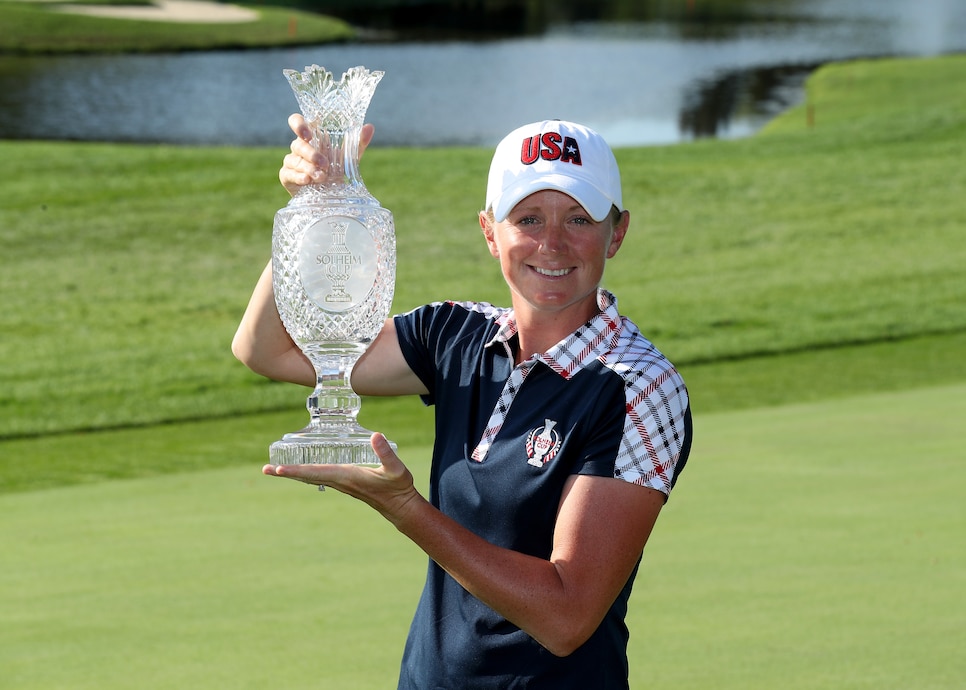 Stacy Lewis hasn't yet captained the U.S. Solheim Cup during the actual competition, but she's already been given the job for a second time. Lewis will captain Team USA this September in Spain and then again outside of Washington, D.C. in 2024.
Though usually a biennial event, the Solheim Cup is being held in back-to-back years to return to an every other year cadence with the Ryder Cup, which had its schedule altered by COVID-19. Previously, the Solheim Cup is played in odd years and the Ryder Cup even years. But when the 2020 Ryder Cup was postponed until 2021 because of the pandemic, it decided to switch to playing in odd years, causing the Solheim Cup to adjust. To give itself space from the popular event, the Solheim Cup is playing back-to-back years to get on an even-year cycle.
Lewis, who will be 38 years old when the matches are held in Spain, is the youngest captain in U.S. history. Team Europe, which is defending its title in 2023, will be led by Suzann Pettersen. Though she hasn't served as captain yet, Lewis has plenty of Solheim Cup experience: She has played in the Solheim Cup four times (2011, 2013, 2015 and 2017), and was an assistant captain in 2019 and 2021.
In her second captaining of Team USA, she'll be leading the team on home soil at the Robert Trent Jones Golf Club in Gainesville, Va. A self-proclaimed "history nerd," Lewis is especially excited to be playing so close to the nation's capital.
"This to me, is the ultimate Solheim Cup," Lewis said.
Lewis was honest about the reasoning behind her second captaincy, saying that with the two events happening not even a year apart, it just logistically makes sense to have the same captain both years. The amount of overlap would be extreme and would ultimately take up more of the players' time if they were answering requests from two different captains. Because of this, Lewis says she wouldn't be surprised if European names Pettersen for 2024 as well.
To prepare for the two events, Lewis said she's been reading and listening to podcasts about leadership and teamwork. It's a unique situation, having a group of individuals come together for a single week and work together as a team. Lewis has tried to find other sports who have gone through similar situation and been successful.
"How do you bring everyone together? Everyone's used to doing their own thing," Lewis said. She said she has found inspiration from the 1999 Team USA women's soccer World Cup, where players not usually on the same team were able to come together in a stunning victory.
Lewis' dedication and excitement for the Solheim Cup stems from a greater goal: She's steadfast in wanting to leave the tour better than she found it. Being captain, she's found she has a lot of control over how things are done – and in that she's found opportunity to chip away at that goal.
"I want to make sure this event is great going forward," Lewis said.