Solheim Cup
Stacy Lewis named youngest U.S. captain in Solheim Cup history (and she's not ruling out playing too in 2023)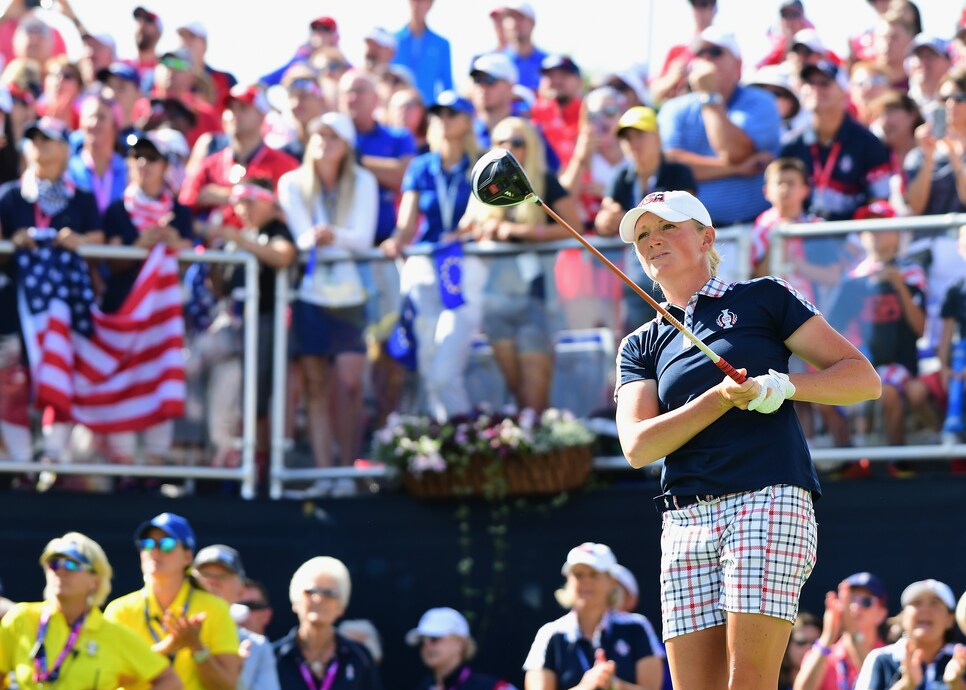 It's not a surprise Team USA has decided to go with a new captain for the 2023 Solheim Cup—but the name might be a little different than expected. On Wednesday, the LPGA announced Stacy Lewis has been selected to lead the Americans at the 2023 matches at Finca Cortesin in Andalucia, Spain
Lewis, a 13-time LPGA Tour winner and two-time major champion, served as an assistant captain in 2021 and, somewhat unofficially, in 2019 when a back injury forced her to withdraw from playing in Scotland. The 36-year-old has played in four Solheim Cups, with a career record of 5-10-1, and is the youngest woman to be selected as a U.S. captain (and second youngest overall). With her wealth of experience, she knows how important it is for players to feel comfortable during the stress-packed week.
"For me it's about the environment," Lewis said. "I want to create a really positive, fun environment where the girls can be successful. That's trying to figure out how to make the practice schedules a little bit more accommodating, build in some more free time in the week, which I don't know if that's possible, but just being a little bit more accommodating to all the different personalities, which Juli [Inkster] kind of started that with the pods and the personality test and that kind of stuff, and she certainly got us on a good path there."
The Americans had a good thing going with Juli Inkster as captain in 2015 and 2017, winning twice before the gut-punch 14½-13½ loss in 2019 at Gleneagles. Pat Hurst took over in 2021, but suffered a disappointing, and surprising, 15-13 loss at Inverness Club.
While Lewis likes the pod system, she said she's not going to be as strict with it as Inkster and Hurst were. In their system, the team was split up into three pods of four players each. No player was paired with anyone outside of their pod. Lewis noticed how that became limiting at Inverness and is looking for "more flexibility with the pairings."
Lewis, honored to be selected as captain, did admit it happened sooner in her career than she thought it would. She plans to play as many LPGA events as possible in the coming seasons, and if she happens to be playing well enough to make the team, she's open to being a playing captain.
"If it gets to sometime next summer and my name is still on that points list and I'm in the mix and my team—if I need to build the best team possible and my name is a part of that, then I'll do it," Lewis said.
She'll be going up against Team Europe captain Suzann Pettersen. The 40-year-old Norwegian holed a birdie putt on the 18th at Gleneagles to secure the win for the Europeans in 2019. She used the epic moment to announce her retirement from professional golf. She was an assistant captain at Inverness and has now taken over for Catriona Matthew to be captain for Europe. Lewis and Pettersen have competed against each other for years. Lewis is excited about the matchup.
"We both have kind of the personalities that hopefully we don't have any rules issues because I don't think either one of us will back down," Lewis said.
The remark appears to be a reference to Pettersen's infamous moment in 2015 at the Solheim Cup in Germany, where Pettersen's opponent Alison Lee picked up a short par putt, while the rest of the group began walking to the next tee, thinking she'd heard it was good. Pettersen called Lee out on it, saying that no one had given her the putt. The discussion got chaotic, and tearful. Team Europe went from halving that hole, to winning it. They went on to win that match. Team USA rallied around the controversial moment, however, and staged the biggest comeback in Solheim Cup history to win the cup the next day. Needless to say, Pettersen received a lot of backlash for her behavior.
By evoking this memory, Lewis might have just started her reign as captain with a bit of trash talk. Or maybe she was just saying that both she and Pettersen aren't the type of competitors who will flinch when the heat is on. Regardless, we're looking forward to what will certainly be a fiery competition in Spain.