U.S. Amateur Champioship
This unknown golfer's stunning play in the U.S. Amateur has golf world buzzing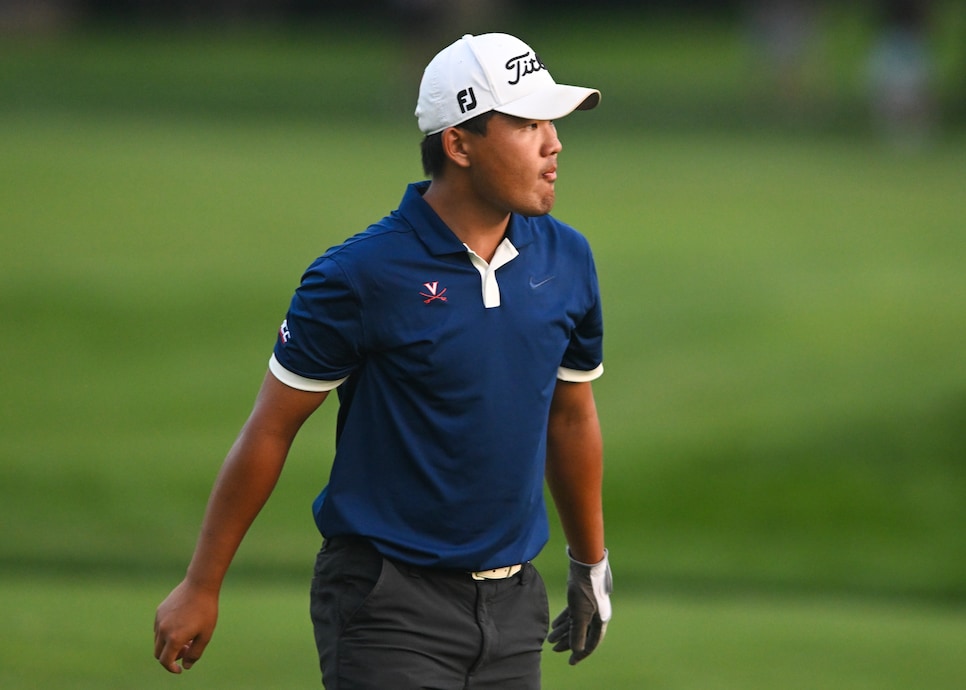 Paul Chang reacts to holing out a fairway shot on the 16th hole in Thursday's Round of 16.
Kathryn Riley
CHERRY HILLS VILLAGE, Colo. — It is as if Paul Chang, the unexpected sensation of this week's 123rd U.S. Amateur at Cherry Hills, has been living in an alternate golf universe. For three years, he pestered longtime University of Virginia head men's golf coach Bowen Sargent to give him a spot on the team. Never mind that he was a self-taught neophyte who only took up the game in the past six years, or that he'd never competed in any tournament of consequence.
Every summer, Sargent got an email from the Chinese-born young man who was schooled in England, asking if this was the year he'd make the roster. It was like the right fielder in Little League always begging to pitch. The coach admitted to being perturbed by Chang's persistence. It was as if he had no concept of how much time, money and effort was spent on recruiting players to top-level Division I programs.
"It was like he figured he goes to Virginia, he plays golf, so he should be on the golf team," Sargent said.
The coach suggested Chang play club golf at Virginia, and he did, but that didn't satisfy him. Chang just kept working. In all kinds of weather, Sargent spotted him riding a motorized scooter to the driving range. And that's about as close as the coach got to seeing Chang's golf swing until a 36-hole U.S. Amateur qualifier a few weeks ago in Williamsburg, Va.
Sargent was scouting one particular golfer, but Chang got his attention by shooting a first-round 64. The coach also heard from some Cavaliers golf parents who wondered why he hadn't already put Chang on the squad. Then, in the second 18, when Chang needed to birdie one of his last two holes to advance, he birdied the 17th and made a tough up-and-down for par on 18.
Sargent was finally sold. With two roster spots open for fall of 2023 after a couple of recruits decided to go elsewhere, Sargent met with Chang and told him he was on the team.
And in his alternative golf universe, Chang sat on Sargent's office couch and told him, "My goal is to win the U.S. Amateur, and I'm going to play on the PGA Tour."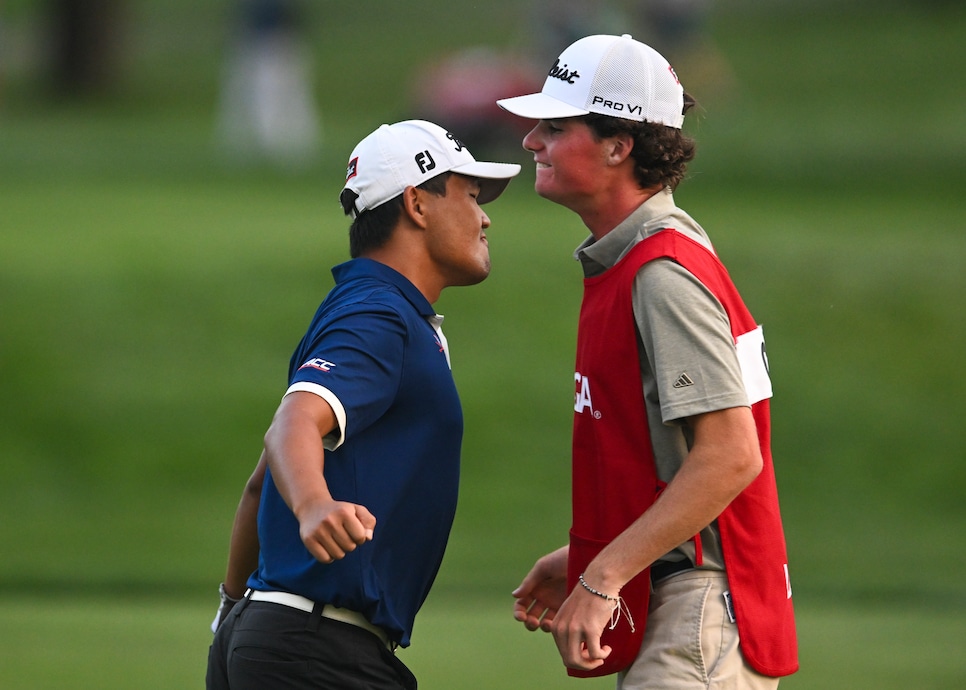 Paul Chang chest-bumps his caddie, Luke Libby, after holing out on the 16th.
Kathryn Riley
"He said it so confidently," Sargent said, "I was taken aback. It was just convincing; I don't know any other way to say it. When he left, I told my assistant, 'I wish all of our guys were that confident.'"
Sargent is less dubious now. In a run of play that harkens back to little-known Gunn Yang's victory in the 2014 U.S. Am, Chang has turned the amateur golf world on its ear. There are 4,520 players listed in the Official World Amateur Rankings, and Chang is not among them. Yet he advanced out of a stroke-play field of 316 to be in the top 64 in match play, and, as the 38th seed, he dispatched two higher seeds, including former World No. 1 Caleb Surratt in Thursday morning's Round of 32.
That win put Chang up against rising Auburn senior John Marshall Butler on Thursday afternoon, and Butler needed a remarkable par save in near-darkness on the 18th hole to force a return to Cherry Hills on Friday morning for extra holes to decide who adanced to the day's quarterfinals.
Even those with a smidgen of knowledge of amateur golf know how extraordinary Chang's success has been.
"This is David versus Goliath," Sargent said. "This just doesn't happen in today's world. This is something you might see happen 50 years ago, but not now."
The people around Cherry Hills are eating up the story. As Chang made his way from the 18th green to the clubhouse on Thursday might, a group of small kids rushed over to ask for autographs. Members made a point to sidle over and congratulate him.
Away from the commotion, Chang, who speaks with a slight British accent, admitted with a smile, "I'm overwhelmed, actually. I'm on TV, and it's international wide. My friends in China and England, they're watching. … I'm just enjoying the moment."
He said he's believed he could achieve at this high level, and that his diligent work is paying off. He chuckled when asked how he supports himself on his own at Virginia. "By not going to bars," he said. "Two beers is one bucket [of balls]. I automatically think in terms of range balls and golf gear. I started to do that because golf is expensive."
With the way this U.S. Am has gone, people may soon be buying Chang both beer and golf balls.