DP World Tour
The Abu Dhabi leader board may say otherwise, but Viktor Hovland opened with the round of the day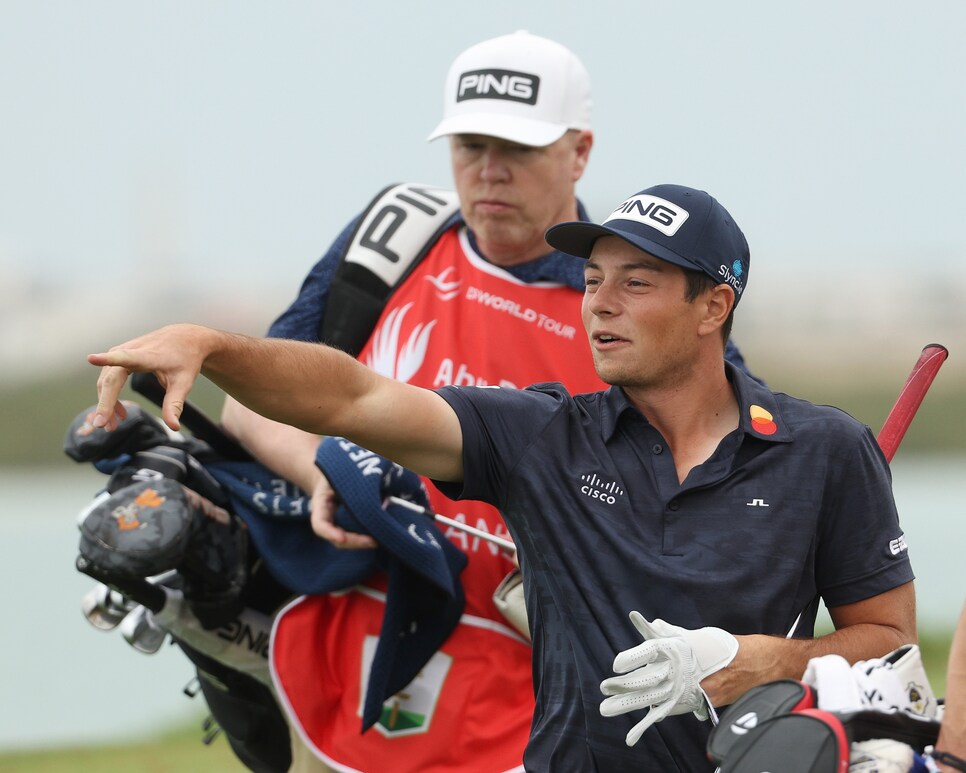 ABU DHABI — Viktor Hovland didn't shoot the lowest score on Day 1 of the Abu Dhabi HSBC Championship. That honor goes to the nine-under-par 63 shot by Scotland's Scott Jamieson over the 7,425-yard Yas Links course. But Hovland can lay legitimate claim to having played the best round of the day. So it is that the Norwegian's 64 in the much windier afternoon conditions (Jamieson played early) is the pick of the 132-player bunch.
"It was pretty windy out there," Hovland said. "When I woke up, I did have a look at the forecast. At that stage it was almost calm. But this afternoon it must have been blowing at least 12 mph. And there were some tricky pin positions. You definitely had to miss it in the right spots."
That last bit requires some clarification. To say the putting surfaces on the Kyle Phillips-designed layout are undulating is like pointing out how busy Manhattan can be in rush hour. So it is that hitting approach shots into the correct parts of the generally sizable greens is a big key to scoring well. Miss those parts and three-putts become almost the norm.
Not surprisingly, Hovland subscribed to that thesis in the immediate aftermath of a round that featured nine birdies and just one dropped shot, coming at the 484-yard par-4 12th. Indeed, he went even further in making his point.
"Where they put the pins actually made distance control more important than direction," said Hovland, No. 7 in the World Ranking. "On many greens there was room either side of the flags. But if you went past or came up short it wasn't very good at all. From those positions, you would have some funky putts. Or have to chip over big slopes. So my iron game had to be really sharp."
Still, for all the excellence towards the top of the leader board—as many as 37 players broke 70—one round stood out. One day after bemoaning just about every aspect of his game and life, Tyrrell Hatton nipped around the premises in a bogey-free 66 shots. And did he smile afterwards? He did. But only briefly when he was asked for his thoughts on a more than blustery weather forecast for the second day.
"Hopefully it's so windy we get a day off," he said. "That would be nice."
"I'm quite surprised how I scored today," he continued. "It didn't actually feel like I played that well. You don't really know where your game is at until you play in tournament golf. Obviously, if you've got low expectations in the middle of the season, that's probably not a good thing. But starting out, I don't see it as a negative. Anyway, although I don't feel like I played like that great, I did score really well. "
That he did. Six shots better than playing partner Rory McIlroy, in fact. The Northern Irishman could do no better than a even-par 72 after dropping shots on three of his last four holes.