Letter from Europe
Former Ryder Cupper grateful to make 2022 debut after health scare
Nicolas Colsaerts is playing in Abu Dhabi uncertain how a recent kidney aliment will impact the rest of his season—or his career
ABU DHABI — Nicolas Colsaerts shot two-under-par 70 in the opening round of the Abu Dhabi HSBC Championship at Yas Island. En route, the 39-year-old Belgian, a three-time winner on what used to be the European Tour, made five birdies, more than compensating for three dropped shots. All of which sounds OK and a nice steady start to the new season, even if the 2012 Ryder Cup player was as many as seven shots off the early pace set by Scotsman Scott Jamieson.
Now forget all of the above. None of it is that important. Not right now at least. For Colsaerts, the biggest priority in his debut on the newly renamed DP World Tour was simply completing 18 holes. As recently as last week, the Belgium native's participation was in doubt. Actually, check that. It was his career that was in question. Check that again. So was his life.
It all started one day after the DP World Tour Championship in Dubai last November. Colsaerts had been part of the Sky Sports commentary team for the season-ending event. All went fine, but throughout the week the Dubai-resident had been unable to shake the ominously bad feeling that had bothered him for maybe a month.
"I kept telling my wife there was something going on," he says. "I wasn't quite sure what it was, but I knew it was something more than just 'go to the doctor, get a pill and move on.' I knew within myself that it was something that needed to be looked at. My digestion wasn't quite right, or at least the same as normal. I wasn't recuperating like I usually did. My sleeping pattern was disturbed. Just things that get your attention. Things that weren't quite right."
Overnight, those misgivings came to a head. Or, to be more accurate, Colsaerts' legs.
"My ankles doubled in size overnight," he continues. "My best friend was staying with us. He was like, 'Oh my God.' So I went straight to the ER."
A range of blood tests failed to provide an initial diagnosis, but after being sent home, Colsaerts was called back to the hospital for further examination. A CT scan revealed a lung one-third full of fluid. There were blood clots, too.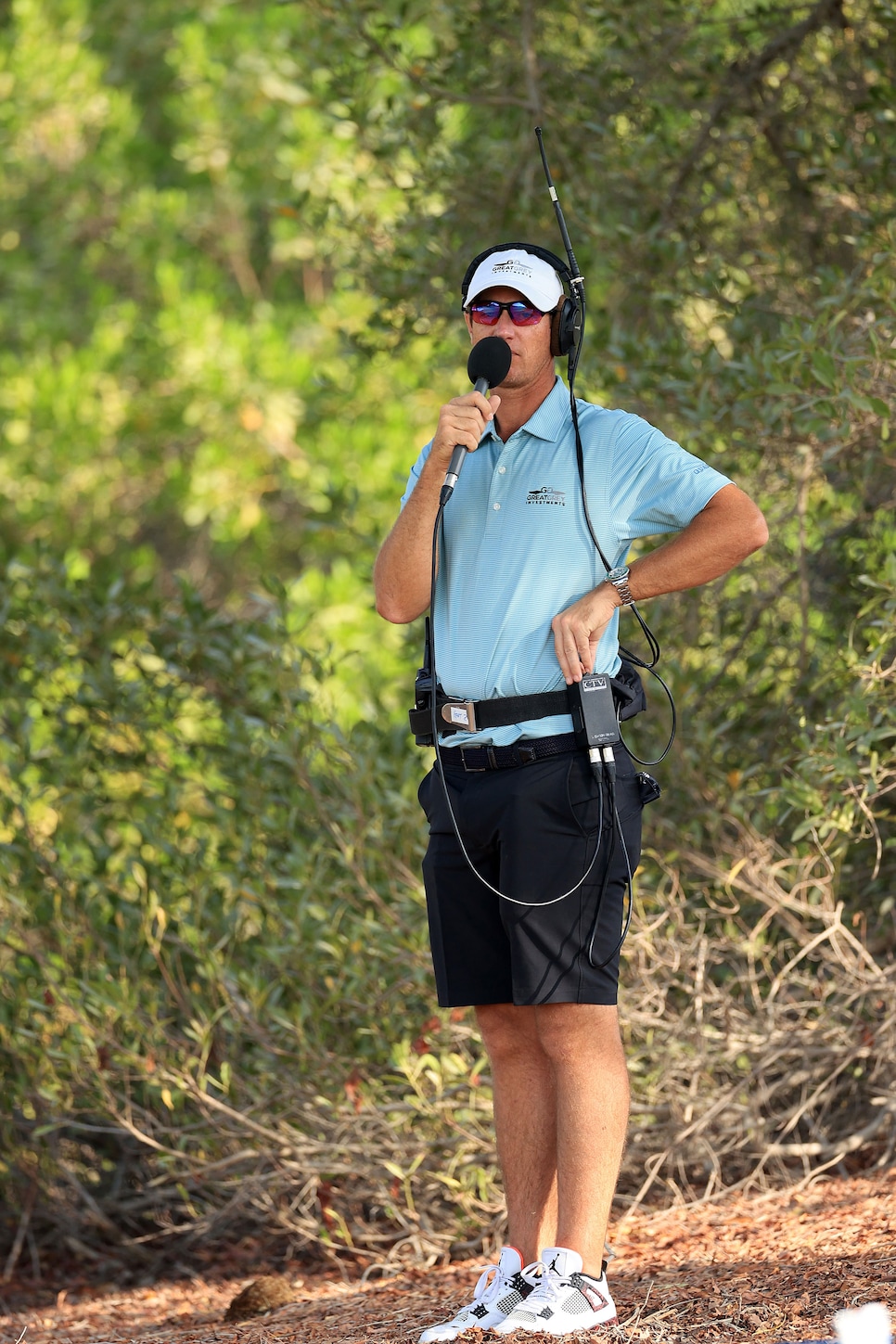 In addition to playing, Colsaerts had been doing some moonlighting as an on-course television commentator, most recently at last year's DP World Tour Championship.
David Cannon
"Had I followed my travel plans, I was due to fly to Asia five days later, I could have been in real trouble," he said. "Because of the blood clots in my lungs, I could have died. Anything could have happened. It's not an exact science. And that lack of knowledge was and is pretty worrying. I'm nearly 40. I've lived a bit of a rock-and-roll lifestyle at times. So I'm a perfect candidate for a stroke, or something of that nature."
Next up was a colonoscopy in order to check the health of the Colsaerts' kidneys. And that led to a diagnosis of membranous nephropathy, which occurs when the small blood vessels in the kidney become damaged and thickened. Proteins then leak from the damaged blood vessels into the urine. There is no certain cure.
Since the initial diagnosis, Colsaerts has been back in hospital many times to get his blood checked. He was also on a course of anti-coagulants to get rid of the clots. Twice a day he was injecting himself with blood-thinners. That helped prevent the formation of any more clots. And he is now on another diuretic drug. Initially, he was urinating on average three liters of liquid a day. The norm is 200-300ml. First thing in the morning he was averaging at least twice that. Which takes a while.
Colsaerts was back in hospital again last week, from where he sent a video message to social media. The response was overwhelming.
"I have been touched by how many people who have reached out to me," he says. "I heard from some I hadn't spoken to for 15-20 years. That is powerful. And I've heard from people who have gone through what I am going through now. I want those who saw my message to know that I appreciate all the messages of support I have received."
Still, things remain far from perfect. While in hospital Colsaerts lost eight kilos in three days. That's 10 percent of his body weight and led to further complications.
"Since I am flushing so much fluid, I have developed a lack of magnesium and potassium," he says. "I was building Lego with my son when, out of nowhere, I developed severe cramp in my leg. I have never felt so much pain in my life. It felt like someone was ripping my leg off. A couple of days after that [last Thursday], I woke up in the night. I had cramp in both legs. I woke the whole house. Rachel [his wife] thought I was having a stroke. I was shivering. When the cramp finally subsided, I started to feel it in my arms. My hands clenched and I had to pull my fingers straight. My hands were basically out of control. That all happened in the space of 30 minutes in the middle of the night. It was frightening. You just don't know what is happening."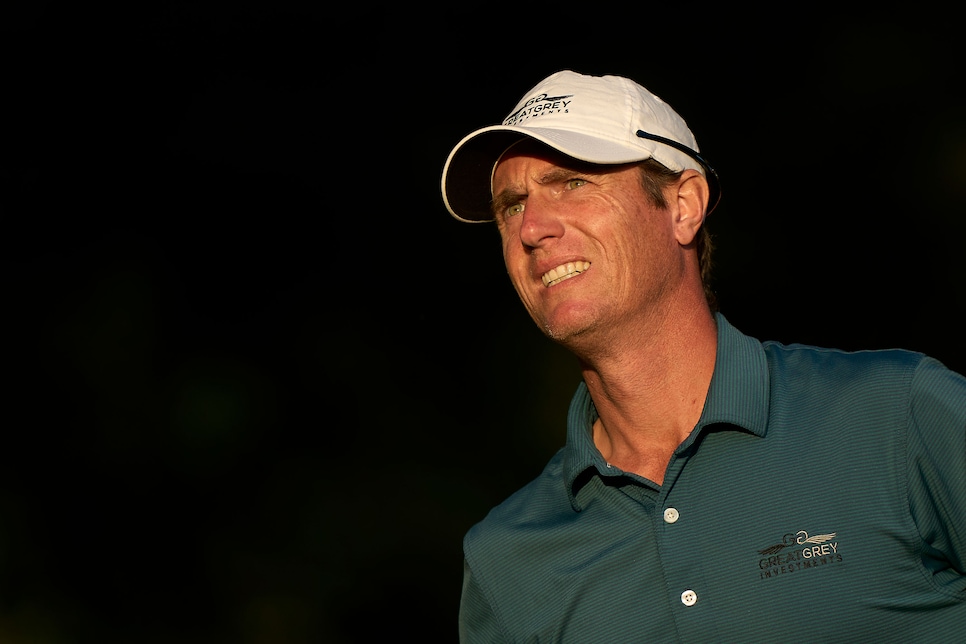 CADIZ, SPAIN - OCTOBER 14: Nicolas Colsaerts of Belgium looks on during Day One of The Estrella Damm N.A. Andalucia Masters at Real Club Valderrama on October 14, 2021 in Cadiz, Spain. (Photo by Jose Manuel Alvarez/Quality Sport Images/Getty Images)
Quality Sport Images
"I thought he was having a heart attack," Rachel says. "He couldn't speak he was in so much pain. I'd never seen anything like it. I was stretching his legs but then it went into his arms. It was everywhere. Understandably, he was panicking, thinking that was going to be his life now. Anyway, that was the end of last week. And, happily, there have been no repeats since."
Going forward, Colsaerts has to be extra careful. His immune system is going to be completely wiped out for a while. More positively, he has been able to practice a little. But Thursday's opening 18 was only his fourth round in the last 2½ months.
"I have no expectations for this week," he says. "I'm looking at life differently. It would be easy for me to look at this event and think, 'Does this really matter?' I get philosophical. I said to my wife, 'I'm not ready to go.' But in low moments I have wondered if this is how it ends for me. I have a 4-year-old and a 7-month-old at home. In darker moments, I have wondered what their reality would be if I was gone."
In a practical sense, next week's Dubai Desert Classic is likely to be Colsaerts' last event for a while. Flying is likely to be an issue, at least in the short term.
"Nico is immunocompromised," Rachel says. "He's had one dose of an immuno-depressant. If he shows improvement, he may not need a second dose. But if he does, flying is out of the question for a few months. It's been a scary business. I remember what he said when he was in the hospital: 'I'm not ready to go.' Which makes me emotional. What we've learned is not to take your health for granted. If this had happened to a Monday-to-Ffriday office worker, it would not be so impactful. But pro golfers need their bodies to be healthy to do their jobs. You can't compete at this level without that. His career is on the line here. But I'm positive we'll get through this."
Back at that 70, Colsaerts finished his round with a birdie on the ninth, his 18th. But he also finished with legs swollen by a build-up of fluid. Today's battle was won, but his war remains a ways from being over.