Abu Dhabi HSBC Championship
A 'long road ahead,' Tyrrell Hatton's 2022 begins with mental malaise and physical re-dedication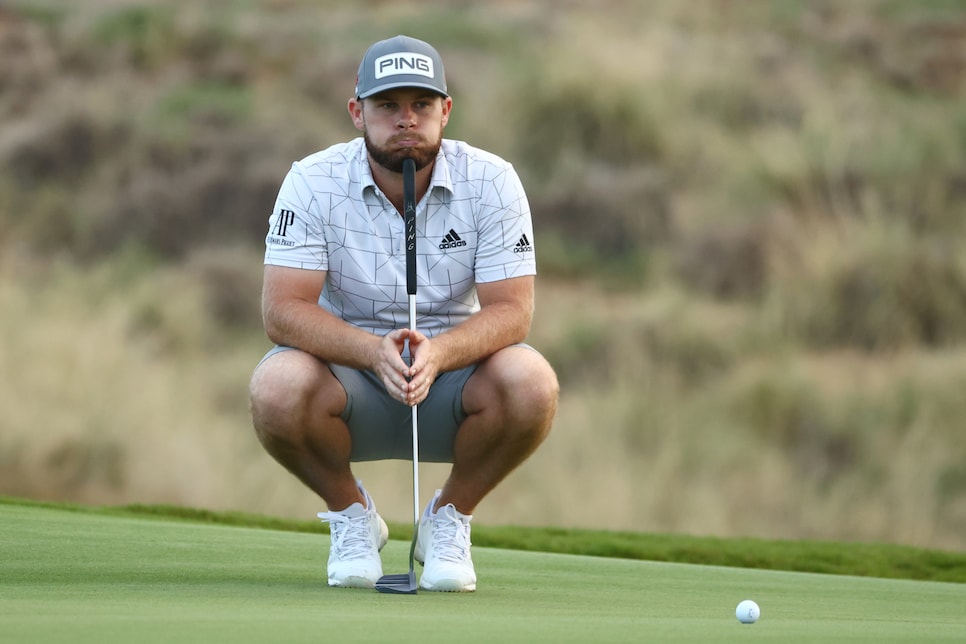 ABU DHABI — One year on from his victory in the Abu Dhabi HSBC Championship and one day before he defends that title, Tyrrell Hatton is struggling. He has been for a while, in fact. Not so much with his game, although that has seen better times. But with life in general. Opening up to expose a degree of ennui rarely seen—or at least revealed—by any leading golfer, the 30-year-old Englishman painted a sorry picture of his current mental state.
"I'm not sure I know why I'm feeling the way I do right now," said Hatton, a member of the last two European Ryder Cup sides. "If I knew that, I would be more motivated than I am. It's just a phase I'm going through. I'm not sure why. This is my ninth year on the DP World Tour. Maybe I need less time on the X-Box. Getting 'killed' all the time is depressing. I can't quite figure it out at the moment."
On the face of it, this week isn't likely to help much. Hatton won this event at the Abu Dhabi Golf Club, but will defend at the contrastingly different and somewhat "linksy" Yas Links.
"I've got a good links record," said Hatton, twice a winner of the Dunhill Links Championship. "But if I'm honest, I struggle when we come to different places that are not designed on land not meant to be a links course. They never seem to look right."
That downbeat tone is reflected in Hatton's level of performance in the 12 months that have passed since he won here in the biggest of the United Arab Emirates. Thirteen subsequent European Tour starts in 2021 produced only a pair of top-10 finishes. That's bad enough for a player who has been ranked as high as fifth in the world (he is currently 22nd), but it actually begins to sound pretty good when weighed against Hatton's generally desultory play on the PGA Tour during 2021. In 16 events, he managed just two top-10s, missing the cut on five occasions.
Understandably, all of the above provoked some much-needed action. On New Year's Eve, Hatton flew to the Middle East from Florida, where he has just completed what he calls a "two-week boot camp." That involved almost daily trips to the gym and, on "off days," at least 90 minutes of sports activity like tennis. The end result is that Hatton—long a sufferer of "body consciousness"—has stopped avoiding mirrors, lost a bit of weight and feels at least a bit happier within himself.
"I wasn't running up and down hills with a backpack," he said with a brief smile. "It wasn't hell-week. We trained every day. And if we weren't in the gym, we did something active. I felt like I needed to do that. The three weeks I spent in the U.K before Florida doing no training and having a few drinks every day took their toll. I just wanted to get back into a better routine, which I feel like I've done. Once I feel a little more comfortable in my own skin and happy with the clothes I'm wearing, I'll have gone a long way towards feeling a bit better."
He should know about that. Because he's been here before. Just two years ago, a similar re-dedication to exercise and practice—he much prefers playing—soon enough brought positive results.
"When I first got back into the gym at the start of 2020, I wasn't happy with how I looked," Hatton said. "But I worked hard and got to a point where I felt like I looked a lot better. I was definitely stronger. The before-and-after pictures between January and August showed a massive difference. It was nice to see. And I felt better about myself. So now feels a lot like the start of 2020. Which is frustrating. I know how hard I worked over that few months to get to where I was. So it's a long road ahead."
One that sounds steeply uphill at the moment.