What You Missed
Ryder Cup 2021: Everything you need to know about Friday morning's foursomes session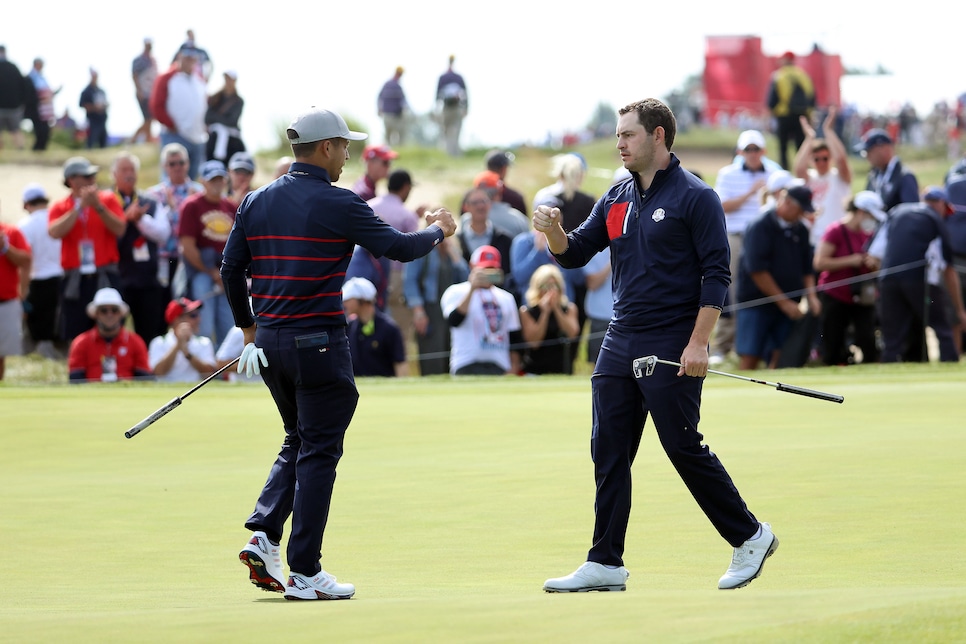 Xander Schauffele and Patrick Cantlay celebrate after closing out their Friday morning foursomes match
Warren Little
HAVEN, Wis. — After an extra year and what felt like an interminable week of pre-match pomp, the 43rd Ryder Cup finally got underway Friday morning with perhaps the best possible matchup leading us off just after sunrise at Whistling Straits. By Ryder Cup standards, the amphitheater on the first tee was somewhat subdued but the golf that would follow, from both sides in the competition, would provide some electricity to the property. Finally, we had matches to dissect and shots to both awe and cringe at during an opening session of foursomes. Here's a capsule view of what happened in Session 1 on Day 1:
Sergio Garcia & Jon Rahm (EUR) df. Jordan Spieth & Justin Thomas, 3&1
Dustin Johnson & Collin Morikawa (USA) df. Paul Casey & Viktor Hovland, 3&2
Brooks Koepka & Daniel Berger (USA) df. Lee Westwood & Matt Fitzpatrick, 2&1
Patrick Cantlay & Xander Schauffele (USA) df. Rory McIlroy & Ian Poulter, 5&3
United States leads Europe, 3-1
The Big Picture: Let's Get It Started
The first session felt like a collective exhale. Of course, the points were critical to setting the tone for the rest of the weekend and winning the cup, but this felt like a celebration just to get this competition, argued as the best event in all of golf, simply going again. The foursomes (alternate-shot) format, which has generally not favored the home U.S. side in recent cups, featured almost every top gun on both rosters. On paper, all four matches featured no true weak links from the respective rosters, but the anticipation for that leadoff match was perhaps the highest.
That leadoff point felt absolutely critical for Europe before it even started, given it involved World No. 1 Jon Rahm and all-time Ryder Cup points earner Sergio Garcia. The American side was no cupcake, but that Spanish power couple needed to come through for the underdog team that felt like it had less margin for its top players to boot away points opportunities.
They got it, with Sergio firing precision irons early and Rahm rolling in putts from long range and medium distance on both front-nine par 3s to create a nice early cushion. Justin Thomas's putter was shaky at times, and Europe closed out the opening point, which ended up being even more critical than the on-paper analysis at sunrise. That's because the U.S. power pairings, and just about every pairing is just that on a roster where the average World Ranking of the 12 players is in the single digits, cleaned up in the last three foursomes matches. If history is our guide, it bodes well for the rest of the event if you're rooting for the red, white and blue.
Dustin Johnson was dialed in on approaches, and Collin Morikawa cleaned up multiple birdie opportunities. The Florida State duo of Koepka and Berger never trailed in a match that felt like the best chance for the Euros to salvage something more of the session. And the anchor match, well that was an absolute whitewash and felt over in the first hour or so as Poulter and McIlroy found themselves five down after the first five holes, partly due to their own underwhelming play but also the buzzsaw of a Cantlay-Schauffele pairing that will be hard to sit over the next two days.
On the American side, we'll give this to Schauffele, the rookie in name only who paired up perfectly with his close friend Cantlay. His putter was a large part of that early lead in the anchor match and then a near-ace at the 12th hole kept Poulter and McIlroy at bay as they tried to swing the momentum for a late miracle comeback.
On the European side, who else but Sergio, the pesky thorn in American teams for 20-plus years now. Rahm absolutely carried his weight in the pairing, too, but Sergio did all those Sergio things we expect in a Ryder Cup—darts into the par 3s and the putter coming alive in a way that it always seems to do for this match play setup. He was alive as well and feeling himself—this could have been an image from any one of several Ryder Cups this century.
After the extra year's wait, can we just say all of them? If forced to choose, the opening match really lived up to the hype. Thomas' putting could have been better but it was not like the American side played poorly—they would have been three under on the card, an admirable and competitive score in foursomes. It's just that the Spaniards looked unbeatable, so every mistake was amplified and made even a halve seem like a remote possibility. In fact, that's all that was left for the U.S. side by the 15th green, where Sergio came over the top and bombed one in from long range to go 3 up with three to play.
It was a fantastic showing from start to finish and based on where things stand for Europe after one session, they'll need these two to keep it up over the next two days.
Similar rules from above apply—after three years, there was no worst match but the least competitive was certainly that boat race by Cantlay and Schauffele. Six birdies in the first 12 holes in an alternate-shot format with just one ball in play is astounding, but it's also the kind of run that makes a match uncompetitive. The 5-up-through-five start made this one pretty academic, though Rory did get a little frisky after the turn. Poulter, the Team Europe icon, is now 1-4-1 in his last six two-man games in this competition and his putter was cold throughout the morning on the shore of Lake Michigan.
There were plenty of massive putts and absolute darts dropped on pins in an amazingly sharp session. But for drama, we'll go with this Jordan Spieth shot, which mattered not for the outcome but nearly ended up with one of America's best players in Lake Michigan.
Spieth escaped bodily harm, and also excavated the ball from an awful lie to a par-saving position. Sergio said he was just worried about Spieth's health watching him tumble down the hill, and could not belive he got it on the green. Even Spieth was incredulous when he finally made his way back up to the green, the Golf Channel mics picking up a "Holy s*%*, that' short of the hole?" Thomas missed the putt and the Euros closed out the young American duo, but the shot was a dramatic play and amusing moment from the morning session.
On the subject of motivation, Sergio did give a long look for a concession before walking up to putt this one. Like we said, Sergio did Sergio Ryder Cup things—both with his clubs and without.
The best first tee in golf was not quite as loud as usual, but that doesn't mean it's still not the best or most unique. The stands were full well before the sun came up over Lake Michigan thanks to this mad dash in the dark.