News
PGA Championship 2020: CBS crew pumped up about delivering year's first major in prime time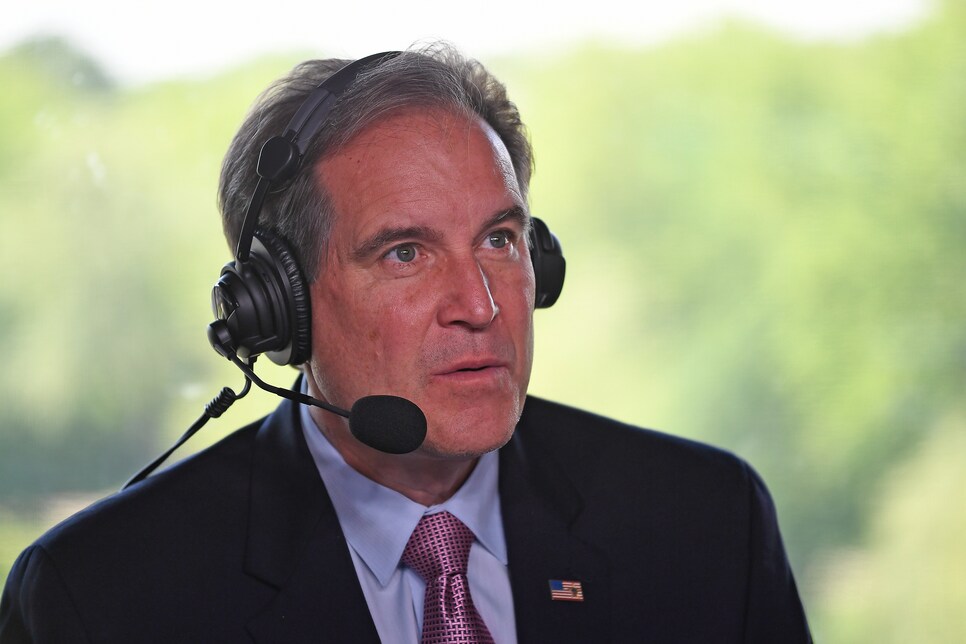 Jim Nantz says viewers will see more shots of the PGA Championship because of the use of a 50-50 screen.
Chris Condon
Before CBS Sports renewed its contract with the PGA of America for the PGA Championship, Sean McManus already had his eye on the 2020 championship as soon as TPC Harding Park in San Francisco was chosen as the host site.
"We immediately went to our West Coast program department and said we'd like to commit to the PGA, assuming we secure the rights and have a new deal coming, [to broadcast] until 10 o'clock on Saturday night and nine o'clock Sunday night [on the East Coast]," McManus, chairman of CBS Sports, said Tuesday during a conference call.
It came to pass that CBS did renew its PGA deal and is in the first year of an 11-year extension to broadcast the PGA Championship that ends in 2030. This will be the 30th year that CBS will broadcast the PGA of America's biggest annual event and the first time the championship will be showcased in prime time. It also will be the network's first year partnering with ESPN in broadcasting the tournament, though CBS and ESPN already together air coverage of the Masters.
CBS will provide six hours of coverage for each of the final two rounds, airing 4-10 p.m. EDT Saturday and 3-9 p.m. Sunday, which allows enough daylight for a minimum three-hole playoff, if necessary, which potentially takes CBS farther into the evening.
One reason the PGA hasn't had a prime-time showing, while the U.S. Open has had several in recent years, is location; the last West Coast site for the PGA came at Sahalee Country Club in Seattle in 1998.
McManus predicted higher ratings with the prime-time slot, though golf in general has enjoyed strong ratings since it returned in mid-June. CBS has broadcast each of the first eight weeks leading into the PGA, part of a marathon 11-week run for the network.
"I think more people are obviously watching television in the evening than they are during the day," he said. "And I think it's going to be a really good showcase for the PGA Championship. Prime-time golf is very rare as you know.
"I think this will be terrific from ratings standpoint and a branding standpoint and a positioning standpoint for the PGA of America," he added.
Not surprisingly, the highest-rated final-round major telecast outside of the Masters, which annually draws more viewers than any other golf event, came in the 100th PGA Championship in 2018 at Bellerive Country Club in St. Louis, when Brooks Koepka held off a surging Tiger Woods. That broadcast earned a 5.4 household rating and drew an average of 8.5 million viewers.
Last year's U.S. Open finish from Pebble Beach Golf Links in California, broadcast in prime time on FOX, drew a 4.4 rating and an average of 7.3 million viewers as Koepka came up short against Gary Woodland in his bid for a record-tying third win in a row. That happened to be the highest final-round U.S. Open telecast for FOX, which hands back the rights to NBC with this year's U.S. Open in September.
In 2015 from Chambers Bay in University Place, Wash., when Jordan Spieth edged Dustin Johnson, FOX's coverage drew a 4.2 rating. The best prime-time rating for golf came in the 2008 U.S. Open on NBC when Woods birdied the 72nd hole to force an 18-hole playoff against Rocco Mediate at Torrey Pines in San Diego. An average of 12.1 million viewers tuned in during the 4-10 p.m. EDT window to fuel a 7.5 rating, not far behind that year's 8.6 rating in the Masters. ESPN's coverage of the first two hours of the playoff from noon-2 p.m. EDT Monday at the time was the most-viewed golf telecast in cable TV history with a 4.2 household rating.
And just to continue this theme, the PGA's biggest final-round audience tuned in during the 2009 championship on CBS when Y.E. Yang upset Woods at Hazeltine National in Minnesota. It garnered a 6.6 rating thanks to 10.1 million viewers.
So, having Woods in contention certainly will tweak the numbers.
Regardless, ad sales for the network have been strong, and McManus was proud to point out that only a few units remain unsold, and, more importantly for viewers, 50 percent of the national inventory is of the "two-box" variety, also known as the "Eye On The Course" feature that keeps half the screen on the action.
Host Jim Nantz estimated that the result is an extra 35-40 shots aired per hour.
"I'm going to talk as a fan here … that's a big deal," Nantz said. "You start adding up how many shots you're going to be able to see, now that you don't normally have to come back to and get behind on tape, that you're going to be able to show people live, start multiplying that by a two-and-a-half minute window. That's a tremendous benefit to us."
Which, of course, translates to a huge benefit to that viewer, especially that avid golf fan who would likely tune in regardless of the air times.

But McManus said prime time is a different deal, and it will show. "Anytime you do a sporting event in prime time, there's more sizzle to it," he said. "There's more excitement to it. There's more energy."
Throw in Tiger Woods, too, and there will be more eyeballs. Probably a lot more.