News
PGA Championship 2020: It's Tiger Woods. It's a major. Is there any doubt he thinks he can win?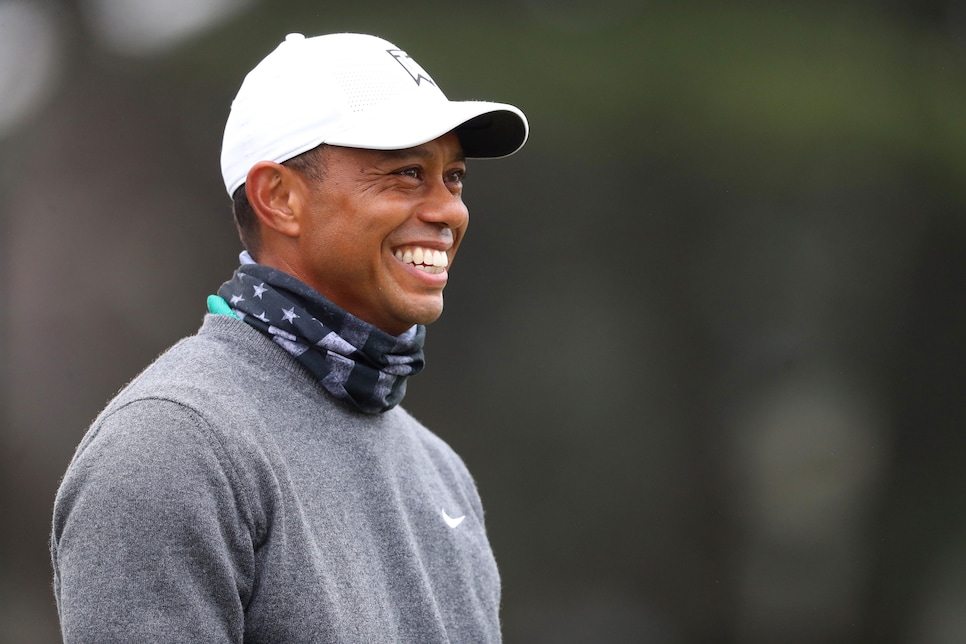 Tiger Woods laughs during a Tuesday practice round ahead of this week's PGA Championship.
Tom Pennington
SAN FRANCISCO — The great ones have a knack for persuasion. When an athlete as accomplished as Tiger Woods says something, your first instinct is to believe him. Even if all the evidence points in the other direction.
On paper, Tiger Woods is up against it this week at the PGA Championship. Yes, he has won a World Golf Championships event and went 5-0-0 in the Presidents Cup at TPC Harding Park. But more than a decade has passed since each of those performances. So very much has changed since then. Woods has had four back surgeries, descended to the golfing abyss and climbed his way back.
TPC Harding Park has beefed up significantly, too. The PGA of America is in charge this week, which has not boded well for Woods of late. He's missed the cut in three of his last four PGA Championship starts, often struggling with brutish layouts that stifle creativity and reward sheer power. He's going to need to hit a bunch of drivers this week. Everyone is. And that's not his strength.
VIDEO: The Tiger Vault—Watch below as Tiger talks about the keys to playing Harding Park
It's also going to be cold and damp all week—summer in San Francisco—typically the worst weather for his 44-year-old body. "I know I won't have the same range of motion as I would back home in Florida where it's 95 every day," Woods said Tuesday. "That's just the way it is."
Then there's the fact that Woods has played just one tournament in the last six months. It was three weeks ago at the Memorial, and there was not much to suggest he's ready to win a 16th major championship. His back acted up on Friday. He fought his putting all week. Heck, he needed a back-nine flurry on Friday to stick around for the weekend. By his own admission, he needed more reps.
So, does he really believe he can win this week?
What leads him to that conclusion?
"The results I've seen at home—I'm very enthusiastic about some of the changes I've made," Woods said on Tuesday, addressing the media ahead of his 85th career major championship start. "That's been positive. Keep building. Keep getting ready and be ready come Thursday."
Now, a word of caution. Right after he turned pro, Woods famously told Curtis Strange (with more than a hint of derision) that he didn't see the point of turning up to a golf tournament if he didn't think he could win. He always likes his chances. Even back in the throes of his back struggles, of his chipping yips, you'd never catch him saying he'd be pleased with a top 25.
But in watching Woods preparation so far—18 holes on Sunday and 9 on Monday—it's not hard to see what he's "very enthusiastic" about. He's moving well. He has plenty of speed. The Southern California native is more than familiar with poa annua rough, knows how to control the spin from it and how to vary trajectories from it. He's been working hard on his putting under the watchful eye of short-game guru Matt Killen. When he reached the 607-yard par-5 fourth in two on Monday, you couldn't help but think: Maybe. Maybe he can do this.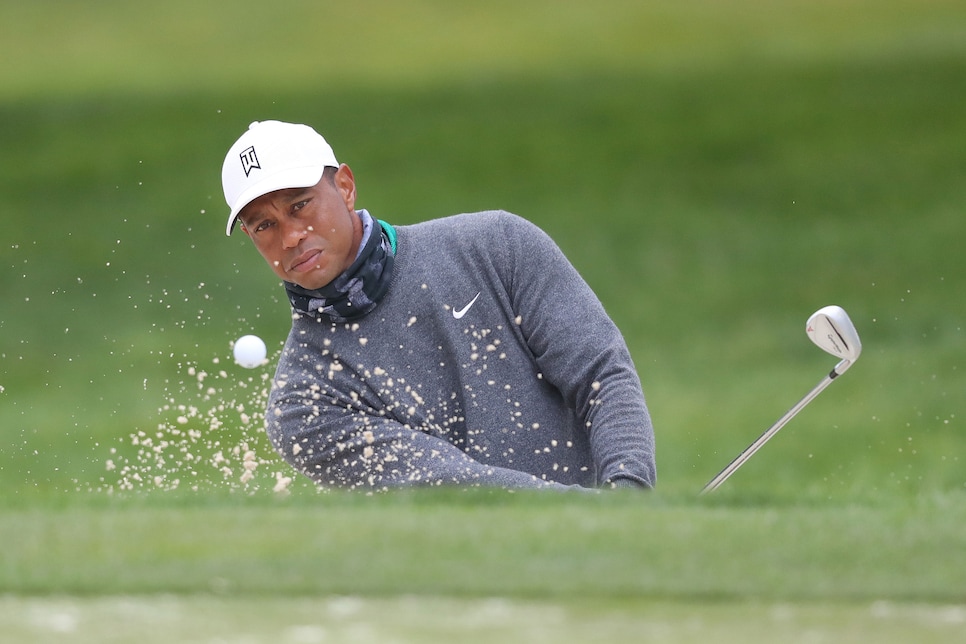 Tiger hopes that past success at TPC Harding Park can translate into another good week.
Tom Pennington
"I feel good," Woods said. "Obviously, I haven't played much competitively, but I've been playing a lot at home. So I've been getting plenty of reps that way. Just trying to get my way back into this part of the season. This is what I've been gearing up for. We've got a lot of big events starting from here, so looking forward to it. This is going to be a fun test for all of us."
Much, much stranger things have happened. Just last October, Woods cruised to his 82nd PGA Tour victory after missing three months to have knee surgery. In December, he was the best player at the Presidents Cup by a mile. In January, he didn't play particularly well and still had a semi-chance to win at Torrey Pines. He's still the 15th-ranked player in the world and still, still the reigning Masters champion.
He's still Tiger Woods, and this is still a major championship.