Wheelin' and Dealin'
It's official: The 2019 Raiders had the worst offseason in sports history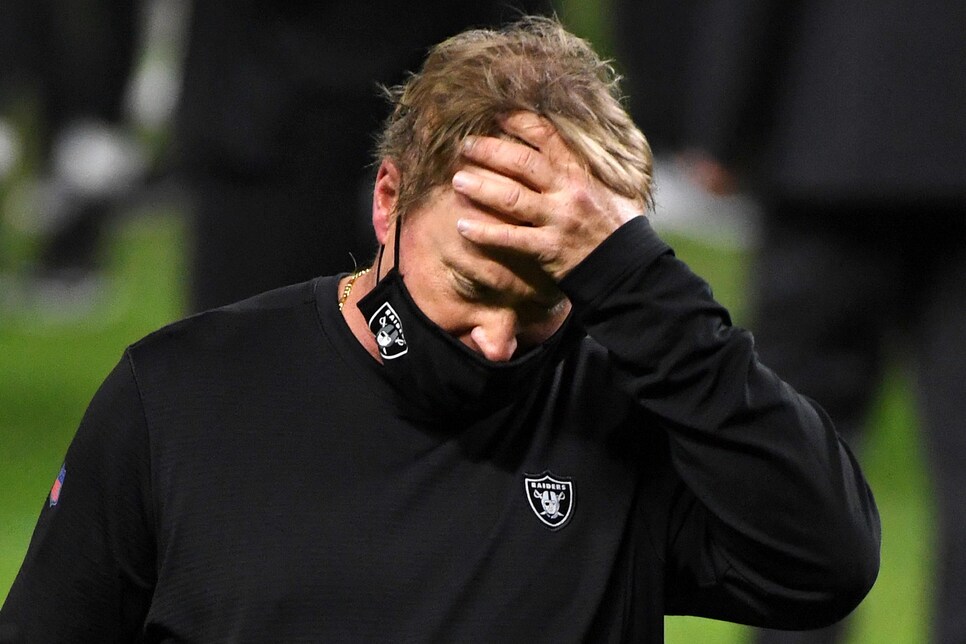 On Tuesday March 9th, 2021, the Las Vegas Raiders traded offensive tackle Trent Brown back to the New England Patriots—the team they originally signed him from in 2019—in exchange for a 2022 fifth-round pick. Not exactly earth-shattering news, but the move was notable for a few reasons.
1. Because Brown—who has agreed to a new one-year, $11-million-dollar deal in Foxborough—was owed $29.5 million over the next two years as a Raider, proving players are still willing to take a paycut to play for ol' Billy Boy.
2. Because the move helps to open up $49.3 million in cap space for the Raiders in 2021, not that they'll use it wisely (more on that in just a second.)
3. Because it confirms what we all already sort of knew: That the Raiders' 2019 offseason, orchestrated by the brain trust of Gruden & Mayock, is perhaps the single worst offseason by any franchise in sports history. Look unto the void and despair.
Brown was the last piece to fall, and now that he has, well, you're looking at the same tweet we are. Anyone who has ever watched five minutes of SportsCenter on mute at an Applebee's could have guessed that Antonio Brown and Vontaze Burfict would flame out, but those are just the splashy names. Guys like (Trent) Brown, Williams, and Joyner were supposed to provide the backbone of the team and were paid like it. Now the only time they'll set foot in Vegas is for a bachelor party.
The precursor to all of this, of course, was the Khalil Mack trade in September of 2018, which laid the groundwork for the front-office idiocy to come. It stripped the roster of its best player and an entire unit of its leader. It gave the Raiders resources to work with, and they were spent just like you would expect a team that calls Las Vegas home to spend them. Now, two years later, the Raiders are left with a handful of skill position players on offense—Carr, Waller, Jacobs—and perilously little else in a division featuring the back-to-back AFC Champs and a Chargers team that appears to have found its quarterback. We can't believe we're saying this, but Sin City deserves better . . .