News
2018 New Year's resolutions for five of golf's brightest stars
Photo by Andrew Redington /Getty Images
Self-betterment is a common theme this time of the year, with a calendar change offering a platform for beginnings. That's technically not true for the PGA Tour, as the season is already eight tournaments deep into the new campaign. Nevertheless, it's still an appropriate juncture for golfers to gaze into the mirror, acknowledge their shortcomings and build a plan for improvement. Using the stats sheet as catalyst, here are New Year's resolutions for five of the sport's brightest stars.
Patrick Reed: Sharper irons
Off the heels of his 2016 Ryder Cup theatrics at Hazeltine National, 2017 was supposed to be Reed's breakout campaign. Instead, it was one of his worst, and—despite claims he was playing with ill-fitting equipment—his approaches were to blame. While Reed has never been a second-shot savant, his iron work went from average (53rd in strokes gained/approach in '15, 8th in '16) to atrocious (116th in strokes gained/approach, 173rd in greens in regulation, 183rd in proximity to hole). It's a display that took the putter, the deadliest weapon in his bag, out of play. For Reed to be the swashbuckling hero seen in team events, he needs to get right with his irons.
You know how some resolutions are reruns of failed attempts? That's the case for McIlroy, who logged this same aspiration last year. To be fair, the four-time major winner's 2017 came with caveats—injury, equipment change, marriage—but his results from 150 yards and in continue to plague McIlroy:
Approaches from 50-75 yards: 160th on tour
Approaches from 100-125 yards: 145th
Approaches from 125-150 yards: 190th
(Oddly enough, McIlroy was in the zone from 75-100 yards, ranking third at 13 feet, 8 inches.)
McIlroy's putting is often condemned, while Rory himself cites driving accuracy as part of his woes. Nevertheless, for McIlroy to rejoin the ranks of Spieth, Justin Thomas and Dustin Johnson, he needs to convert his bombed tee shots into birds, a task easier accomplished with an efficient wedge game.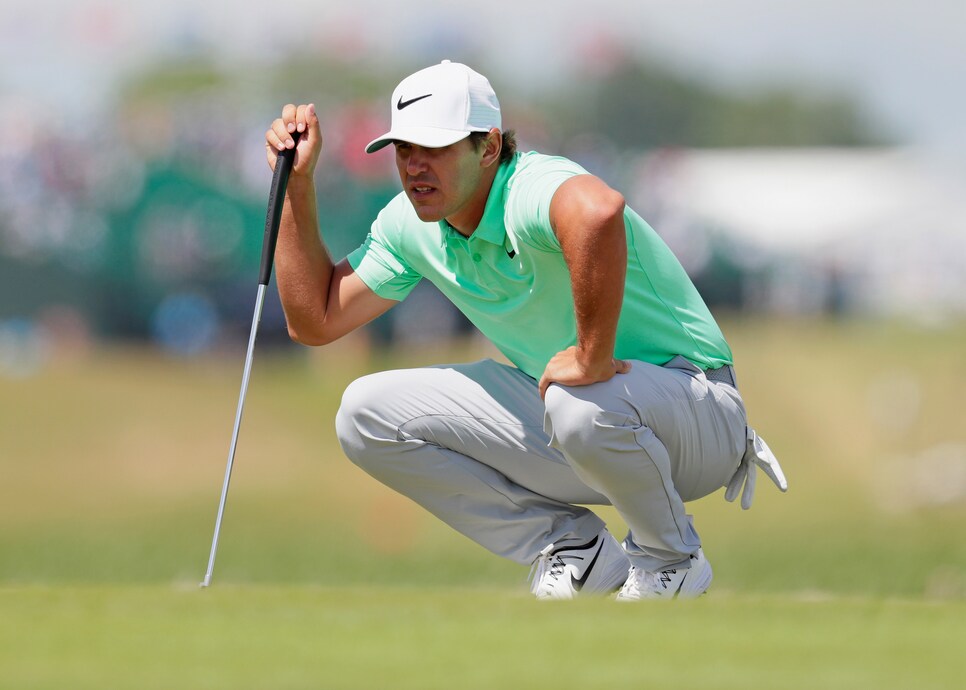 Brooks Koepka: Bogey avoidance
Koepka's 2017 was more than his Erin Hills triumph, finishing in the top 15 at all four majors. And yet, even with the U.S. Open under his belt, many feel as if Koepka's potential remains largely untapped, with his inability to avoid the big numbers serving as an obstacle. Sure enough, compared to fellow top-10 players like Spieth, Johnson, Hideki Matsuyama and Jon Rahm—all of whom rank in the top 15 in bogey avoidance—Koepka is on the other end of the spectrum, ranking 152nd in the category. Accuracy issues, both off the tee (55.8 percent, 154th) and approach (63.47 greens in regulation percentage, 148th), are mostly at fault, although his scrambling leaves much to be desired (102nd in strokes gained/around-the-green) as well. In short, while Koepka's brute force has delivered strong returns, he'll need to mix in some finesse to make more frequent returns to the winner's circle.
Hideki Matsuyama: Putting progress
Some resolutions are made out of a continued strive for improvement, others as a need to survive. Though it's not as dramatic as the latter—Matsuyama did win three tour events last year—his short game is encumbering his ascension to full-blown stardom. What's curious is how quickly it's spiraling out of control, going from mediocre in 2015 (86th in strokes gained/putting) to bad (103rd in '16) to ghastly (173rd). Worse, every facet of his putting—short (inside 10 feet: 144th on tour), mid (15-20 feet, 190th) and long (25 feet and longer, 148th)—is in desperate need of refinement.
Analytics have proven the heightened importance of approach shots and tee balls, but you can't have two left feet on the dance floors, especially at the American majors. If he can just be adequate—as we saw in his runner-up finish at Erin Hills—Hideki will become the first Japanese player to win a major. He puts in as much work as anyone on the practice greens; here's hoping Matsuyama finds some clarity to carry inside the ropes.
Kevin Kisner: Sunnier Sundays
Last year was one of emergence for Kisner, recording a win at Colonial, eight top-10s and his first appearance on the American team. It was also one of what could have been, as the Kiz let opportunities slip at the PGA Championship, Tour Championship and Arnold Palmer Invitational, unable to punch his ticket on the final day. A look at his stats sing a similar theme, ranking inside the top 50 in scoring in Thursday (43rd), Friday (10th) and Saturday (50th), only to fall to 146th during Sunday rounds.
For Kisner, who turns 34 in February, it could be just a matter of reps. After riding, and falling, in his share of rodeos last season, Kisner now knows what it takes to stay in the proverbial Sunday saddle.