MOVING DIRT
'A 100 years ago I had no chance.' A glimpse of Pinehurst's 10th course and the woman shaping it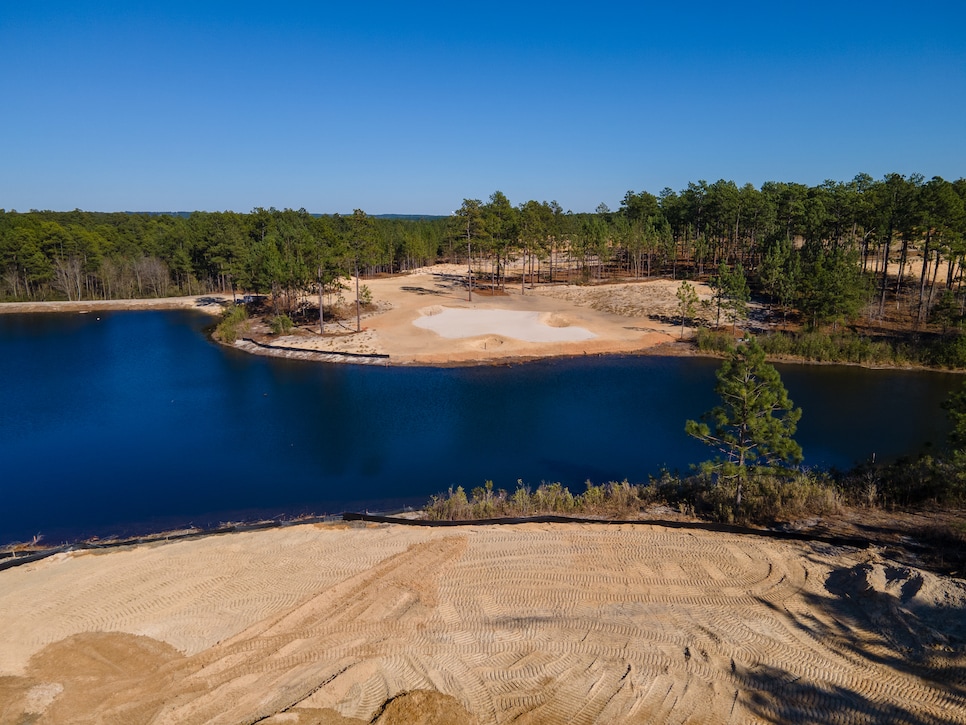 Over a hundred years ago, a European immigrant named Donald Ross shaped the Carolina Sandhills into a golf hotbed. Now another will help author the next chapter of Pinehurst Resort. Angela Moser hales from Germany, and I recently spent a crisp and cloudless morning riding shotgun in her Pinehurst issued pickup truck.
Back in the truck, we follow worn ruts on the ambling, hilly property that will offer a clear contrast topographically from anything in the resort's current profile and much of what currently exists in the golf-rich area. Though she is far from a rookie when it comes to course design and working on projects, Moser finds herself running point for the first time as lead associate. Like any structural architect, her boss Tom Doak has many projects running at once and he says Moser has been ready for years "because she has gotten good enough as a shaper to do the things that need doing. But," he cautions, "nobody is really ready to run a project until they do it. You want to do it all, but you don't have time, and you know you need help to build something exceptional."
We park the truck, and she leads us out to what will be the first tee of course No. 10. The site is a flurry of movement with playing corridors already cleared, greens shaped and ready to be turfed, and large burn piles smoldering around the property.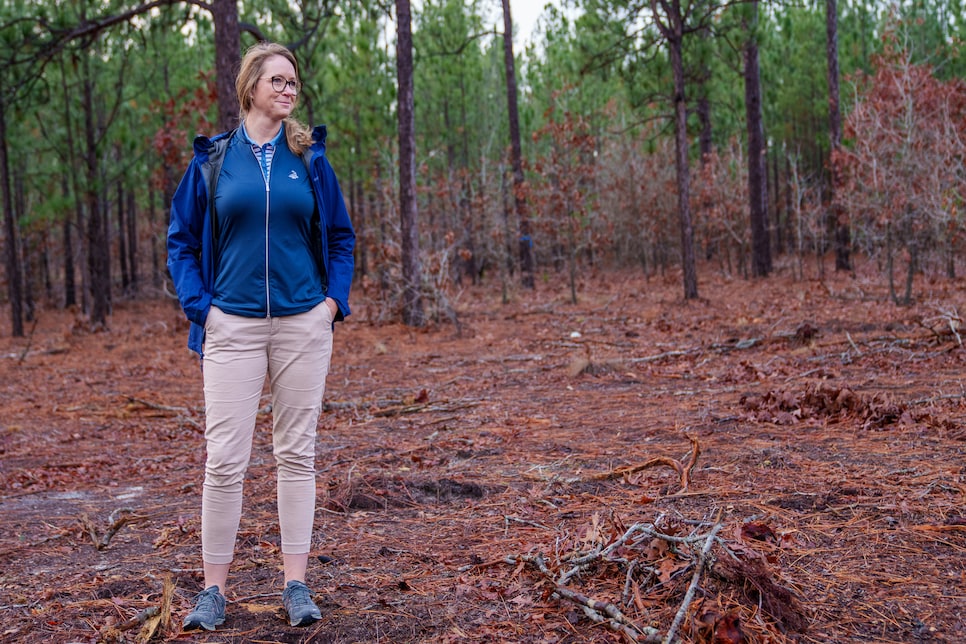 Angela Moser on grounds at what will be Pinehurst Resort's 10th course. Photos by Matt Gibson
Because it's Tom Doak, no project he would have accepted and pointed Moser to would have been low-profile. But given Pinehurst's legacy in the game of golf, its appointment as the USGA's first anchor site for the U.S. Open and the construction of its new Golf House literally next door to the resort's main clubhouse, this project carries some extra weight. Compounding all this, Doak's esteemed team of veteran shapers are all away working on other projects, parachuting in for a week or two then jetting off once more.
So, while Moser is calm and clearly in control of the truck, there is much to be done, much to weigh, much to direct and she admits days have been long, sleep has been rare. Also, she's a woman, a rarity in the field of golf course architecture, something she both embraces and alternately wishes wasn't part of the story.
As we traverse most of the property in her truck, Moser points out the virtues of Doak's routing, a magnificent walk that winds you into a forest and over surprisingly hilly topography of what was once a peach orchard. A trio of holes on the back stand out. The tenth, which is set to be a long par 5 of 610 yards, provides a long-range view down into the belly of the property. A par 3 up the hill follows, beginning the climb back up, followed by the marvelous 12th, another par 5 where you hit over a hill and trundle downward before gradually ascending to the green, near the property's apex at the 13th tee. Moser drives us through the course, pausing to let workers pass on a tractor and diverting us when up ahead a tree is felled by more workers. She is most excited about this hole, the 17th hole, the one she has built, and when we arrive at the par 3, which asks you to hit a short shot over water, where a lion's mouth bunker is yawning, she stands with both hands on her hips and says, "There it is."
Moser is clearly proud of the hole and its palatial green with what appear to be six pin positions, none of which offer any princely comfort. Many fours will be made. Myopia is a shaper's friend and enemy on the job, Moser says, allowing you to focus on one singular aspect and perhaps overthinking it. As lead associate on the project, she has had to be more aware of the whole composition, how each hole complements the others, which has led her to be, "more efficient. I just don't have time to focus [on every feature of a whole], because there is so much I need to do." She thinks this efficiency has made her better, allowing her to give up some perfectionist tendencies.
Moser was a standout junior player in Germany but even then she says, "I was more interested in the courses than I was playing the tournaments." After contacting Doak about an internship in 2009, she came on board in July of 2011, working with him as an intern at the Renaissance Club. And though many still regard Doak as difficult to work with, for Moser, and for many that work with him, that public persona doesn't level with the man whose design firm has some of the best shapers and designers in modern golf architecture. "I think he's the kindest man that I know. If there's ever a problem, I can always call him. He cares about the people around him."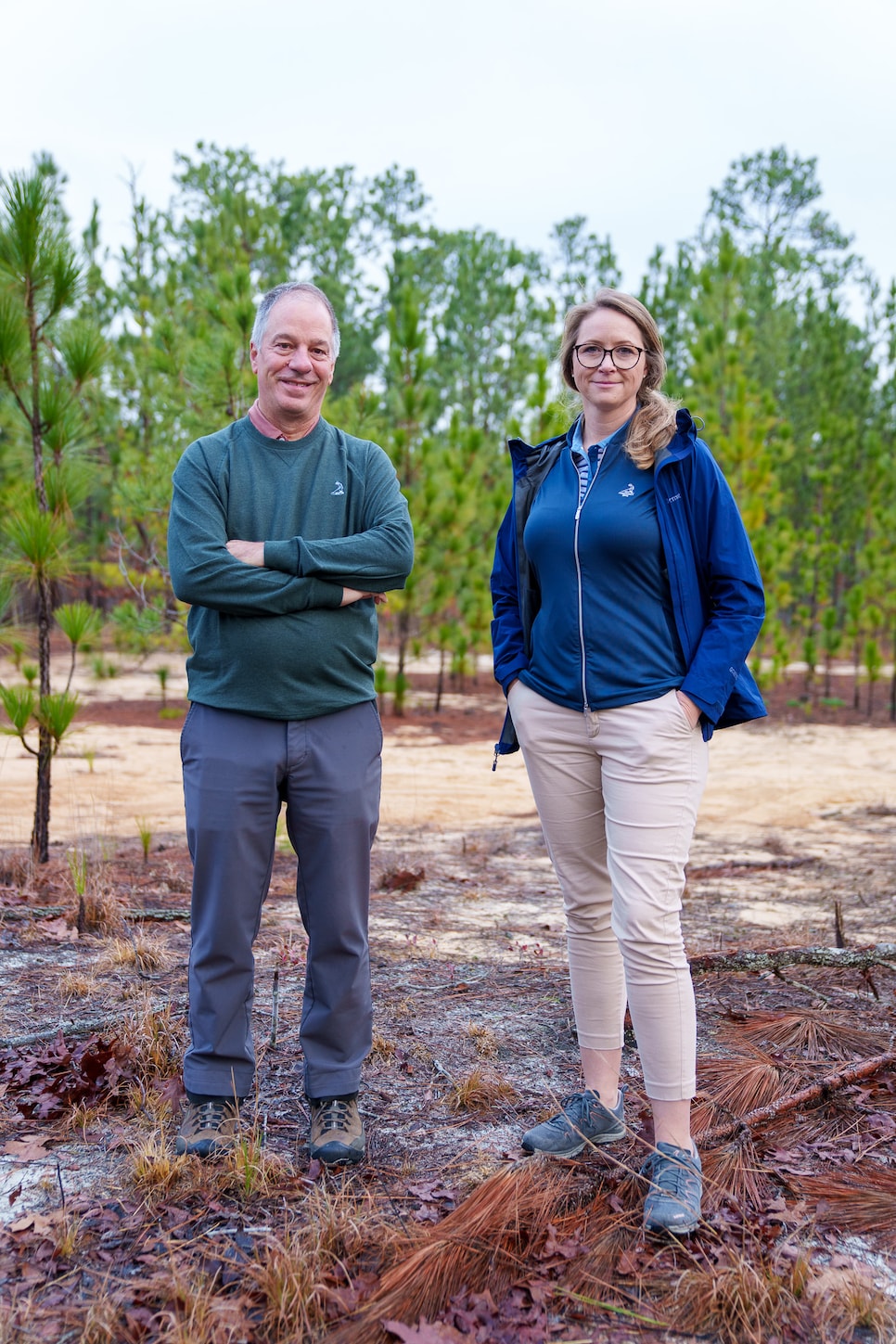 Architect Tom Doak with Angela Moser. Photo by Matt Gibson
Moser also notes how generous he is, saying that he invited her to his Renaissance Cup golf tournament after she accepted the internship and, "I was counting my euros and trying to figure out how to pay for it when Tom called and said he bought me a plane ticket and that I could drive his car."
Mentorship has been a staple of Doak's shop as much as minimalism has been a driver of his design philosophy, in part, because he remembers the kindnesses afforded him when he was young. "Angela has been ready to run a project for years," Doak says.
Doak has created a culture that allows for freedom and creativity and collaboration, which has given the firm and Moser both a sense of both mission and camaraderie. But the crush of media attention with Pinehurst's prominence has been overwhelming at times. And given that some of that attention is because she is a woman in a field where women are nearly non-existent hasn't made it any easier.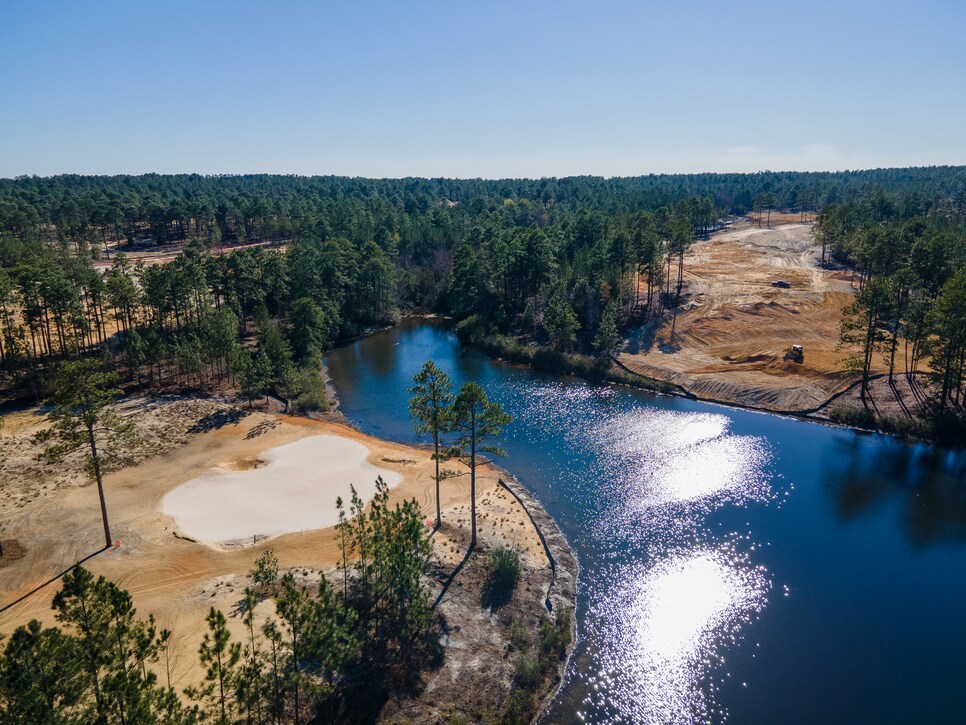 The green complex being built for the par 3 No. 17. Photo by Matt Gibson
"My whole thing is I just want more quality golf courses being built and that gender shouldn't matter." Yet, she concedes, "A 100 years ago, when they built courses with horses and a shovel, I had no chance. But give me the superpower of running a bulldozer and an excavator, I can handle that," she says with a laugh.
She also mentions emails she's received that tell her, "My daughter's looking up to you," which is flattering but she goes on to say, "I'm just doing my thing. I'm not sure I'm ready to be a role model. I just enjoy being creative."
As a shaper, Moser says her ability to blend natural landscapes with formed ones has been her gift. At St. Patrick's Links in Ireland, Doak had a hard time discerning what was shaped and what was native. When asked what Moser's gifts are as a designer, Doak offers a joke, "It's time to find out!" before turning serious about the transition from the sanctuary of your own dozer to running a project. "As a shaper you solve problems one hole at a time, or one feature at a time. It's only when you move up to this role that you have to think bigger—about how all the holes interact and how all the people on site interact to get the best work out of them."
After a long visit at the 17th, where we inspected the green up close, we drove out to the 18th tee where she took her third phone call during the tour. A dump truck was moving in the distance and an excavator's bucket pawed at the earth. Seven greens were to be grassed soon and the course was coming apace thanks, in part, to the knowledge and size of Pinehurst's operation. But also thanks to Moser, who has been working nearly nonstop since she landed in the States in early January.
The day before we met for our truck ride, a Sunday, was the first day she had taken off. Asked how she spent it. "I slept."