Equipment
What's In My Bag: Jon Rahm
Age: 21 | Home: Barrika, Spain | Story: Won the Ben Hogan Award twice at Arizona State for amateur player of the year. Earned over $1 million on the PGA Tour to lock up his card for next season.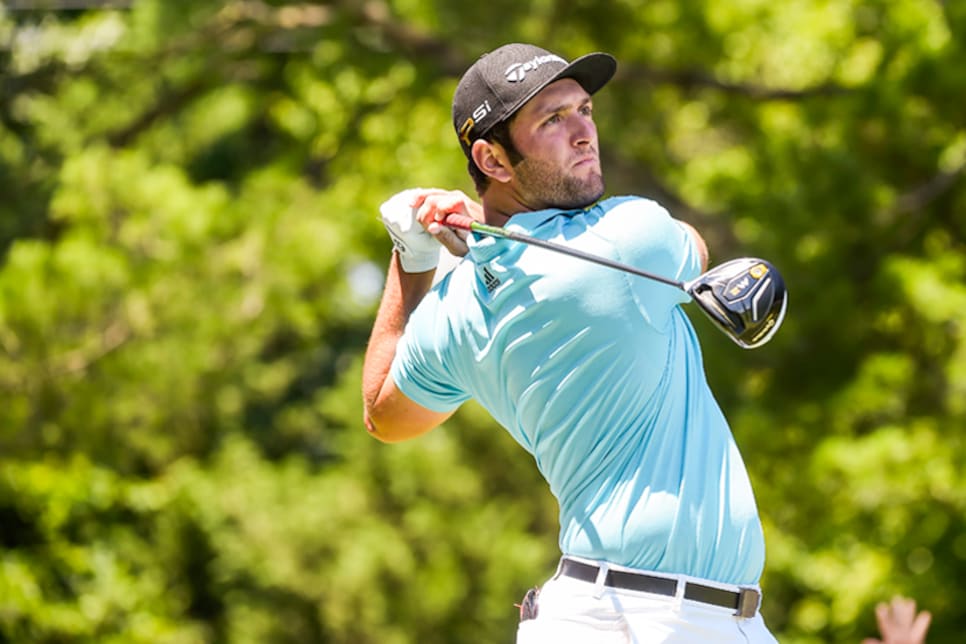 Photo By: Stan Badz/PGA TOUR/Getty Images
Career Move
I could've turned pro a year ago, but I knew I wasn't ready. I've used the past year to prepare, and it has worked out well. Plus, I promised my parents I'd graduate.
Photo By: Stan Badz/PGA TOUR/Getty Images
Learning Curve
I barely spoke English when I got to ASU. I worked hard, won my first tournament and got a 3.6 GPA my first semester. Starting my pro career is different, but that experience helped, no question.
Driver
Specs: TaylorMade M2 (10.5˚), Aldila Tour Green 75TX shaft, 45.25 inches. All grips are Golf Pride New Decade MCC (Red/Black). I like a fade, but there's a little weight in the heel so I can hit my fade and it won't spin too much.
Fairway Woods
Specs: TaylorMade M1 3-wood (14˚, Aldila Tour Green 75TX)
Fairway Woods
Specs: TaylorMade M1 5-wood (19˚, Graphite Design Tour AD-Di 8X). I like to hit my 3-wood low, but I like how high I can flight this 5-wood into par 5s.
Irons
Specs: TaylorMade Tour Preferred MB, 4-iron through PW (Project X 6.5 shaft, 0.625 inch longer, 1 degree upright). These blades give me the best distance control, and pitching-wedge shots spin the right amount.
Wedge
Specs: TaylorMade Tour Preferred EF (52˚, 56˚, 60˚) Project X 6.5 shaft. I couldn't hit my 3-iron high enough, so I took it out as a sophomore and switched to an extra wedge.
Putter
Specs: Odyssey Works Versa 2-Ball Fang, 37.25 inches, SuperStroke Ultra Slim 1.0 grip. I changed to this longer length in May based on better numbers on the SAM PuttLab. At the Pac-12 Championships, I made 26 birdies and an eagle, and it's been working ever since. My back feels better using it, too.
Naming Rights
I mark my ball with a JR and two dots. In Spain, I'm Jon Rahm Rodriguez. Rodriguez is my mother's last name. I'm transitioning to the TaylorMade Tour Preferred X.
National Hero
I'm so proud of the heritage of great Spanish players like Seve. I've gotten such support from home, but that's not pressure. I use it to inspire me.
Caddie Master
I met my caddie, Ben Shur, my first day on campus, and he's a big part of my success. Plus, he converts all my yardages to meters.
Aupa mutilak!
I grew up near Bilbao, and Athletic Bilbao is my team in La Liga. They proudly represent the Basque region.
Pala Corta
When I was young, I liked soccer, kayaking, kung fu and a traditional Basque sport (paddle, above) that's like jai alai. Golf was the last game I took up.