Play Your Best
What's in My Bag: Jennifer Kupcho
Jennifer Kupcho turned pro in May and won the inaugural Augusta National Women's Amateur. From driver to putter see what Jennifer Kupcho carries in her bag.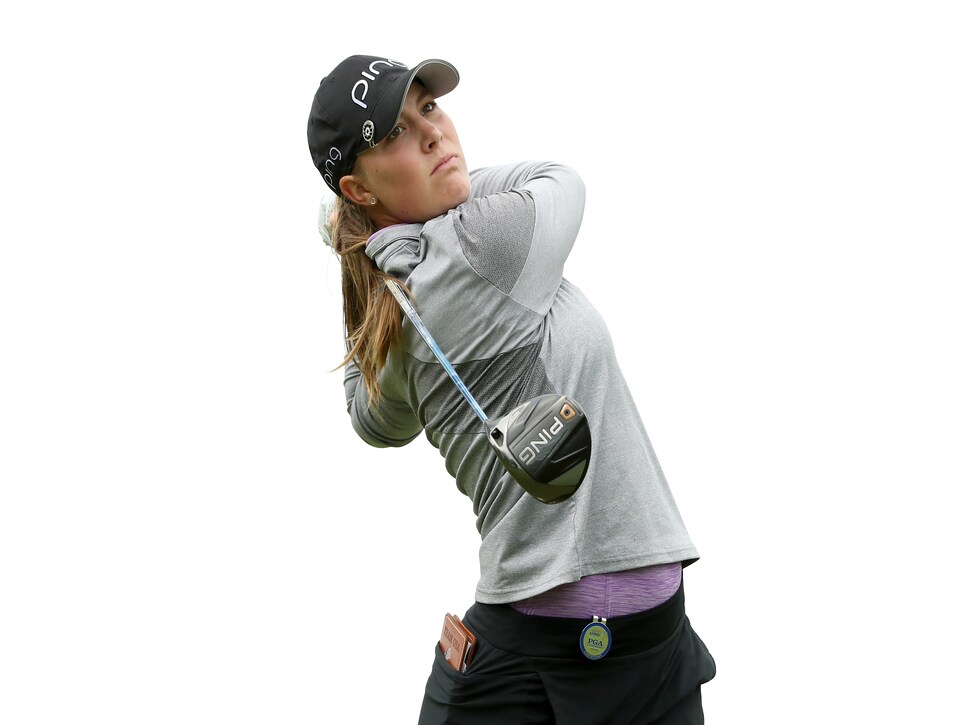 AGE 22LIVES Westminster, Colo.STORY Won the inaugural Augusta National Women's Amateur. Turned pro in May.2019 EVIAN CHAMPIONSHIP I was runner-up to Jeongeun Lee6 at Q school. Her win at the U.S. Women's Open showed me what I could do, too. My T-2 at the Evian made it clear.TRANSITION TIME I loved playing for Wake Forest, but on tour, time management is key. Back then, the structure was clear. Now, it's up to me to prioritize my time.—WITH KEELY LEVINSPhoto by Streeter Lecka/PGA of America/Getty Images
Carry distances:Driver: 260 yards3-wood: 230 yardsHybrid: 215 yards4-iron: 185 yards5-iron: 175 yards6-iron: 165 yards7-iron: 155 yards8-iron: 145 yards9-iron: 135 yardsPitching Wedge: 120 yardsUW: 108 yards54-degree: 95 yards58-degree: 75 yardsEquipment photos by J.D. Cuban
DRIVERSPECS G400 Max, 9° (set to 8°), Fujikura Evolution V 569 S shaft, tipped ½", 45", D-1+ swingweight▶ When we're settling on my driver specs, distance is important of course. But what I really care about is hitting it straight. I can deal with pretty much anything as long as the ball is flying straight.
FAIRWAY WOOD/HYBRIDSPECS G410 LST 3-wood, 14.5° (set to 13.5°), Fujikura Atmos Blue 6S shaft, tipped ½", 43", D-1. G410 hybrid, 17° (set to 17.6°), Even Flow Blue 6.0 shaft, 85 grams, D-0+▶ I love my hybrid. It's my favorite club because of the memories it's given me. It's the club I hit into 13 and 15 at Augusta National. Those shots set up an eagle and a birdie to get me the win.
IRONSSPECS i210 (4-iron through UW), PING Z-Z65 shafts, ¼" under length, lofts ⅛° strong, 1.5° flat lie angle, D-0+ to D-2▶ I've played Ping my whole life, so when I turned pro, I knew I wanted to stay with Ping. Switching to these irons was probably the change that took the longest, only because I loved my old ones so much.
WEDGESSPECS Glide 3.0, 54° (bent to 53°) and 58°, PING Z-Z65 shafts, 2° flat lie▶ I've spent a lot of time figuring out the full-swing yardages for my wedges and fine-tuning the lofts and bounces. The 54 is bent to 53 because I needed a little more distance to fill the gap. I tried out a 60-degree, but I like my 58 better.
PUTTERSPECS Ping Vault Oslo putter (Stealth finish), 33", 3° loft, 2° flat lie, "straight arc" stroke type▶ I played a blade model with a standard grip until I found this putter. At the time, I was having a lot of movement at the point of impact—pushing or pulling it. With this mallet-style head and a larger-diameter grip, I have an easier time keeping the putterface square to my path through the stroke. My distance control has also improved.
AN ODE TO BABE▶ I played the Colorado Stroke Play at Denver Country Club in 2016 and shot a 65. That broke at 70-year-old record by Babe Didrikson Zaharias. I bought this headcover with my shop credit.
COLOR COORDINATED▶ The line I draw on my Titleist Pro V1 is the same color as one of the three dot colors, and I make sure the other two dots kind of match. I used to just do one dot, but then I got artistic.
BAG FULL OF BLING▶ I have a ton of these Blingo ball markers. I usually match my ball marker to whatever color skirt I wear. I don't consider it a superstition. It's just something I do.Photographs by J.D. Cuban