What's In My Bag: Aaron Baddeley
Four-time PGA Tour winner Aaron Baddeley won the Barbasol Championship in a playoff last year. From driver to putter see what he carries in his bag.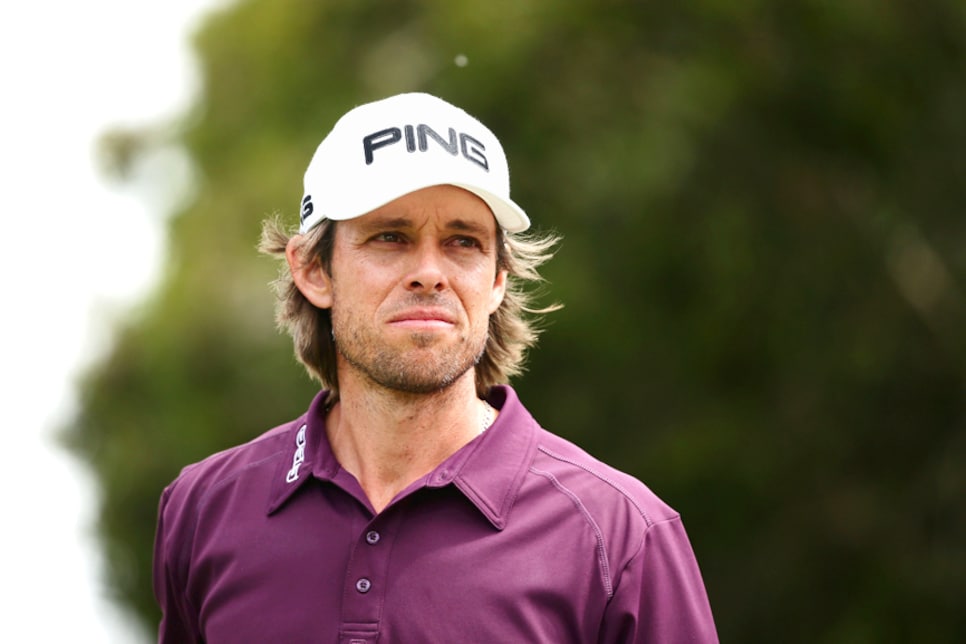 Photo By: Photo by Matt King/Getty Images
Photo By: Photos by J.D. Cuban
Photo By: Courtesy of Baddeley family
AARON BADDELEY
AGE: 36
LIVES: Scottsdale
STORY: The four-time PGA Tour winner won the Barbasol Championship in a playoff last year.A WIN FOR THE KIDS: It's so much more special to win now that my children are old enough to understand it. My father-in-law DVRed the win, and my son Jeremiah will always ask us to re-watch it. So cool.DIFFERENT LIFESTYLES: As a junior golfer, I learned how to save money. I'd save things as small as tees, even half tees, like the one you see on slide #11. I went an entire tournament without breaking a tee once. At the time, that was a big win. —With Stephen Hennessey
Photo By: Photo by Matt King/Getty Images
Photo By: Photos by J.D. Cuban
DRIVER
SPECS: Ping G LS Tec, 11.25˚, Mitsubishi Diamana White D+ 80 TX shaft, 44¼ inches, D-4 swingweightI have three clubheads with varying amounts of heel weight (four grams, two grams and zero grams). Whichever one feels the best that week will stay in the bag.
FAIRWAY WOODS
SPECS: Ping G (15˚, 43 inches, D-4 swingweight, three grams added to the toe); Ping G (18˚, 42 inches, D-3+). Mitsubishi Diamana D+ 90 TX shafts (3-wood: tipped an inch, 5-wood: tipped 1½ inches)I have two 3-woods (Ping G, Ping G Stretch) that I'll switch depending on the course. I'll swap in a 2-iron for a firm-and-fast course.
IRONS
SPECS: Ping iBlade, 4-iron through pitching wedge, True Temper Dynamic Gold X-100 shafts, D-2+, Lamkin Crossline 3GEN 58 round gripsEven for us tour pros, we like a little forgiveness on slight mis-hits. These iBlades are quite consistent even when you just miss it.
WEDGES
SPECS: Ping Glide 2.0 (50.5˚, 55˚), Titleist Vokey SM6 (60˚), True Temper Dynamic Gold S400 shaftsTwo years ago I realized I needed a 120-yard club after my caddie at the time (Anthony Knight) recommended it. So I added a gap wedge and took out my 3-iron. It's been a great move.
PUTTER
SPECS: Ping Sigma G Anser, 3˚ loft, 20˚ lie angle, 35⅛ inchesLiving close to Ping's headquarters in Phoenix has its perks. Before heading to Australia this winter, I made a 6 a.m.stop before my flight so the reps there could check my specs.
FAMILY LETTERS
On my bag are the initials of our four children: Jolee, Jewell, Jeremiah and Josiah. We're having a fifth next year! It's a great reminder of how fortunate we are.
AUSTRALIAN PRIDE
I've had a koala bear headcover for the longest time. I also keep a Geelong Cats (Aussie Rules football team) coin in my bag, a nice ode to home.
ALWAYS CHECK YOUR MARKS
As an amateur in 1998, I was playing in my first event in the U.S., and my playing competitor had the same mark as me (three dots). So I've used two dots ever since.
POCKET PLAY
In my right-hand pocket are always these same items: black tees (white tees tend to mark the club), a plain white Desert Forest ball marker and a divot tool from Whisper Rock.
ONE LUCKY GUY
You should see Richelle and me traveling each week on tour. Four kids under the age of 8 with everyone's luggage. My wife is my rock, and I couldn't do this without her.
Photo By: Courtesy of Baddeley family