Style
Before we pop bottles and tee up the new year, we take a look at the style highlights in golf from 2016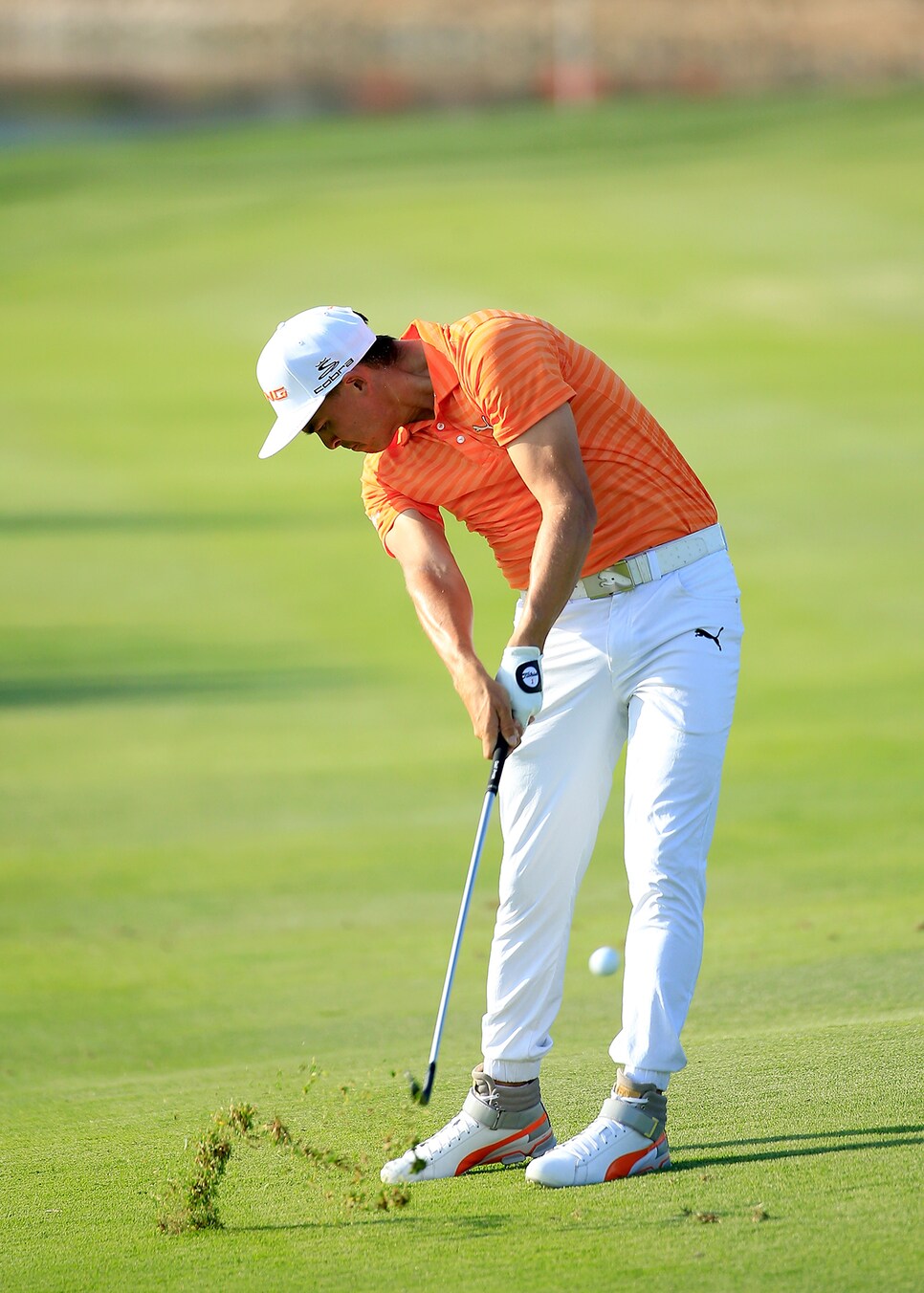 Photo By: David Cannon/Getty Images
Photo By: Streeter Lecka/Getty Images
Photo By: Stuart Franklin/Getty Images
Photo By: Drew Hallowell/Getty Images
Photo By: Ross Kinnaird/Getty Images
Photo By: Ross Kinnaird/Getty Images
Photo By: Kevin C. Cox/Getty Images
Photo By: Chris Condon/PGA TOUR/Getty Images
Photo By: Matthew Lewis/Getty Images
Photo By: Anna Papuga/Getty Images
Photo By: Ryan Young/PGA TOUR/Getty Images
Photo By: Todd Warshaw/Getty Images
Photo By: Ross Kinnaird/Getty Images
Photo By: Stuart Franklin/Getty Images
Rickie Fowler
Fowler debuted these high-top spikes and five-pocket joggers at the Hyundai Tournament of Champions, and the social-media uproar was so widespread it almost broke the Internet. We'll see more of this look in 2017, no doubt. Here's the deal: Rickie's one of the most fashion-forward players on tour, and the fact that he took the opportunity to push the golf-apparel boundary to a new place is a great thing. High-tops and joggers may not be for you, and that's OK, but new dialogue about new style is healthy and keeps the game in tune with the world outside the ropes.
Puma
Photo By: David Cannon/Getty Images
Shoe Ins
Beyond Rickie's high-tops, shoes were clearly among the biggest style story in 2016, and the sneaks show no sign of slowing next season. Footwear is easily the most dominant movement on the menswear market with more guys than ever using signature shoes as a key piece of their tournament set-ups.
G/Fore
Puma
Nike
Photo By: Getty Images
U.S. Ryder Cup Team
After an eight-year Ryder Cup drought, the Americans finally bested the Euros in 2016 at Hazeltine, and they looked pretty darn smart doing it, too. The fit and finish of the U.S. team wardrobe was solid from the practice rounds to the final pressers. Team USA gear featured some of the sharpest details we've seen. The balance of bold styling and graphic USA16 accents on sleeves, shirt backs and trouser legs gave these uniforms a very modern athletic edge.
Ralph Lauren
Photo By: Streeter Lecka/Getty Images
Darren Clarke
No disrespect to DLIII, but Clarke edged him out for the Ryder Cup captain style podium. Clarke is one swaggy dude, and it's his classic taste and modern style that gives him the edge over pretty much anyone on tour.
Photo By: Stuart Franklin/Getty Images
Olympic Uniforms
The Olympic gear, on the other hand, was another story entirely. The Summer Games might be the pinnacle of patriotic sporting events with teams trying to one-up each other with heavy nationalistic style. But let's be honest, did we really need to see screen-printed flag polos for the Great Britain and USA teams? Even by Olympic standards, these were way too literal to be stylish.
Adidas
Photo By: Getty Images
Billy Horschel
Horschel's bold bottoms continued to hit high notes in 2016 at the year's four majors. Billy's not the only guy wearing wild trousers anymore, but his attention to fit and coordination continue to make him one of the best at pulling it all together.
RLX Ralph Lauren
Photo By: Getty Images
Brooks Koepka
Nike may have gotten out of the club business in 2016, but the company doubled down on its golf apparel efforts. In addition to the multiple footwear releases, Nike also debuted its new blade collar in March. The blade is a cool new take on a traditional look that may take some getting used to but did look great on bigger bodied dudes like Koepka.
Nike
Photo By: Drew Hallowell/Getty Images
Bryson DeChambeau
The former NCAA/U.S. Amateur champion made his pro debut in April, and brought his signature Hogan cap along with him. DeChambeau's affable energy and unorthodox style quickly made him one of the most recognizable guys in the game.
Puma
Photo By: Ross Kinnaird/Getty Images
Miguel Angel Jimenez
Dos Equis may have lost its most interesting man in the world, but pro golf still has Jimenez.
Photo By: Ross Kinnaird/Getty Images
Charl Schwartzel
While definitely not a new brand, Kjus made some moves inside the ropes this year by signing some quietly stylish dudes such as Schwartzel and Justin Leonard. Technical outerwear in bold color and smart, simple styling make Kjus one of the most exciting brands to follow in 2017. Charl was not only one of the best dressed, but also on of the most prepared when foul weather struck at this year's Open Championship.
Kjus
Photo By: Kevin C. Cox/Getty Images
Justin Leonard
It's amazing what simple style and sharp fit can do to your look. Leonard, 20 years past his Open Championship win, looks better now than the 44-year-old ever has. He is proof that strong style has nothing to do with age. Fashion trends come and go, but Leonard's new look is timeless.
Kjus
FootJoy
Photo By: Chris Condon/PGA TOUR/Getty Images
Phil Mickelson
Remember that time Lefty used a binder clip to keep his hat on at the Open? We'd say this was an issue, but the guy almost took home the claret jug with this DIY fix on all week.
Photo By: Matthew Lewis/Getty Images
Morgan Hoffmann
Hoffmann consistently brings a sharp look and a modern attitude to his game on and off the course, and 2016 was no different after inking a new deal with upstart lifestyle brand, Greyson. The company combines sophisticated prints and a modern palette with the game's rich history and tradition to create some of the most stylish gear we've seen on tour in a long time. Greyson debuted its line at the 2016 PGA Merchandise Show and has consistently been one of the most talked about brands ever since.
Greyson
Photo By: Anna Papuga/Getty Images
Bubba Watson
Never one to shy away from color, Watson penned a deal with a perfect partner in G/Fore in 2016. Bubba's shoe and glove game has been on point ever since.
G/Fore
Oakley
Photo By: Ryan Young/PGA TOUR/Getty Images
Kevin Na
Na wins "most improved" in our style superlatives this year. We slammed Na hard in 2015 for his odd-printed shirts and generally whacky style. In 2016, he turned that around and consistently strung together interesting looks with retro references all year long.
Photo By: Todd Warshaw/Getty Images
Danny Willett / Lee Westwood
The "Turn Back Time Golf Challenge" after the third round of the Omega European Masters was a cool time-travel experience for some of the European pros. Willett and Westwood cued up sweet throwback set-ups of tartan knickers and modern-day tops to stay in character. These looks still stand out as some of their best all year.
Dunlop
Callaway Apparel
FootJoy
Photo By: Ross Kinnaird/Getty Images
Kristoffer Broberg
The snood once again won the award for best cold weather accessory. Me and the other four people who know what a snood is are hoping that 2017 is the year we see more of these things pop up in the U.S.
Callaway Apparel
Photo By: Stuart Franklin/Getty Images
Fun With Facial Hair
We saw a bunch of dudes rocking serious facial growth on tour in 2016, and that group even included a moustache movement en-route to the FedEx Cup.
Photo By: Getty Images