Get Longer, Get Straighter
A top-10 teacher and a long-drive champ show you how to go deep and stay on target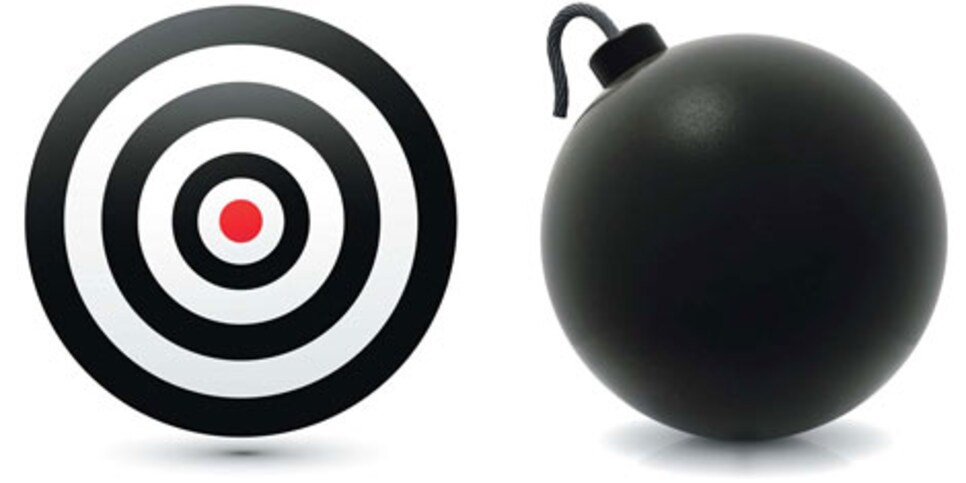 Between the two of us, we've taught three U.S. Open champions (Tom Kite, Payne Stewart and Corey Pavin, with Chuck) and won two national long-drive titles (1986 and '91, for Art). This past summer, we decided to help one another with the "other side" of the game. Now you can eavesdrop on the lessons and drills we gave each other: Chuck's tips for Art to hit more fairways, and Art's for Chuck to get more yards. We guarantee you'll get straighter and longer by the end of the day
Hit It Straight
I met Art over the summer after he'd helped a player I teach find 11 more miles per hour of clubhead speed in two hours. I had to see how he did it. In the course of that conversation, Art asked me if I'd help him with his game. He was done competing in long-drive competitions, and he wanted to be a scratch-handicap player. After he hit one ball, I could see why he was so long -- and why he gets crooked sometimes. Art lifted the club on his backswing (above), and then dropped it to the inside on the way down. Then, he swung out to the right and used a lot of hand action to generate speed and square the clubface. The more your swing gets away from the ideal plane on the backswing, the harder you have to work to get back to it.
Long-drive competitors can catch one ball out of six and win. But now Art wanted a swing he could use on the course. The first thing we did was get Art's arms and club swinging on the same swing plane as his shoulders (left), so he didn't have to do as much work to get the club in "the slot" coming down.Once Art could feel that change in his swing, we worked to take the hand action out of his downswing. He has incredibly fast hands, but he also has a full collection of surgical scars on his wrists and elbows from firing them so hard for so long as a long driver. He needed something easier on his body, for sure.
Hit the wall with the entire club
A good takeaway sets up a complete turn at the top, where your left shoulder gets behind the ball (see lead photo above) -- even if you aren't the most flexible person. With the ball too far back in your stance, the negative chain reaction continues. When your swing gets steep and narrow on the backswing (left), you don't have any way of generating clubhead speed. You don't have time to rebuild your extension and leverage at this point in the swing.
Drill
Art responds really well to physical feedback, so I had him hit some full wedge shots with a golf towel tucked under both arms. If Art dropped the right edge of the towel on the backswing, it meant he lifted the club off the correct plane. To keep the towel in place on the downswing, he couldn't let his arms out-race his body with that hands-only release he had. The "connected" look of the arms and chest turning together through impact is the signature move of all great iron players.
Clubfitting: Chuck gets more speed
Another part of the equation -- proper fitting -- helped Art with his control issues and me with my distance issues (see next slide for Art's tips for me). Art has a full launch monitor setup at his Sellinger's Power Golf shop outside Dallas, and he knows how important the right fit is. He was able to build a driver for himself that flexed less down by the clubhead, for more control. And when he worked with me on my launch monitor at Dallas National, I could immediately see how a setup adjustment translated into more clubhead speed -- 103 versus 98 mph.
Hit It Long
Chuck had the classic setup for a golfer who is all about stability: He had a wide, closed stance, and his hips were closed, too (near right). He was trying to swing from inside out and hit a draw for power. But the closed stance was blocking him from using his great rotation. To give him more width, stretch and speed on the downswing, I narrowed his stance to shoulder width and opened his hips and feet (far right). We moved the ball up two inches, to help him make a strong shift toward the target coming down. I wanted Chuck to focus on moving the clubhead fast, not on hitting a draw.
Chuck's backswing position here is perfect for hitting short clubs dead straight. He's stacked over his feet, but he doesn't have any extension in his arms, and he's not getting the speed bonus that comes from a dynamic wrist cock. If you were a caveman protecting yourself with a stick, what would you do? You'd pull the stick way back behind you, shifting your weight. You'd set your wrists, then explode into the hit with a forward shift, letting your wrists fly. Chuck had years of muscle memory emphasizing control, but he immediately understood "caveman speed" and incorporated some of it into his swing.
The keys for Chuck are the same as for anybody trying to add power. Release your left knee going back so you can turn your hips and shoulders more and load up on your right side. Look how much more behind the ball Chuck is compared to in the photo above.To avoid wasting the power you build up with this bigger turn, keep your left arm extended in the backswing: It should feel like your hands are staying far away from your head. The wrist cock you want should feel like a two-handed chop with an axe. Your wrists bend where your thumbs attach to your hands; they don't flop back and forth like you're waving away a bad smell.The biggest distance gains come from players who aren't very efficient to begin with, or who are using equipment that isn't right for them. Chuck is a terrific player, and he has good equipment. But with these setup and swing changes, he found 10 more yards with the driver. A 20-handicapper could get more -- two clubs longer with lighter, slightly longer iron shafts and up to 30 extra yards with the driver.
Swinging a stick baseball-style (far left) is great training for the loading and firing of the big muscles in the swing. You can even turn around and swing the stick left-handed, which increases suppleness and extension on your right-handed follow-through. I see Vijay Singh do that a lot. When you work on your stretch, be sure to turn your chest and move outside your back leg (near left). That's a big power move. If you just turn your shoulders and let your back straighten, you're making a reverse pivot. That's no good.