Twitter
10 Strangely Coincidental Things That Happened On Twitter In 2013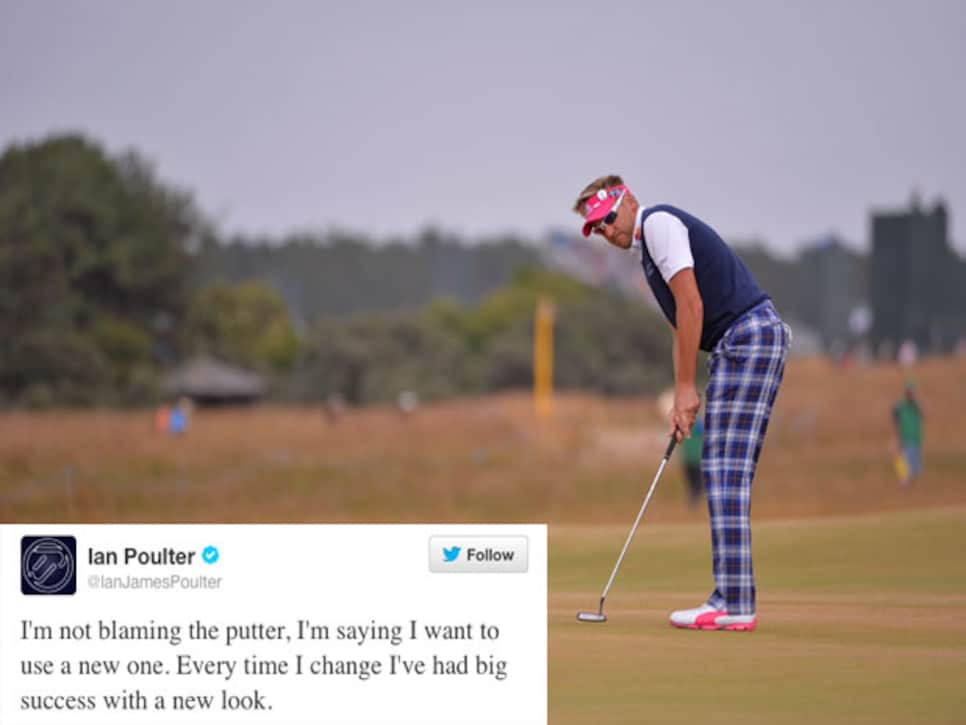 Poulter's putter
Ian Poulter tweeted this before the British Open, the first tournament he played in with a new putter in the bag. And it seems he was right: Poulter and his new Odyssey Damascus putter shot 67 on Sunday to finish T-3.
Home course advantage?
Oak Hill wasn't technically Jason Dufner's home course, but it was one of his favorites, and less than a year after tweeting this he took home the 2013 PGA Championship. Where might Dufner win his next major? This might provide a clue; notice how Augusta National is on the list, too. . .
A good one, indeed
We all should have seen Jordan Spieth's phenomenal season coming. He did, after all, tweet back in January that the upcoming year "should be a good one."
100 percent correct
Justin Rose makes a clutch par on 18, the hardest hole on the course, to build a lead that proved insurmountable. Both Jason Day and Phil Mickelson play their last five holes in two-over to lose by two. Hunter Mahan, who featured in the final group, played them in four-over to finish four back while the charging Jason Dufner made a triple on 15 to finish T-4. Fair to say Donald nailed that one.
'Just don't hit it in there'
Justin Rose's caddie tweeted this picture of the rough during one of the practice rounds at the 2013 U.S. Open, and it seems his employer, Justin Rose, was listening. Rose simply made up up his mind not to hit it in the rough, finishing fourth in the field in driving accuracy en route to his first major win.
Should have just stopped right then
Rory tweeted this before the Masters. He probably thought it was a one-off stroke of bad luck, but it turned out to be just the start of a very bad year for McIlroy.
It's only mean if it's not true
Steve Elkington was only joking around with Lee Westwood on his 40th birthday in April, but unfortunately for Westwood, it turned out to be true -- for this year at least. Westwood's inability to turn a third-round lead at the 2013 British Open into his first major victory only strengthened his role as the modern day major-less Monty.
'Hey, we look good ... '
Same color hat, same color shirt; there's no denying Jonas Blixt and Rickie Fowler look good when they dress similarly. Maybe this is when they got the idea to dress up in matching outfits a few months later, at the 2013 Barclays.
Brutal
There's a couple ways you can read this. Could this be a foreshadowing of the USGA's decision to ban anchored putters, a move that Keegan Bradley was vociferously opposed to? Perhaps, but it's his miss at the Byron Nelson that seems the better fit. Bradley missed a 4-foot putt on 16, opening the door for Sang-Moon Bae's first PGA Tour win.
A true inspiration
When Jarrod Lyle tweeted back in April that he played 18 holes for the first time since undergoing treatment for myeloid leukemia, he received an outpouring of support from the golf community. And not only did he play more full rounds after this, he did it competitively, making his professional comeback when he played in the Australian Masters in November.