Golf Equipment
Gear On Tour: Deutsche Bank
What players are using for the season's second playoff event.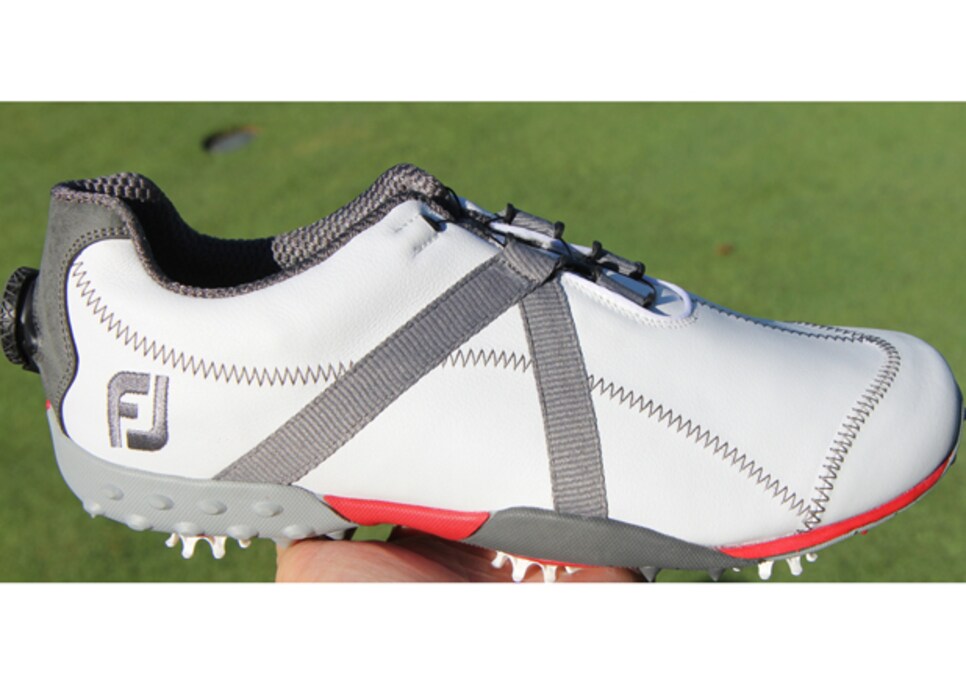 FootJoy Shoes
Hunter Mahan has been testing these new FootJoy shoes since the British Open. Quite spiffy, no?
FootJoy Shoes
The sole of the new FootJoy shoes has five cleats and many traction nubs that vary in size.
TaylorMade Ghost DA-12
Justin Rose is using his custom forged milled Ghost putter this week. The two weights can be customized for ideal performance.
TaylorMade Ghost DA-12
The face of Rose's custom putter does not have an insert.
Jason Dufner's headcover
Jason Dufner pays homage to his alma mater with this Auburn University headcover.
Jason Dufner's wedge
Dufner's custom Vokey SM4 58-degree wedge is bent to 54 degrees. It also has "DUF" stamped on it, 15 times. We're pretty sure this isn't the best word to reiterate before a pitch shot.
Brendon de Jonge's wedges
Brendon de Jonge also has his initials stamped on his Vokey wedge, but just once.
Jim Furyk's wedges
Jim Furyk's Callaway X Forged wedges have a high bounce angle and a fairly aggressive sole grind.
Matt Kuchar's Irons
The design of Matt Kuchar's custom Bridgestone J40 blade irons offers a (tiny) bit of forgiveness.
SuperStroke Grips
SuperStroke is showing off their Ryder Cup grips -- one for the Americans and one for the Europeans. Let the tension begin!
SuperStroke Grips
For those of us who aren't Ryder Cup-crazed, SuperStroke still offers plenty of colorful options.
Jason Dufner's grip
Jason Dufner uses the SuperStroke grips, along with several other players, like Vijay Singh. The thicker grip is designed to quiet your wrists during your putting stroke.
Tour Edge XCG5
Tour Edge's new XCG5 5-wood is on the practice range this week.