Ryder Cup
Ryder Cup Fashion Review: Hits & Misses at Medinah
Our Mr. Style weighs in on the fashion statements made at the Ryder Cup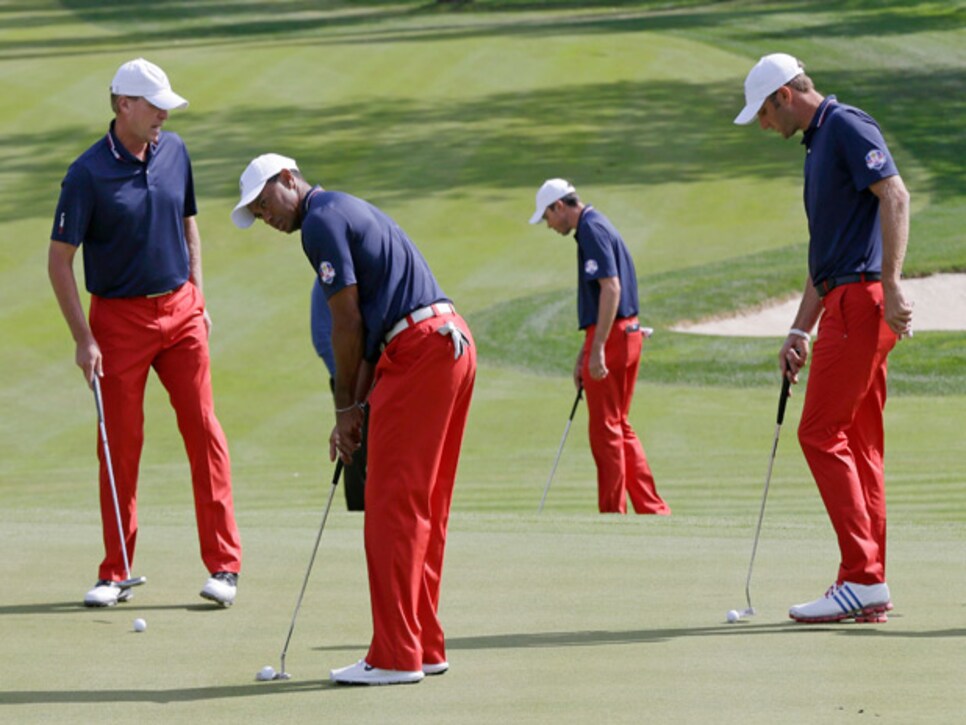 Brandt SnedekerClassy look. I even like the special adidas commemorative shoes.
Brandt Snedeker and Jim FurykI like the long sleeve layering piece and I like the RLX shirt. I just don't like them in this combination. If you have to wear a long sleeve undershirt, try to minimize the contrast.
Rory McIlroy and Tiger WoodsLooks like the captains almost coordinated the trousers on this Day 2 look. I think it looks good!
Ian PoulterThis is the most frequent image I have seen of the Ryder Cup: Poulter's exuberant response! Oh, by the way, I like those Puma shoes.
Jason Dufner and Damon GreenNo, that's not Damon Green giving Duf CPR. Contrary to popular belief Duf plays with a great deal of emotion (he just doesn't show it). Perhaps it takes the Ryder Cup to bring it all out.
Thomas Bjorn and Darren ClarkeHow 'bout walking up to the first tee on Sunday and bumping into these two characters? There's a quiet confidence to those smiles. To me this defines what the Ryder Cup is all about.
Ian PoulterIs that Poulter again? This is his signature look: Exuberance!
Ryder Cup U.S. RefereesIs this the meeting of the academic deans? Or is it the referees?
Justin RoseRose looks really put together, down to the Ashworth blue shoes.
Michael JordanMJ, is that the gentleman's cut in those jeans?
Sergio GarciaLove this image, including the adidas shoes and the European team's logo putter grip. Well done!
Martin KaymerThe Sunday European uniform with the Seve signature navy trousers looked great, and while the shirt is simple white, it sets off the navy trousers well.
Ian PoulterOMG! Another image of Ian's exuberance! Well done!
Team U.S.A.Tell me this isn't a great-looking lineup: Furyk, Mickelson, Simpson, Simpson, Watson and Watson.
Tiger WoodsWe are so accustomed to seeing Tiger in red on Sunday (yes there was a red strip on the body of that shirt). I think he looks great in blue stripes. Check out those TW13s!
Bubba WatsonGreat-looking image. Let's check out caddie Ted Scott's Babolat shoes ...
Ted's shoesSupporting the home team from the ground up.
European FanThe United Nations of headwear.
Miguel Angel Jimenez fansThe only thing missing is the cigars!
European fansBlueman, blueman, blueman, blueman.
Tiger Woods and Jim FurykNice pants, and if you're going to go short sleeve over long sleeve, this is the way to do it.
Nicolas ColsaertsI'm not sure, but this might be the worst color I've ever seen on a golf course.
Jillian Stacey, Amy Mickelson, Keegan Bradley and Phil MickelsonLooks like this was a fun picnic for a while.
European fanIs this the Ryder Cup or the Thomas Crown Affair?
Closeup of the galleryHmmm tartans. Must be Euro fans or relatives of Jackie Stewart.
European fansIs this going too far? It's one thing to wear your heart on your sleeve, it's another thing to wear your flag on your back . . . and your pants.
Team EuropeIs this an ad for teeth brightening? Well done, Team Europe!