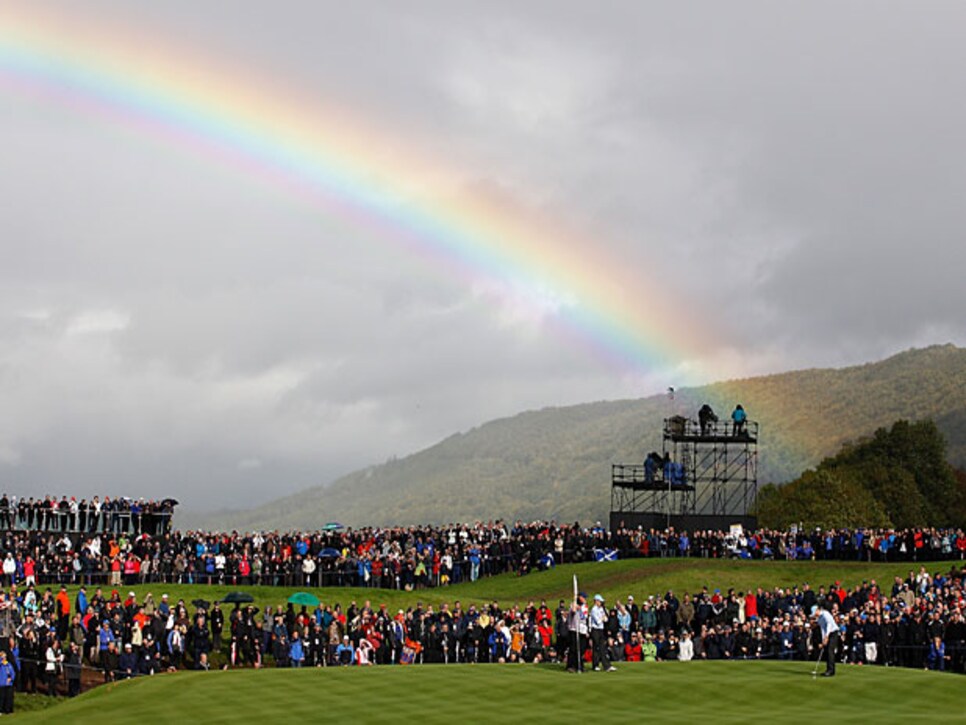 Somewhere over the rainbow there is a Ryder Cup: the competition continues into Monday.
Session 3: FoursomesTiger Woods walks away after the Europeans won their match on the 13th green.
Session 3: FoursomesLee Westwood and Luke Donald beat Tiger Woods and Steve Stricker 6 & 5.
Session 3: FoursomesDiane Donald enjoys her husband's match.
Session 3: FoursomesHunter Mahan is not happy with this putt.
Session 3: FoursomesRory McIlroy and Graeme McDowell win 3 & 1 against Mahan and Zack Johnson.
Session 3: FoursomesRory McIlroy's girlfriend, Holly Sweeney watches the action.
Session 3: FourballsPadraig Harrington and Ross Fisher won their match against Jim Furky and Dustin Johnson on the 17th hole.
Session 3: FourballsJim Furyk lines up a putt with Dustin Johnson.
Session 3: FourballsDustin Johnson's girlfriend, Amanda Caulder braves the elements to support the U.S. team.
Session 3: FourballsPeter Hanson and Miguel Angel Jimenez beat Jeff Overton and Bubba Watson on the 16th hole 2 up.
Session 3: FourballsJeff Overton and Bubba Watson get fired up after Overton makes eagle on the 8th hole.
Session 3: FourballsStewart Cink and Matt Kuchar were 1 up on the 13th hole.
Session 3: FourballsThe one halved match of the day: Cink and Kuchar watch Francesco Molinari hug his brother, Edoardo after he makes his putt on 18.
Session 3: FourballsCaptain Corey Pavin, Dustin Johnson, Steve Stricker and Tiger Woods watch the action on the 18th hole.
Session 3: FourballsIan Poulter holes his putt on the 15th green. Poulter and Martin Kaymer defeated Phil Mickelson and Rickie Fowler 2 & 1.
Session 3: FourballsZach Johnson and the Americans are hanging their heads low as they fall 3 points behind the Europeans.