Presidents Cup
Presidents Cup: Day 3 Birdies & Bogeys
Who were the winners and losers on Saturday at Muirfield Village? It's time to take a closer look with another edition of birdies and bogeys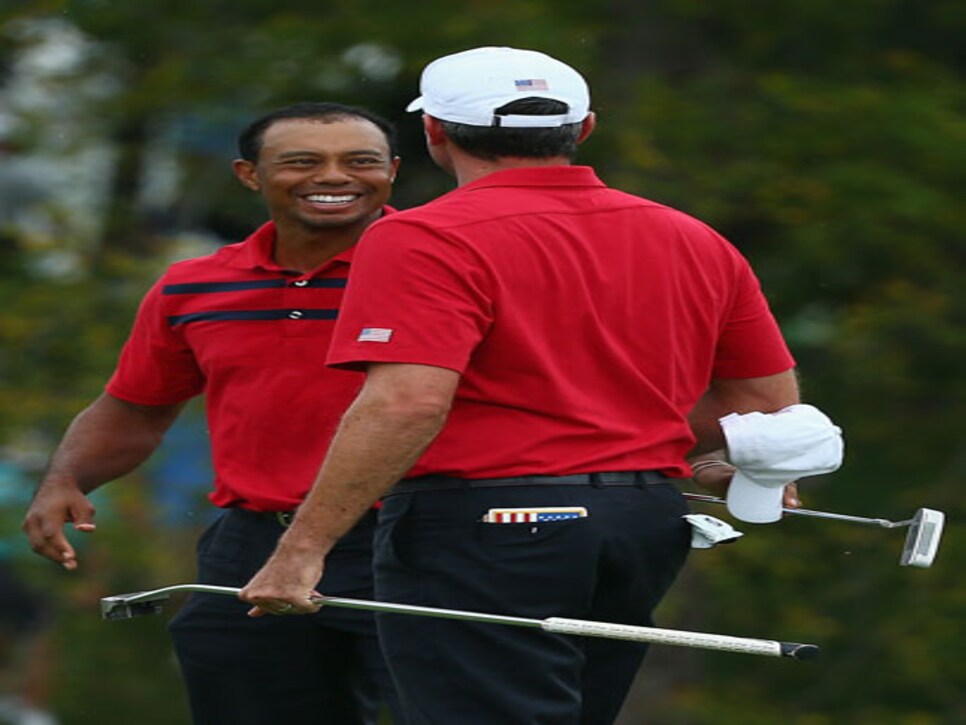 Birdie: Tiger Woods and Matt Kuchar
Kuchar is Tiger's 19th partner in team competition but together they look the perfect fit. Kuchar's birdie on the par-4 14th hole, which was bookended with an eagle and birdie from Tiger, gave the pair their first lead of the match over Hideki Matsuyama and Adam Scott. When Woods fell into trouble at 18, Kuchar matched Matsuyama's birdie to ensure victory and continue the pair's unbeaten record.
Bogey: More bad weather
At some point, the President's Cup becomes less about putting or pairings, and more about which team is able to maintain its sanity after an endless string of weather delays. While competing in three different sessions on Saturday, players had to contend with stopping and starting through on-and-off rain, with the specter of more ugly weather Sunday. A Monday finish seems likely. May the least frustrated team win.
Birdie: The Crowd
Rain, delays, more rain -- the fans at Muirfield Village have put up with it all, but they've kept cheering throughout. They chanted "Kooch" every moment they could in the morning session, and gave Steve Stricker a hero's welcome after he stuck his approach shot, which led to a birdie, on the par-4 sixth in the afternoon. When the U.S. was trailing in every match and the rain was pouring, the cheers appeared to help rejuvenate the tired U.S. side. How to explain such resilience among Ohio golf fans? Well, if they've been coming to the Memorial each year, they're well accustomed to bad weather.
Birdie: Jason Day and Graham DeLaet
The International Team was fading around them, but Day and DeLaet held strong. They were the only two Internationals to win their morning match, and were 3 up through five holes against Mickelson and Bradley in foursomes. They were all square when play was suspended with five holes left in their match, but continue with a chance to upset one of America's strongest pairings.
Bogey: Jordan Spieth
There was little about Spieth's Saturday that suggests he won't be a mainstay for the U.S. in team competition for years to come. Yet a hiccup of some sort was inevitable, and this was it. After going 2-0 alongside Steve Stricker in his first two matches, the 20-year-old Spieth could manage only one birdie in the Saturday four-ball as he and Stricker fell to Jason Day and Graham DeLaet. The rookie's reward was a seat on the bench for the afternoon, which is a sham: of all the U.S. players who needed a rest, the kid who should still be in college probably wasn't one of them.
Birdie: The Internationals' Early Foursomes Charge
Trailing by four points after Saturday four-ball, the International Team's hopes were about one birdie putt away from being declared dead. But at a time when most players were just trying to avoid collapsing from exhaustion, the Internationals came out flying, at one point leading all five matches and ensuring that victory for the U.S. was far from a foregone conclusion.
Bogey: Nick Price
It's one thing for a football or basketball coach to stick with a lineup in hopes of chemisty taking hold, but a four-day competition doesn't allow for the same level of patience. With that in mind, why did International captain Price trot out so many of the same pairings even with his team down four points after the morning four-ball? A big deficit calls for dramatic measures, and even as the International showed signs of life Saturday afternoon, it might end up being too little too late.
Birdie: Bill Haas
Haas fell victim to multiple birdie barrages from the International Team the first two days, so he decided to string one together himself. The 2011 FedEx Cup champion went seven under on his own ball in the four-ball session to snag his first point of the Presidents Cup. In afternoon foursomes, his birdie putt on the fifth hole helped halt the Internationals' momentum and started a streak in which he and new partner Steve Stricker won four of the next five holes over Adam Scott and Hideki Matsuyama.
Biridie: Jason Dufner's ball-striking
Tide was swinging firmly in favor of the Internationals when Dufner channeled the form that brought him his PGA Championship victory at Oak Hill. Two superb iron shots on the eighth and ninth holes set up consecutive birdies which brought the match back to all square. More good ball-striking followed, propelling him and Zach Johnson to a 4-and-3 victory over Richard Stern and Marc Leishman.
Bogey: Richard Sterne and Marc Leishman
Sterne and Leishman (pictured) were the only Internationals not to play in Saturday four-balls, which looked like a good move when they raced to a quick lead over Zach Johnson and Jason Dufner. Their eventual 4-and-3 loss was in part due to some fantastic ball striking by Dufner, but also because the pair's only birdie after winning the sixth hole came when the match was already lost.