Presidents Cup
13 Reasons To Be Excited For The Presidents Cup
The factors that will make watching this year's Presidents Cup worth your time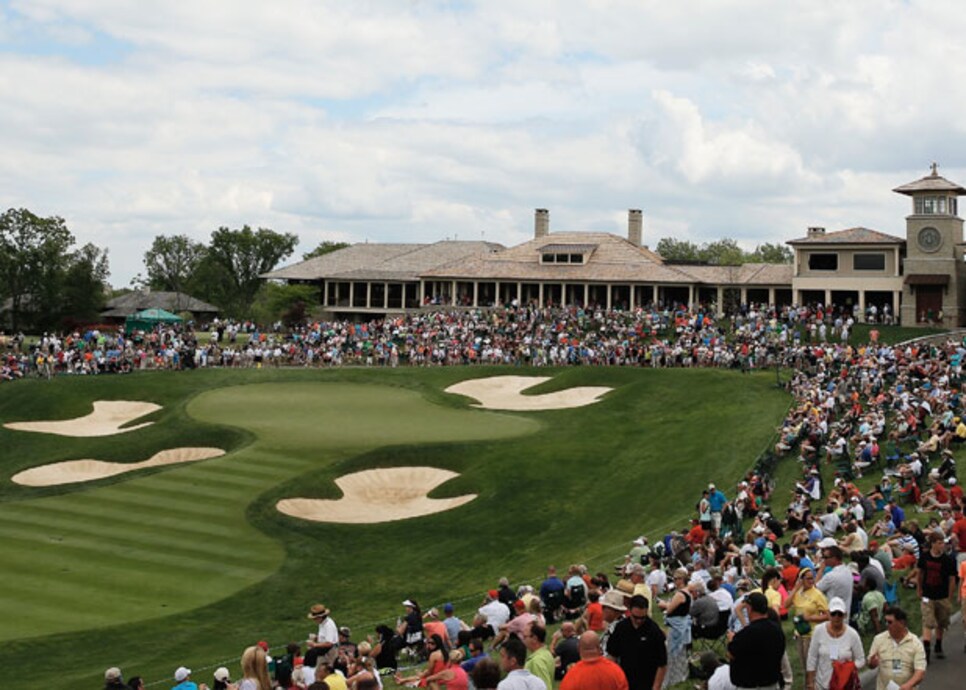 The Venue
Photo By: Getty Images
Cool Captains
On one side, you have Fred Couples, a man so cool he was chosen as
the coolest golfer by Golf Digest
. On the other, you have Nick Price, who has a reputation as being one of the nicest figures in the game. If you're expecting icy stares between the two team leaders, you'll probably be disappointed. But if you like the prospect of two guys who will do everything to uphold good sportsmanship and make this a fun event, then this is a dream pairing.
Photo By: Getty Images
Phil & Keegan
After the display these two put on at Medinah -- at least, when they were playing -- during last year's Ryder Cup, we can only expect them to be paired again. Not only were they dominant, but the two great friends seemed to enjoy the competition more than anyone else. We'll set their over/under at 3.5 for the week. Not for points they'll earn, but for congratulatory butt slaps between the two.
Photo By: Getty Images
Favorable Format
Spreading the matches out over four days instead of three allows for teams to stay fresher (See: Phil and Keegan, 2012 Ryder Cup). And forcing all the players to play on both Thursday and Friday -- in addition to Sunday's singles -- makes the captains work harder at finding good teams, making for a better test of each squad's depth.
Photo By: Getty Images
Jordan Spieth
Have you been watching this guy play lately? The 20-year-old just completed one of the most impressive rookie campaigns in PGA Tour history, racking up a win at the John Deere Classic and three runner-ups, including the Tour Championship. If his coming out party didn't already happen at East Lake, then it could take place this week. Team USA's players are
reportedly lining up
for a chance to partner with the captain's pick and even with Spieth's lack of experience, it's not hard to see why.
Photo By: Getty Images
Interesting International Pairings
The International Team is constructed on a (very) loose bond, which can create an awkward, yet fascinating dynamic. Here, Geoff Ogilvy and K.J. Choi discuss, well. . . OK, so they're probably discussing golf.
Photo By: Getty Images
Tiger Plays Well
Woods has been labeled a disappointment in international team competition, but that reputation comes more from his losing record in the Ryder Cup. In the Presidents Cup, Woods has a 20-14-1 overall record, including a glistening 10-3-1 in foursomes. And the last time the event was held in the United States he became just the fourth player to go 5-0 in one year.
Photo By: Getty Images
Live Matchups
Unlike the Ryder Cup, where pairings and the order of play are guarded like top-secret missile codes, match pairings are decided by team captains in the open. Was it just a coincidence that in 2009 Tiger Woods played Y.E. Yang two months after falling to him at the PGA Championship? Nope. Or how about
Woods being paired with Adam Scott and Steve Williams
in 2011, shortly after the caddie made disparaging remarks about his former boss? Again, nope. No blind draws mean more matches that fans really want to see.
Photo By: Getty Images
Hideki Matsuyama
Don't know much about him? Put simply, he's the Jordan Spieth of the International squad. The Japanese golfer turned 21 in February, turned pro in April and has shot up the Official World Golf Ranking (currently No. 30 with Spieth No. 21) since. Matsuyma didn't play in the Masters (he'd made the cut the previous two years as an amateur), but he finished T-10 at the U.S. Open, T-6 at the British Open and T-19 at the PGA Championship. Getting back to those planned matches, don't be surprised to see the event's two youngest participants teeing up against each other.
Photo By: Getty Images
A Looser Atmosphere
The Presidents Cup may lack some of the Ryder Cup's intensity (Think: "War by the Shore"), but that looser atmosphere usually leads to more aggressive and better golf. Sure, shanks under pressure make for riveting drama, but so do guys taking it deep into red numbers.
Photo By: Getty Images
It's Match Play
There are only a few times a year where golf fans get to watch match play and the format usually doesn't disappoint. Plus, aren't you tired of keeping track of scores and FedEx Cup points?
Photo By: Getty Images
The 'WAGS'
The players' wives and girlfriends are in the spotlight more than usual during team competition weeks. Like the golfers, they tend to bond and express their team spirit freely during these events. Of course, it probably helps that their husbands aren't competing for the piles of cash that are normally up for grabs.
Photo By: Getty Images
False Ryder Cup Hope
The Americans have only lost the Presidents Cup once in nine tries (the two teams tied in 2003). And odds are the U.S. squad will improve its record to 8-1-1 this year. If you're an American golf fan, this is your moment to bask in national pride. U-S-A! U-S-A! This team can't be beat! Well, at least until it heads to Scotland next year. . .
Photo By: Getty Images