Ryder Cup
14 Reasons Why The U.S. Is A LOCK To Win The Ryder Cup
The factors that have us convinced Team USA is going to rock Europe's world at Hazeltine.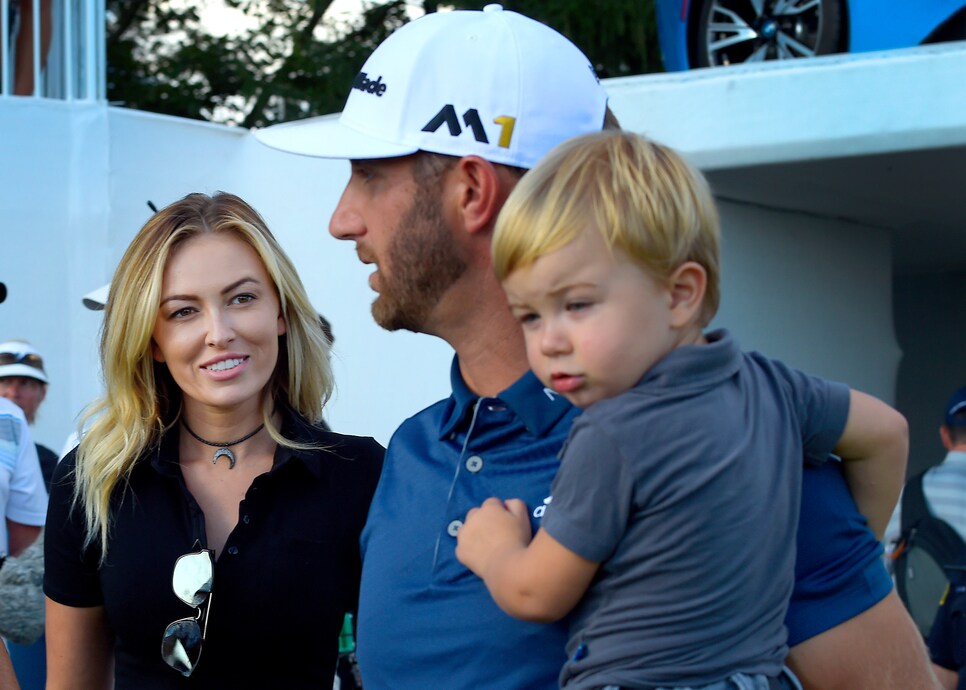 Photo By: 2014 Getty Images
Photo By: Bloomberg via Getty Images
The U.S. Has Dustin Johnson
With all due respect to No. 1 in the Official World Golf Ranking, Jason Day, Dustin Johnson has been the best player on the planet in 2016. And he will be the best player at Hazeltine for the winning team. These are just facts*. (*These are not actually facts, but they seem likely outcomes based on DJ's recent form.)
Photo By: US PGA TOUR
The U.S. Has Patrick Reed
Photo By: 2014 Getty Images
Rory McIlroy's Putting
OK, OK, so McIlroy figured something out under new putting coach Phil Kenyon during his victories at the Deutsche Bank and Tour Championships, but making changes in technique or equipment (McIlroy is doing both) is never
this
easy. And then there's his spotty reputation on the greens. "If I was playing him," says an anonymous tour pro in
Golf Digest's Ryder Cup issue
, "I wouldn't be conceding many short ones. He's likely to miss at any time from under four feet." Something tells us the guys wearing red, white and blue won't be so generous, either.
Photo By: US PGA TOUR
Martin Kaymer's chipping
This
from another anonymous tour pro
: "Martin has the heebie-jeebies on his chipping. He can play the flop shot, but he has trouble with relatively straightforward chips from tight lies. It started with slightly dodgy mechanics, and it has developed into a full-blown mental problem." Need we say more?
Photo By: Getty Images
Home-Course Advantage
U.S. fans in attendance at Hazeltine will treat this event as if we were at war with Europe and the safety of our nation is at stake. And the U.S. players will feed off that energy. (Reminder to the fans in attendance at Hazeltine: This is NOT an actual war. It's just a sporting event. But it's an important one. So go crazy. Just not too crazy. But definitely go crazy. OK, you get the point.)
Photo By: Getty Images
Europe Has Six Rookies
This isn't the same Team Europe that's been beating up on the U.S. for the past 14 years. There are a lot of untested, fresh faces -- including some baby faces. Look at Matthew Fitzpatrick! He looks like a kid practicing while he waits for his mom to pick him up from the course! The Hazeltine
fans
mob is going to be relentless with these guys.
Photo By: Getty Images
Some Of Europe's Best Aren't Even On The Team
Paul Casey couldn't get picked because he chose not to renew his European Tour membership. Russell Knox didn't get picked because apparently, he's not part of Europe's in crowd. And Alex Noren waited a little too long to go on the best run of his career. It's too bad these teams get chosen so early. Oh, wait. . .
Photo By: Getty Images
Davis Love III's well-timed captain's picks
Not only does the U.S. have four captain's picks, these selections came much later than those made by European captain Darren Clarke. Davis Love III picked Rickie Fowler, Matt Kuchar and J.B. Holmes two weeks after Clarke's team was finalized. Then he was able to add a hot hand -- arguably, America's hottest hand -- in Ryan Moore following the Tour Championship.
Photo By: Bloomberg via Getty Images
Henrik Stenson's Knee
Sure, the Swede won the Open Championship in record fashion and nearly claimed Olympic gold. But he's also got a bum knee that required surgery last year and caused him to pull out of two FedEx Cup Playoff events. His fellow Europeans would be wise to go easy on any roughhousing around him in the team room.
Photo By: US PGA TOUR
Tiger's Stare
If this is how intense Tiger Woods gets watching a match at the U.S. Open, imagine just how intimidating he'll look glaring at people from a golf cart.
Photo By: GC Images
J.B. Holmes Is Back
Holmes (right) was one of Team USA's sparkplugs the last time it won this event in 2008, going 2-0-1 as one of Paul Azinger's captain's picks. He's also represented the U.S. in four international competitions ('08 Ryder Cup, '15 Presidents Cup, '05 Walker Cup and '05 Palmer Cup) and his team won every time. J.B. is basically a red, white and blue good luck charm.
Photo By: Getty Images
Ian Poulter Is Not
Yeah, yeah, Europe's key agitator will still be at Hazeltine as a vice captain (and he's still needling the U.S. as proven by the photo he posted of the cop car Rory McIlroy rode to the 2012 Ryder Cup), but it's not the same. No one has raised his game more in this event in recent history than Poulter. Officially, he boasts a sparkling 12-4-2 record. Unofficially, it seems even better than that.
Photo By: Getty Images
Arnie's (New) Army
Like Team Europe did in 2012 following the death of Seve Ballesteros, Team USA will rally around the passing of a golf legend. Sadly, Palmer didn't live long enough to watch the Americans turn the tide in this event, but a victory in his honor will be a fitting tribute to The King.
Photo By: Getty Images
The Law Of Averages
These teams are too balanced to have either side dominate, yet Europe has won the last three Ryder Cups and six out of seven. This has to end at some point. Some point soon. How many more scenes like this can U.S. golf fans endure?
Photo By: Getty Images