GD Woman | Instruction
10 Rules For Hitting More Greens
Suzann Pettersen knows how to attack greens. Here, she shares her keys for hitting more of them.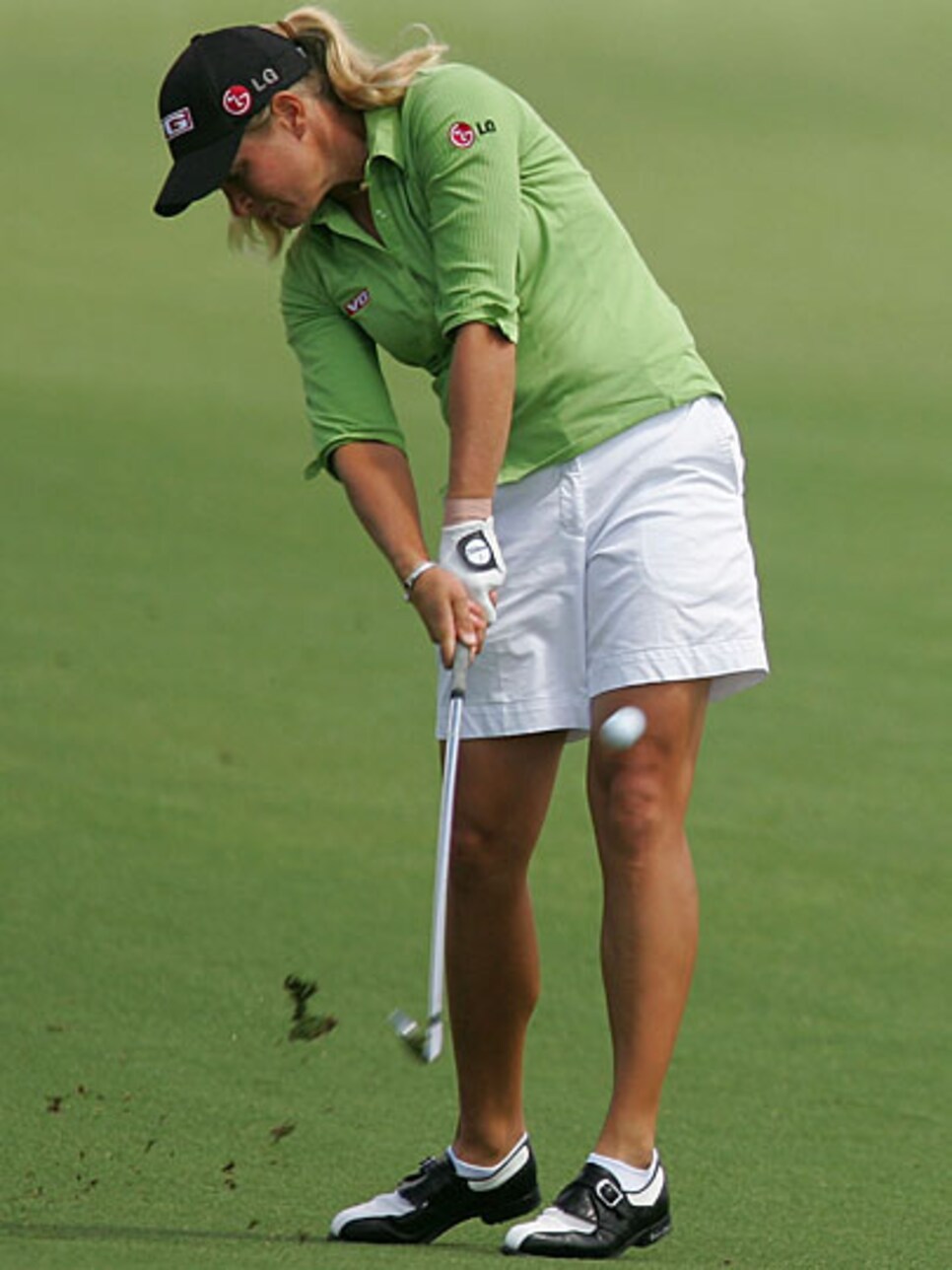 Be tough on your irons
Hitting down on the ball and taking a divot is a must on iron shots yet many players just don't do it. They love their clubs, and I think they're subconsciously afraid of banging them into the ground, nicking them, or otherwise wearing them out. They want to keep them shiny and new. Golf clubs are beautiful, yes, and you want to take care of them, but you don't have to treat them delicately. They're tools. The same goes for the perfect turf we get to play on: Don't hesitate to take a healthy divot. Divots are easy to replace.
Photo By: Getty Images
Find better players
I've played and practiced a lot with Tiger Woods. Obviously Tiger can hit iron shots no woman can hit, let alone most men, but that didn't stop me from trying to play like him. Gradually, bits of Tiger's technique crept into my game. By trying to copy the way he shaped shots and controlled his spin and trajectory, the shots that once had been difficult for me in competition became easier. I led the LPGA Tour in greens in regulation in 2010, in part because I played as much golf as possible with someone who was much better than I was. Seeking out the best players at your course will really boost your game.
Photo By: Getty Images
Try to master those "transportation" shots
Irons are mainly precision clubs, the short irons especially. But many iron shots are what I call "transportation" shots, in that you're merely advancing the ball from Point A to Point B. They include lay-up shots on par 5s, tee shots on difficult par 3s and shots to the fat part of the green on difficult par 4s. Never take transportation shots for granted, because if you get lazy and make just any old swing, you'll leave yourself with awkward distances and miss a lot of greens you ordinarily would have hit. Stay focused on every iron shot, regardless of how inconsequential it might seem.
Photo By: Getty Images
Listen to your heart
At the 2010 Bell Micro LPGA Classic, I was in a sudden-death playoff with Se Ri Pak and Brittany Lincicome. On the second playoff hole, a par 4 with a tough hole location, my drive left me in great position to fire at the pin. I missed the green in the wrong place, didn't get up and down, and Se Ri ended up winning. After it was over, I realized that playing away from that flag and taking my chances with a longer putt might have been smarter. On the other hand, there's a saying: "Never regret something you didn't do." I regretted gambling and losing, but if I'd played safe and lost that way, I would've regretted that more. When listening to your heart and your mind, give your heart the edge.
Photo By: Getty Images
Make the range a gym
A TV guy interviewing Greg Norman at the Shark Shootout last year told Greg how fit he looked. Greg thanked him, but then said his golf muscles weren't in good shape because he hadn't been playing much. It was a great point, because the only way to build the type of strength you need for golf is to play and hit balls. Practicing builds up strength in your hands, wrists and forearms in a way that no exercise in the gym can. Walking does wonders for your legs, and all the twisting and turning is great for your core. Feeling the resistance of the ground at impact with your irons--the heaviest clubs in the bag--is the best golf workout of all.
Photo By: Jensen Larson
Learn to play shots you can't explain
I'm in awe of the shots Phil Mickelson hits with his wedges, and I respect his explanations for how he plays them. But I'm not sure even Phil can break down some of the more incredible shots. I think they're intuitive and pure feel and imagination. He's like a piano player: He just does it. When you practice your short irons and wedges, you want to get to a point where, like Phil, you become feel-oriented. When you can't explain to someone exactly how you hit a crisp wedge shot out of the rough, but had full confidence the shot was going to come off, that's when you know you're making progress with your iron play.
Photo By: Getty Images
Check your aim on uneven lies
I've played in the Evian Masters in France for so many years they're starting to all blend together. I've never won there, in part because I haven't learned to play well from uneven lies. On almost every iron shot on the front nine the ball is below your feet, whereas on the back nine it's just the opposite. It drives me crazy, and what's clear to me is that aim is the main factor on these shots. On sidehill lies, your aim should change by as much as 30 yards, because of adjustments in your swing and how the slope alters where the clubface is aligned. What I've learned is to change my swing as little as possible, but to adjust my aim a lot.
Photo By: Getty Images
Use your ball flight
I'm naturally a high-ball hitter, which works to my advantage when shooting at tucked flags or playing from different lies. But hitting the ball high requires strength and speed. If you don't have those qualities, don't force the issue by moving the ball forward in your stance or trying to help it into the air. Low shots are effective, too; there are a lot of players on the LPGA Tour who are small in stature but are masters at bouncing the ball into the greens and keeping it under the wind. Whatever your natural ball flight, don't fight it.
Photo By: Getty Images
Know where your irons end and hybrids begin
My swing speed with the driver is in the high 90s, and my carry distance with the 7-iron is 155 yards. My iron set stops with the 4-iron; I use hybrids in place of the 3- and 2-irons. The average man swings the club slower than I do, which means he should carry even more hybrids, possibly starting with a 5-hybrid and maybe even a 6-hybrid. On our tour, hybrids are so popular that many players' bags look like flower pots, with headcovers sprouting all over the place. Many of these players hit their hybrids more accurately than their pro-am partners hit their wedges. Hybrids are an unstoppable trend in golf. Don't fight it--unless you dislike hitting the ball high, straight and far.
Photo By: Getty Images
Fine-tune your warm-up
Most players follow roughly the same warm-up: They hit some wedges, work through their irons, and then end with the driver. Mine is similar, but I've added a twist that has helped me a lot. After finishing with my driver, I hit a standard 6-iron shot and laser the precise distance of the carry. I then do the same with my 5-iron, 2-hybrid and 3-wood. I hit the ball differently every day depending on the weather and how I feel. This routine helps me go out there with the confidence that I know where my game is.
Photo By: Getty Images